No Crawford nor WBO mentions Saturday night
Terence Crawford is the current undefeated World Boxing Orginanztion (WBO) welterweight champion. He won the belt in June of last year and has defended it twice, since. However, if you caught the Manny Pacquiao vs. Keith Thurman Fox/PBC pay-per-view broadcast Saturday night, you wouldn't know.
The WBO wasn't even hinted at during the coverage.
During a part of the over three hour telecast, there was a conversation talking about welterweight champions and Fox completely omitted Crawford in a graphic displaying the division champions. And, the entire boxing community taking notice shortly after on social media.
So @terencecrawford isn't a welterweight champion? Remind you on the P4P list? PBC be acting like boxing doesn't exist outside of their realm ? pic.twitter.com/GX3wyvbu0g

— Jamel Herring (@JamelHerring) July 21, 2019
Crawford himself watching the fight Saturday night mentioned this in a tweet:
"You know the hate is real when they don't acknowledge the fact that you a title holder."
You know the hate is real when they don't acknowledge the fact that you a title holder ???

— Terence Crawford (@terencecrawford) July 21, 2019
Premier Boxing Champions (PBC) not mentioning Crawford is nothing new on their end, as they haven't been saying about any titleholders from the WBO for quite a while now on their shows. In case you also didn't notice, they even didn't recognize Andy Ruiz Jr., as WBO Heavyweight Champion on the telecast Saturday night.
Mark Ortega, researcher, and writer for PBC on Fox, confirmed that they no longer recognize any WBO titles in any capacity anymore on there broadcasts and haven't for a while now.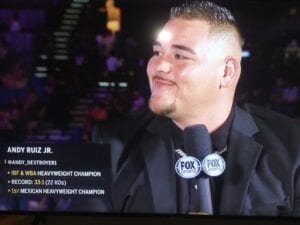 The assumption of holding a WBO title is linked to a fighter with Top Rank Boxing and considered competitors cause they air on the "ESPN Family of Networks."
Boxing, for as long as I've been living, is a sport often joked about having more sanctioning bodies than boxers. For them to act like the WBO is not a thing because of that, is not only silly and petty; it's also bad for the growth of the sport.
The current state of boxing isn't at a level of popularity to where it can not acknowledge boxing organizations, because they are airing on a different platform. I'm not telling PBC and the WBO to get together and sing "We Are The World," but at least, to acknowledge the fact the WBO is a real thing with other fighters.
There's truth to this, Wbo has never really been a part of PBC since initial rollout. That said, easier to digest if an official statement was made (or even a disclaimer included last night), and a bonus if Ruiz announced he was vacating his wbo title. https://t.co/uIYtxrK718

— Jake Donovan (@JakeNDaBox) July 22, 2019
Honestly, they should be treating this more like the classic show "Battle of the Network Stars" and not in some ancient form of dog eat dog competition.
Top Rank on ESPN broadcasts mention fighters on PBC and other promotions on their shows all the time, and it doesn't hurt the telecasts one second.
I'm on social media where people complain about everything, and I've not seen anyone say "I wish they'd stop bringing up (insert name here) and mention Top Rank Fighters only."
For the greater good, I wished PBC would do the same.