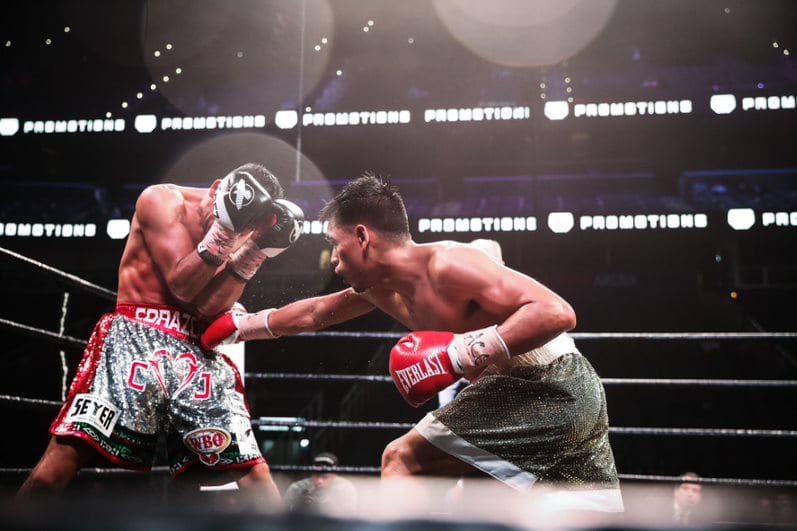 News
New match ups but same focus for Leo, Williams
New match ups but same focus for Leo, Williams

Showtime Boxing on Saturday night has a new main event for the 122 lb. Title as Tramaine Williams will step in against Angelo Leo at the Mohegan Sun Casino as Stephen Fulton had to be pulled from the contest due to a positive COVID-19 test. Williams was slated to be in action on this card in the co-main event against Ra'eese Aleem, but with Fulton out, took advantage to challenge for the vacant title.
Williams (19-0, 6 KOs), while he may have taken the fight on short notice to challenge Leo (19-0, 9 KOs), his radar for him heading into the contest on Saturday has been a while.
"About a year ago, I started a top-five or top-ten fighters I had on notice," Williams said to media on Thursday. "I always paid attention to all of the fighters in my weight class. I've been prepared for the chance to face Leo for a while. I've had my eye on all of these guys for a year and some change now. It's not like he's a random opponent for me, I've had my eye on him."
@ShowtimeBoxing returns on Saturday with the 1st of our busy event schedule for the next 5 months! An exciting time for the sport…and for me! It'ssssssssssss SHOWTIME!

— Jimmy Lennon Jr (@TheClassyJr) July 30, 2020
Same tune for Leo heading this matchup. While the buildup and trash talk between him and Fulton were fun, he understood to be ready for whatever happens and is prepared to take on Williams.
"These things happen in boxing, so you just have to stay focused and prepared for anything," Leo said about the change from Fulton to Williams. "Luckily, Tramaine isn't too much of a different fighter from Fulton. He's got similar styles, the only difference is he's a southpaw. We'll make some small adjustments, but I'm in shape for whoever. I'm in the best shape of my life, and once I get in that ring, I'll make the necessary adjustments.
Showtime Sports' President of Sports & Event Programming Stephen Espinoza laid out what this card is all about, and it's the storylines.
"I think the key for this card is storylines," Espinoza stated on the media call Thursday. "Even before the changes, this was a card filled with up-and-coming young boxers, promising prospects, and rising stars. With the loss of Stephen Fulton Jr., that has remained the same nonetheless. We have Angelo Leo, a Mayweather Promotions prospect from Albuquerque, N.M., who is a very good young boxer and excellent body puncher looking for the opportunity at his first world title.
Tramaine Williams came here expecting to be on the undercard in the co-feature, and instead, he has found himself with the biggest opportunity of his career. We thank the WBO for working with us and maintaining the title fight. We have now instead of the No. 1 and No. 2 contenders in the WBO, we have the No. 2 and No. 6 so no real drop-off in quality of the fight."
The winner of this main event Saturday will still have to face Fulton down the line as he was the No. 1 contender for the title. To say he is ready is an understatement.
They fighting to see which one gone face me at the end of the day 😁

— Stephen Fulton Jr (@coolboysteph) July 30, 2020