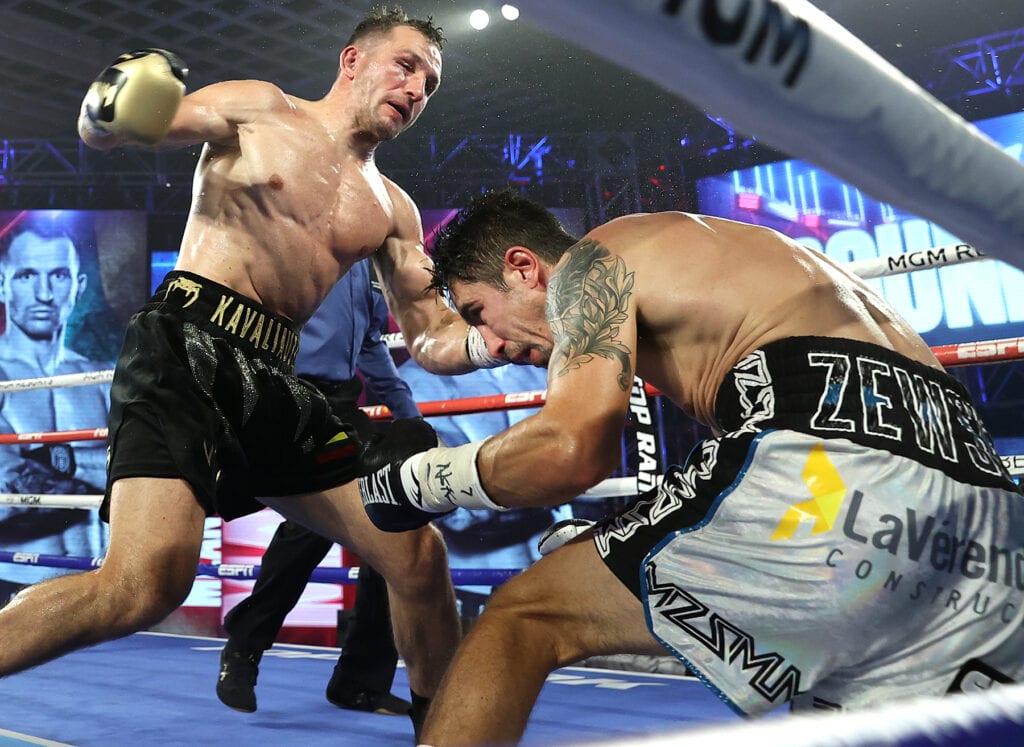 News
'Mean Machine' Kavaliauskas stops Zewski
'Mean Machine' Kavaliauskas stops Zewski
Egidijus "Mean Machine" Kavaliauskas is a top Welterweight contender once again. In his first fight since losing to pound-for-pound king Terence Crawford last December, Kavaliauskas knocked out Canadian veteran Mikael Zewski in main event in Top Rank's Vegas "bubble" the eighth round.
Kavaliauskas (22-1-1, 18 KOs) knocked down Zewski (34-2, 23 KOs) with a combination to close out the seventh round, then charged out of his corner to finish things off in the eighth.
Following the second knockdown of the fight, referee Kenny Bayless immediately waved off the bout. The ending felt a little odd, as it seemed that Zewski was out on his feet to close out that seventh round but instead of waving it off, Bayless gave Zewski a ten count which he beat to end the round.
Didn't matter, as seven seconds in the eighth it was over.
⚠️ These angles of the Mean Machine finish.

Just wow. #MachineZewski pic.twitter.com/aNxA5pXAGM

— Top Rank Boxing (@trboxing) September 13, 2020
Zewski was actually leading on two of the judges' scorecards at the time of the stoppage. This also was shocking, as it felt like Kavaliauskas was pretty much in control of the fight. Something he hinted at afterward.
Kavaliauskas said post-fight, "I was controlling the fight. I was never in danger. I was never hurt.
"I wanted to knock him out faster, but it happened this way. You can never count on the knockout. I was working. I was putting pressure on him. I saw him slowing down round by round. I saw him getting weaker and weaker. I was just blocking his punches and not feeling his power.
"I don't think Crawford has any other choices at welterweight. I can ask his team, with all due respect, to give me a rematch because these guys have no opponents yet."
While Crawford- Kavaliauskas 2 isn't going to be a while, the win for Kavaliauskas did win him a minor portion of the WBO trophy so expect his name to move back up the list to be mandatory shortly after as he gets closer to that chance for revenge,