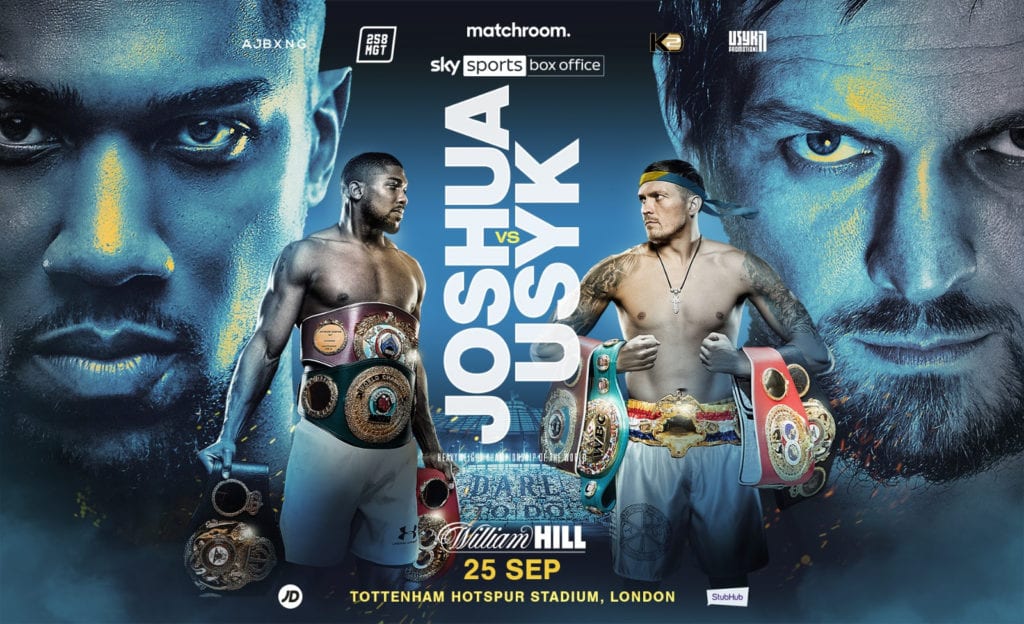 News
Monday Joshua-Usyk Ticket Pre-Sale Had Issues
Monday Joshua-Usyk Ticket Pre-Sale Had Issues
On Monday morning, Matchroom Boxing rolled out the pre-sale of tickets online for the upcoming Unified World Heavyweight title fight between England's Anthony Joshua and Ukrainian former Cruiserweight World Champion Oleksandr Usyk on September 25th. And let's just say things didn't go smoothly.
Tickets were made available for Tottenham Hotspur Stadium through Matchroom's "fight pass" to previous customers and those that are signed up through their service. And, numerous people took to social media to complain about how difficult it was to simply get through on their account and purchase Joshua-Usyk tickets. Observe,
@MatchroomBoxing @EddieHearn #JoshuaUsyk what an absolute farce of a system this has been. I'm so wound up. What a waste of money is #fightpass pic.twitter.com/FndHPv2fYq

— DigiFazz (@DigiFazz) August 2, 2021
@MatchroomBoxing the @StubHubUK website is playing up and constantly reloading the ticket page making it impossible to actually select and buy a ticket for #JoshuaUsyk help!!!!

— Will (@wmichael83) August 2, 2021
Anyone out there actually manage to get @anthonyjoshua tickets? Worst pre-sale I think there has been! @MatchroomBoxing why do you insist on using @StubHubUK they are awful?! #JoshuaUsyk #Boxing

— Phil Smith (@only_Phil_Smith) August 2, 2021
There were literally two dozen other tweets like above frustrated over trying to buy tickets. But, you get the idea.
Now, if you look around enough,  there were some satisfied customers- like this one (but they were scarce on social media),
Tickets ordered for @anthonyjoshua vs @usykaa!! @MatchroomBoxing 🥊🥊 #JoshuaUsyk

— Scott.man92 (@Man92Scott) August 2, 2021
Then, there were plenty of others who were irate to see those who had just gotten them through the "fight pass" pre-sale, immediately posting on the secondary re-sale market and flooding it with overpriced tickets just from Monday morning,
🥊🇬🇧 Already £40 tickets for #JoshuaUsyk selling on Stubhub fan-to-fan resales for over £400 – and £100 tickets going for almost £900

Mercenary bast**ds pic.twitter.com/5GkpV0b5CP

— Boxing-UK 🥊🇬🇧 (@Boxing_UK_) August 2, 2021
It's always the case. Majority tickets bought by bots and ticket touts to resell for ridiculous prices.
As usual Boxing fans lose out. #JoshuaUsyk

— suf (@_suf5) August 2, 2021
Tottenham Hotspur Stadium is a 65,000 seat state-of-the-art facility North of London that was just redone in the spring of 2019. It not only houses the English Premier League "Spurs" soccer team but also has a multi-year deal with the NFL to play at least two of its games in that Stadium over the course of the next four years.
Joshua, 24-1, was originally going to fight his IBF mandatory Kutbrat Pulev in the stadium last July. However, the Covid 19 pandemic shut down the sport and scuttled all plans with fans, especially in the U.K. Joshua eventually fought and kayoed Pulev in December at the Wembley arena in front of limited fans.
As for Usyk, he's 18-0 was last in action in the same Wembley Arena with no fans last October decisioning Dereck Chisora. That was the unbeaten Ukranian's second bout at Heavyweight. The former Olympic Gold Medalist (like Joshua) and Undisputed Cruiserweight champ and his team had been waiting for weeks for Hearn to finalize a deal for his challenge to Joshua's titles.
The WBO had threatened Joshua with potentially stripping him of their world title, if he did not fight Usyk, who's been their mandatory for over 18 months, at some point in the near future.
So, the deal was finally finalized, including rematch clause terms, for this Fall.
Of course, there's one more aspect to the "Ticket Drama" from the pre-sale Monday. And, that's whether the recent spikes worldwide in the Covid 19 infections due to the "Delta Variant" could restrict how many fans get to potentially attend the bout almost two months from now?
That's an unknown.
What is known is that there were a lot of angry and frustrated fight fans trying to get tickets to a Joshua-Usyk fight that they hoped to attend in person.