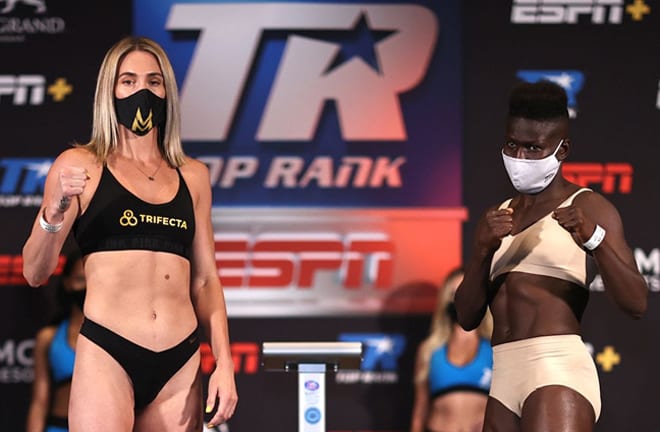 News
Mikaela Mayer will make main event history for Top Rank
Mikaela Mayer will make main event history for Top Rank
Delayed by over a month, Mikaela Mayer will finally step through the ropes in the Top Rank Boxing "bubble" in Las Vegas tonight and make history for them, when she does so.
It will be the first time in forty years of Top Rank's televised shows that a women's fight will be the headlining main event:
3 years to the day after signing with TR, @MikaelaMayer1 breaks new ground tonight. #MayerJoseph | ESPN – 9pm ET / 6pm PT pic.twitter.com/CEpJCl6yer

— Top Rank Boxing (@trboxing) July 14, 2020
The 29 year-old Mayer, who is unbeaten at 12 – 0, 5 Kos, will battle veteran, Nigerian born Helen Joseph, 17-4, in a women's Super Featherweight in a scheduled 10 round contest.
The flight has been delayed five weeks due to Mayer testing positive for the Coronavirus back on Sunday June 7th just two days before she and Joseph were to have fought.
Mayer disputed her positive test at the time as she claimed that she told Nevada and Top Rank officials that she was previously positive for the Covid 19, but had been cleared by her own doctor's in a test prior to coming to the Vegas "bubble" at the MGM Grand Resort.
The Californian Mayer, who trains in Colorado, subsequently tested negative two days after leaving, which further bolstered her case.
The fight with Joseph was then rescheduled for tonight in the same setting and has now been moved into the main event slot, ironically do to another positive Covid-19 test. This one for WBO Junior Lightweight champion, Jamel Herring.
Herring also had his original title defense with Jonathan Oquendo postponed las month, when he tested positive for Covid-19 in training.
And, he was set to make his second title defense Tuesday night until being informed Monday morning through the Nevada testing system that he was still showing, as positive for Coronavirus. So, per their guidelines, he's unable to compete.
It is unclear whether Top Rank will try for a third time to have Herring and Oquendo fight down the road.
For now, Mayer, who was 2016 Olympian for Team USA at the Rio Games, will be prominently featured on the ESPN televised fight card starting at 9 p.m. Eastern time.