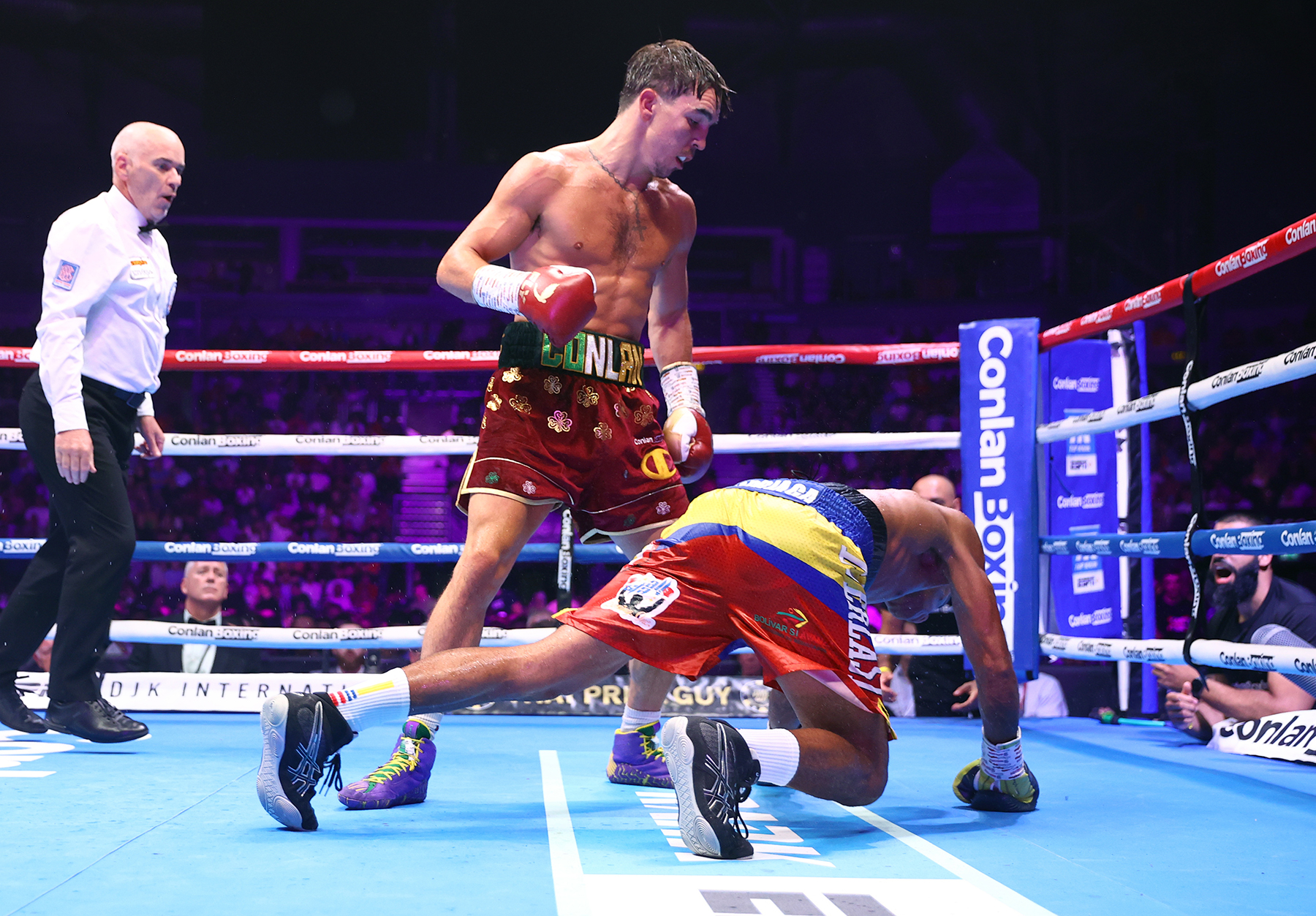 News
Michael Conlan Returns With Steady Decision Win
In dominating fashion, Michael Conlan rebounded from his harrowing first career defeat in a one-sided decision victory over Miguel Marriaga on Saturday before a raucous hometown crowd at The SSE Arena in Belfast, Northern Ireland.
Conlan knocked Marriaga down three times in the fight contracted at 128 pounds and cruised to winning scores of 99-88, 99-98 and 99-89 in the main event of the Top Rank Boxing on ESPN+ card.
𝐂𝐎𝐌𝐄𝐁𝐀𝐂𝐊 𝐂𝐎𝐌𝐏𝐋𝐄𝐓𝐄 ✅🍀 pic.twitter.com/vW1TJyhl7m

— Top Rank Boxing (@trboxing) August 6, 2022
Conlan's victory over Marriaga came five months after an epic, but losing battle with Leigh Wood in a challenge for the WBA "regular" featherweight title in Wood's hometown of Nottingham, England on March 12.
Conlan knocked Wood down in the first round, cut and bruised his face and got knocked down himself in the 11th round but was leading on all three scorecards going into the final round when Wood authored a dramatic comeback and knocked Conlan out of the ring for the KO win in a leading fight of the year of the candidate.
Conlan's tussle with Marriaga had nowhere near the action or drama of his fight with Wood, but it was a comprehensive victory — despite some final round trouble — and should put Conlan right back into the featherweight title picture.
"I had to get rid of a lot of demons tonight," Conlan admitted afterward. "Even in the fucking last round, he hit me with a shot. That guy can punch. (He has) 10 more knockouts than I have fights. He hit me with a jab in the first round, and it was like, 'Oh, this guy actually can bang.' I had to be careful and use my skills, which I did."
Conlan, the faster, sharper, more technically sound boxer, controlled the entire fight, only running into slight difficulty in the 10th round when Marriaga, who had done almost nothing for the previous nine rounds, finally asserted himself and buzzed Conlan with a hard shot.
But it was way too little and way too late.
"In the last round, he caught me with a shot. Listen, I've been using my legs all night," Conlan said. "I was a bit off the pace. He was pushing it. He landed a good shot. He buckled me a little bit. I felt it, and for me, to kind of come through that and it's the last round… I got knocked out in my last fight in the last round. I think that says a lot. I'm back, baby. I'm ready for any of them."
Conlan (17-1, 8 KOs), 30, a two-time Irish Olympian, scored knockdowns in the seventh, eighth and ninth rounds, although none of them seemed to particularly hurt Marriaga. The first appeared to be on a grazing shot behind the behind the head and another appeared to be caused more by the slippery ring canvas than a solid punch.
"The Scorpion" Marriaga (30-6, 26 KOs), 35, of Colombia, who is 0-3 in a world title fights, at featherweight and junior lightweight, dropped to 1-3 in his last four fights. He still has only been stopped once, when his corner pulled him out of a 2017 junior lightweight title challenge against Vasiliy Lomachenko after the seventh round.
Conlan hopes he can secure another title shot in the near future.
"Obviously, I want Leigh Wood. It's obvious, but Leigh has his own situation. So, hopefully he can deal with that and come through and the rematch can be done," said Conlan, who was referring to a mandatory fight in the works between Wood and WBA "super" titleholder Leo Santa Cruz. "If not, it's any other champion. I want to get back in. I will be world champion, and I know I will. Whoever I face, I know I'll beat him."