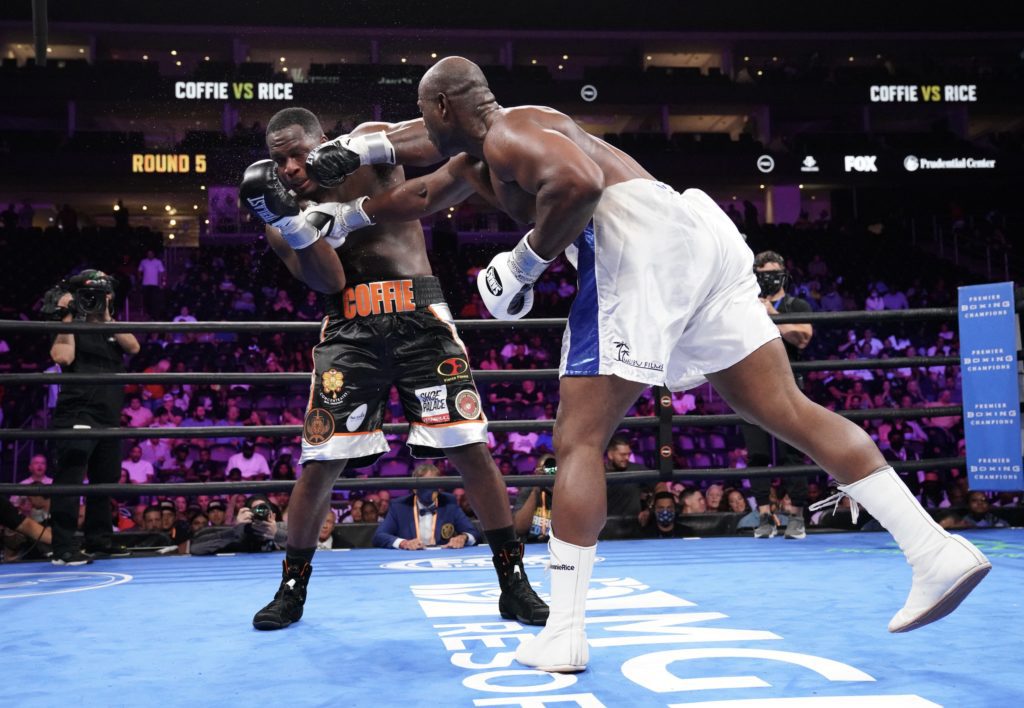 News
Michael Coffie's Risk Fighting Late Replacement Backfired
Michael Coffie's Risk Fighting Late Replacement Backfired
While it certainly will not go down as one of the most memorable Heavyweight fights ever, Saturday night in Newark, NJ, was yet another reminder of what can happen with an unbeaten fighter on the rise, who's getting a promotional push, decides to enter the unknown. The unknown of fighting a motivated, in shape, "replacement opponent."
That fighter was 12 – 0 Michael Coffie, who had been scheduled already to headline the "PBC on Fox" show against a veteran Gerald Washington. That is, until Washington tested positive for Covid-19 early last week. "Stand by" Heavyweight Jonathan "Jonnie" Rice, had been training in South Carolina and waiting if needed to step in for either fighter, particularly at the last minute.
To Coffie's credit, but also because he wanted to be featured on a main event still, he agreed to fight Rice. This, despite having almost no time to prepare for him. Of course, the same short notice preparation applied to Rice as well.
But, once in the ring at the Prudential Center and the bell rang, the difference on Saturday night was apparent- Rice was ready to score the upset. And, Coffie had no answers.
WOW! Jonnie Rice gives Michael Coffie the first loss of his career in TKO fashion! 😳#PBConFOX #CoffieRice pic.twitter.com/vLe9q3Glks

— FOX Sports: PBC (@PBConFOX) August 1, 2021
Our Marquis Johns recapped what transpired as Rice systematically punched Coffie into submission over the course of 4 1/2 rounds, particularly with one hard overhand right after another. The end finally came, when Rice was repeatedly landing on Coffie along the ropes without much in the way of return fire or defense happening.
The ending with Rice dominating to that point was almost inevitable. And, that's pretty shocking to write about a fighter who came in at 13-6-1 and off of losses in his last two bouts.
But, it also reminds that it's not always a "sure thing," when you agree to take on a fighter that you know little about, with very little time to prepare.
Now, most of the time, the guys who are suppose to win, and win easily, does take advantage of the lesser known guys they are against.
A perfect example was on the same PBC undercard in Newark Saturday night. That's when up and coming Welterweight Vito Mielnicki (8-1 headed into Saturday) was supposed rematch the fighter, James Martin (7-2 going into the Newark Ring), who had handed him his first pro defeat earlier this year.
Instead, Martin was woefully overweight for the 147 lb. limit Friday afternoon. So, TGB Promotions and PBC had to scramble and shift Martin to fight a guy already scheduled on the card, unbeaten Jr. Middleweight Joey Spencer, who entered 12-0.
This while finding a completely different fighter on the card to fight Mielnicki, a local fan favorite with many fans who would be attending. It turned out to be little known Noah Kidd, who came in 6-3-2, was the late replacement for Martin.
In the end, Spencer, who had 24 hours to learn something about and then fight Martin, dominated him for an eight round unanimous decision. Now, you could argue that Martin isn't a Jr. Middleweight, while having to move up on short notice. But still, Spencer handled the situation.
And, immediately after for Mielnicki, he completely overwhelmed Kidd from the beginning, knocking him down and nearly, finishing him in round one. It was a quick TKO with a final knockdown in round two.
So, that was what was supposed to happen.
Now, to the contrary, a prominent example of not taking the late replacement offered was Ryan Garcia refusing to fight a possible last second replacement of his undercard for Golden Boy Promotions back in the Fall of 2019. He didn't see it as worth the risk of losing at that time. His main event was scrapped. While Garcia took criticism, even from us at BFW, he chose not to risk possible loss by fighting someone he couldn't have been prepared for that night.
Then, again, Garcia is a much more popular rising star than Coffie and therefore, could use his leverage to wait.
But, back to the main event Saturday. Rice deserves all the credit for the biggest win of his career.
Still, you have to wonder if the example of Michael Coffie, unbeaten and in the main event slot, taking the short notice fight and getting decisively beaten by a virtual unknown on just a few days notice, won't make others in the short reconsider fighting at another time.
After all, when you have everything to lose by losing, it's not the worst thing in the world to "pass."