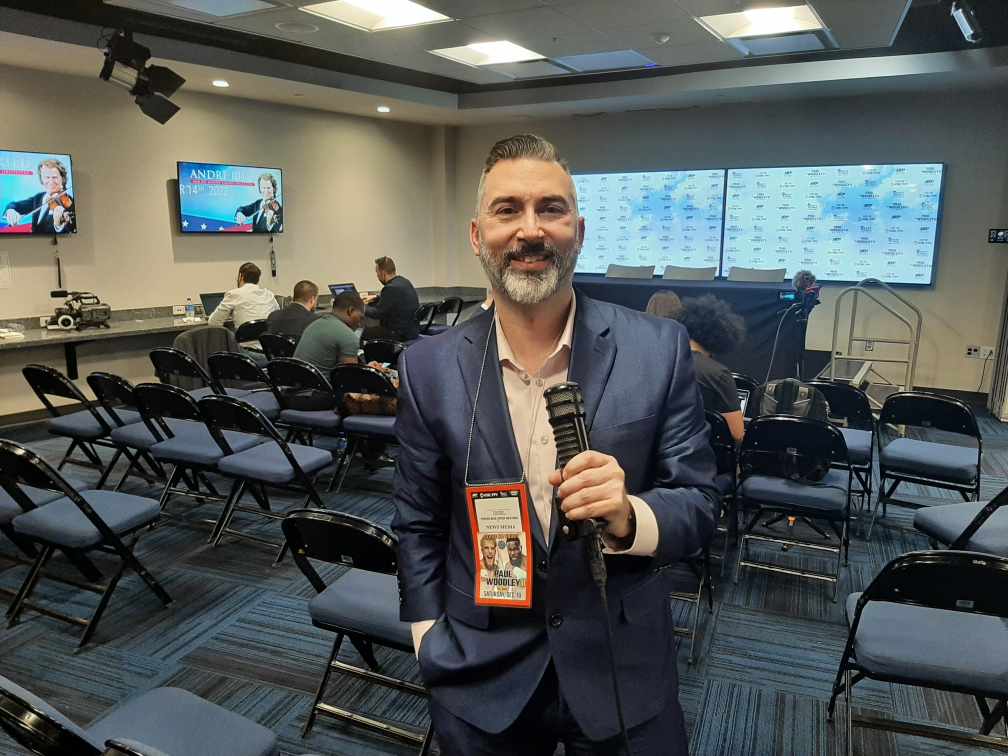 News
Meet Media Guy Who's Getting Rolex From Jake Paul
Meet Media Guy Who's Getting Rolex From Jake Paul
Late Saturday night after his thunderous sixth round KO of Tyron Woodley in their Showtime Boxing PPV rematch, Jake Paul was "in the giving mood." So much so, that just days before Christmas and when a Tampa Bay media member asked a question about giving a Rolex watch to Woodley because "it's time to knock you out," Paul decided to play Santa with the media guy.
That guy is long time Tampa Bay sports radio and video online host Peter Blake, a native of Clearwater, FL. His work endeavors mainly include covering the Tampa Bay and it's pro sports teams like the Buccaneers and the Lightning. But, Blake (pictured above) was also helping with our site and podcast coverage of the Paul-Woodley PPV at the Amalie Arena in downtown Tampa.
So, when Peter, who's in his early 40s, got the opportunity to ask Paul about giving out Rolex's to future opponents, he got a very interesting answer/offer from "the Problem Child."
Watch the comments from Peter's show "The Sports Web" and it's video:
Here was the exchange:
"I feel like I have to give them gifts for the drama I put them through," Paul initially answered. "Yeah…maybe. I got more tricks up my sleeves. I guess, I dunno, you want a Rolex? I could get you (Peter) one."
With the assembled press and onlookers chuckling, Peter replied quickly, "Sure, I'll take it."
"I'll get him a Rolex. Will you (to his promoter, Nakisa Bidarian next to him) get his email?" Paul replied. "What's your name? (A: Peter Blake). "Peter you're going to look really good with a rolex on."
Paul's older brother Logan then came directly over to get Blake's email and social media accounts to follow up. With that, Paul wrapped up his comments and a short time later and he and his entourage left the arena.
Jake Paul improved to 5-0 with the KO of Woodley in their hastily scheduled Crusierweight rematch. Paul had decisioned the former UFC champ Woodley in August in Cleveland, and Woodley had answered the short notice call to replace England's Tommy Fury for the Showtime main event. That's due to the Brit refusing to travel to the U.S. to follow through and fight the 24 year old former actor turned boxer.
Now, as of Monday afternoon, Blake has still not not heard from the Pauls, or anyone else, about the high-end armwear.
However, Peter has gotten plenty of attention since Saturday night, from the likes of ESPN's Instagram and other boxing media posting online about Paul's offer.
"For me, it's not about the Rolex," Blake told us Monday. "It's about being able to do what you love and cover an unbelievable event. Jake Paul is a great interview and it was great opportunity for me to be part of it. I'm blown away by the attention it's gotten. It just shows that if you do good work, people will recognize it."
Now, we'll wait to see, if he hears more from them soon.