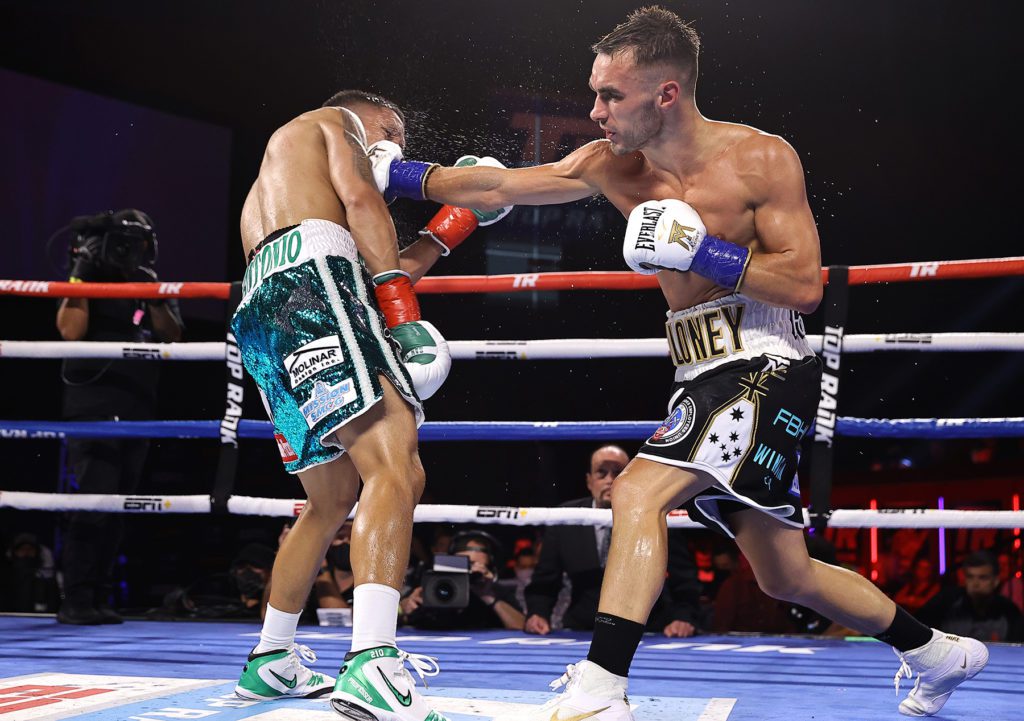 News
Former Super Flyweight Champ Andrew Moloney Victorious Tuesday
Former Super Flyweight Champ Andrew Moloney Victorious Tuesday
Just before the Christmas holiday, former WBA Super Flyweight World Champ Andrew Moloney scored a unanimous decision in a non-title fight Tuesday night in his native Australia. Moloney dominated Filipino Froilan Saludar for 10 rounds in the main event televised on pay per view through Main Event TV and Fox Sports Australia and shown on ESPN+ in the U.S.
The 30 year old Moloney, who lost the WBA title to his nemisis Joshua Franco of Texas in August, battered Saludar for the second half of the fight using his trademark body work. He trapped the Filipino in the corner repeatedly over the final three rounds, especially, scoring with hard right hands as well.
Congrats to @AndrewMoloney who earns the UD victory in a dominant performance! 🇦🇺👏

(via @NoLimit_Boxing) pic.twitter.com/F4I9iRIRmE

— Top Rank Boxing (@trboxing) December 21, 2021
In the end, the three judges agreed that Moloney, now 22-2, won virtually every round on verdicts of 99-91, 98-92 and 98-91.
"I mean, all these Filipinos, I've fought quite a lot of them now, they're just so tough," Moloney said in the ring post fight. "They don't get the credit they deserve. And boy, he was so tough. A few times I thought I might've had him there, but just his head is made out of concrete or something.  Just so tough."  
Moloney lost the WBA 115 lb. title for the second time to Franco back in August in the Top Rank Boxing main event from Tulsa, Oklahoma. Franco had handed Moloney his first career defeat in his first fight in the USA back in June of 2020. That's when they fought one of the first main event fights worldwide, post Covid 19 outbreak in the Top Rank "bubble" at the MGM Grand in Las Vegas. Franco dominated Moloney for an easy win that night.
Then, there was controversy in their rematch in November of 2020. That's when Franco appeared to land a series of hard left hands to the right eye of Franco in the first round causing it to swell shut almost immediately. But, referee Russel Mora ruled that it was a clash of heads that caused the swelling and there was an almost comically long replay review trying to determine if it was a clash or punches that caused the fight to be stopped.
Eventually, the Nevada officials ruled the fight no-contest on the accidental foul and the fight not having gone four rounds. Furious, Moloney appealed to have the verdict overturned to a TKO win for him, because Franco couldn't continue. The appeal was denied, but the third fight was made for Oklahoma and Franco won easily again, wearing Moloney down in the second half of the bout.
Now, the Australian star, who's twin brother Jason is also a former world champ, is looking to score another big time fight. And, it may be the WBO's champ at 115 lb. that he turns to next year.
Japan's Kazuto Ioka, 27-2, will make the fifth defense of his WBO World Super Flyweight title against fellow countryman Ryoji Fukumaga on December 31st. And, the belief is that he and Moloney will battle in the first part of 2022.