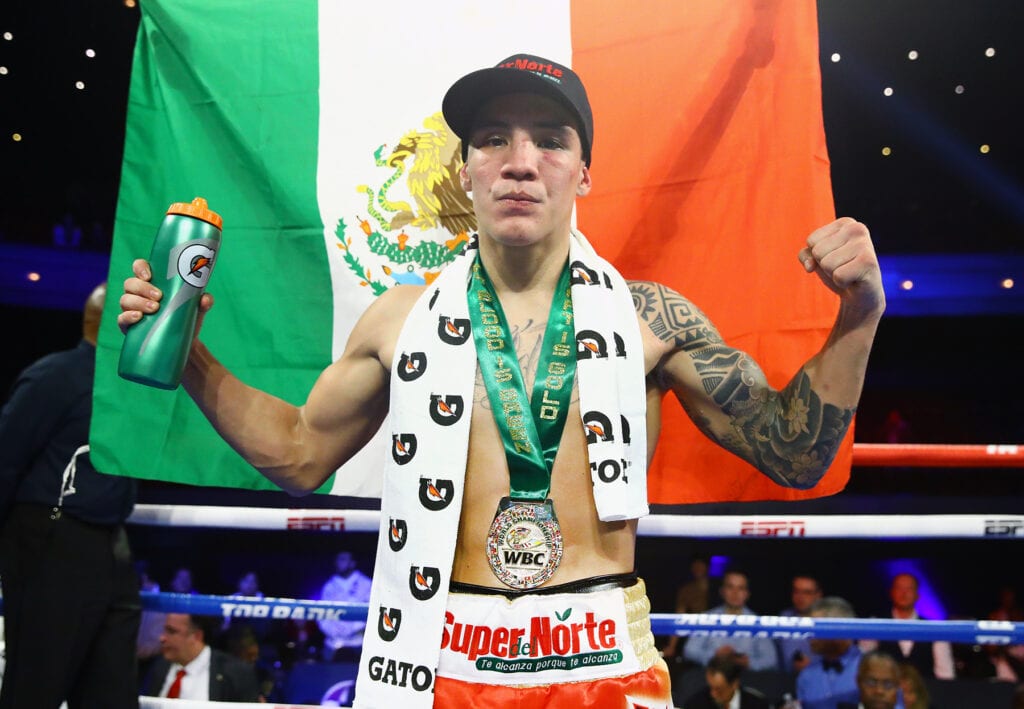 News
Letting Valdez Remain Champ Shows WBC Drug Testing Is Sham
Letting Valdez Remain Champ Shows WBC Drug Testing Is Sham
On Friday afternoon, the World Boxing Council, the most prestigious of the boxing organizations (which isn't saying much any more) decided not to do anything to Jr. Lightweight World Champ, Oscar Valdez, over his failed drug tests. This despite the weight loss supplement/stimulant that he took warranting him being stripped of his championship.
And, the brazen ignoring of the Valdez failed drug test clearly shows, that even in 2021, rules and penalties are only subjective, when there's no oversight. And, it further demonstrates that the WBC has no future credibility in trying to enforce penalties for a failed test.
The WBC tried to spin their stance on why Valdez is being allowed to keep their title for his upcoming defense next Friday night against unbeaten, but lightly regarded Brazilian, Robson Conceicao with a statement Friday afternoon,
Status of Oscar Valdezhttps://t.co/QqEXeCU5mK

— World Boxing Council (@WBCBoxing) September 3, 2021
Their statement read in part,
"The WBC formed a panel that included scientific and nutrition experts to investigate, analyze and evaluate all the available facts and evidence, and to recommend to the WBC how to proceed in this particular case. The WBC panel held an inquiry hearing with all the interested parties, including Champion Valdez and his team, and representatives of the overseeing commission and of the promoter. Champion Valdez and his team have been 100% cooperative at all times during the process. The WBC panel also held internal meetings to analyze the information and materials it received, so the recommendation to the WBC could be well informed, educated and fair.
Among the factors the WBC panel considered are: (1) a urine sample collected from Champion Valdez on August 13, 2021, yielded an adverse analytical finding for Phentermine; (2) samples collected on July 22, 2021 and on August 30, 2021, tested negative; (3) Phentermine is an appetite suppressant prescription medication with no documented in-competition performance enhancing effect or advantages.
As for point 3, Phentermine is classified as a stimulant and noted, disgraced, PED expert Victor Conte weighted in three days ago with this insight,
The Oscar Valdez Phentermine stimulant case is much like the BJ Saunders Oxilofrine case. Saunders lost his title $2.3m purse & was suspended. Phentermine & Oxilofrine are potent stimulants that can enhance performance. MASS athletic commission upheld VADA positive test result

— Victor Conte (@VictorConte) August 31, 2021
And the larger point is: the WBC going out of their way to try explain away why they aren't going to do to Valdez what they've done to others- discipline him.
As we wrote earlier Friday about the 29-0 Valdez's controversial status/defense,
Obviously, this is a mess for Top Rank, ESPN and the Pascua Yaqui Tribe try putting the fight on, but still the World Boxing Council has to have at least some standards and consistency when enforcing the drug rules and go on precedence.
For example, the WBC stripped Super Middleweight title holder David Benavidez after testing positive for cocaine prior to his 2018 defense with Anthony Dirrell. The WBC also suspended him for six months.
The organization also stripped Canelo Alvarez of his #1 WBC ranking and suspended him for six months for testing positive for the banned PED Clenbuterol in 2018. That delayed his first fight with Undisputed Middleweight champ, Gennady Golovkin until later that year.
The following year, the WBC stripped #1 Heavyweight Dillian Whyte of his ranking and suspended him for six months for learning after his fight of his positive test for a banned stimulant prior to fighting contender Oscar Valdez. Whyte, promoter Eddie Hearn of Matchroom Boxing and the British authorities didn't reveal to anyone that Whyte had tested positive, because he was appealing. Thus, making a total sham of the pre-fight testing over in the U.K.
Still, in that instance, the WBC acted.
So, Friday the organization decided not doing anything with Valdez, while they have knowledge of the positive test in advance. And, they are sending a "neon billboard-like" signal to all other fighters that the VADA testing doesn't matter. Further, that even if you have a positive test, you will still be allowed to fight and the WBC will still sanction it.
That's lunacy.
Yet, here we are with the WBC obviously playing favorites with the young Mexican star, Vadez and willing to completely ignore their's and VADA's drug rules to do it.