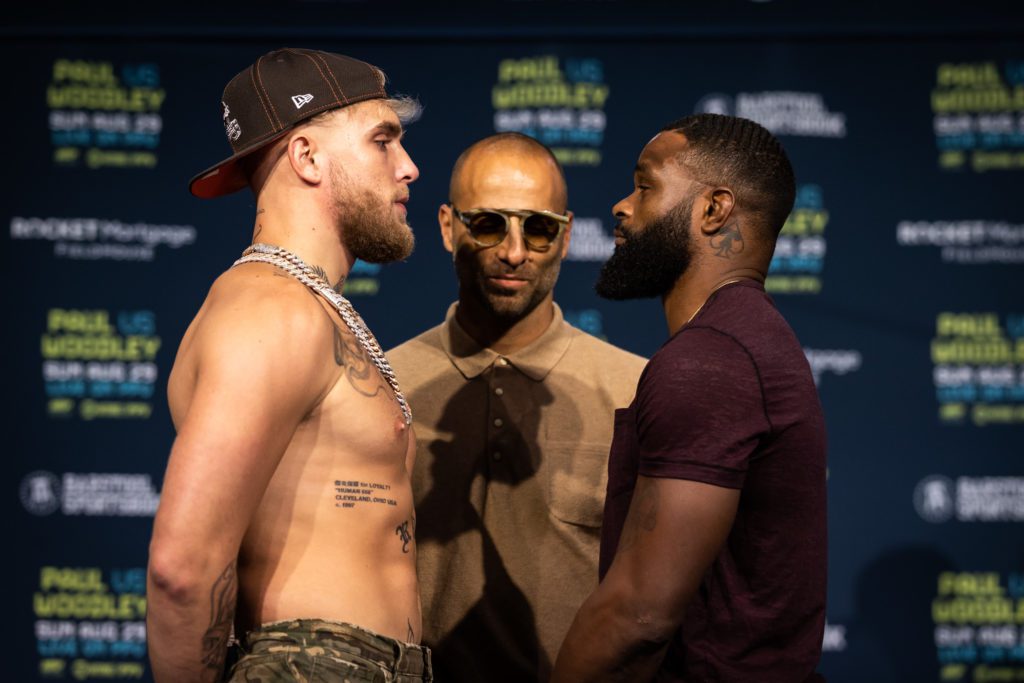 News
Latest Jake Paul PPV Fight Comes Off Sunday NIght
Latest Jake Paul PPV Fight Comes Off Sunday NIght
For the second time this year, former actor turned Youtuber and now start-up boxer Jake Paul will headline another PPV on Sunday night. This time the bout is on Showtime premium cable in Cleveland against former UFC Welterweight champ Tyron Woodley.
The two stepped on the scales and faced each for the final time pre-fight Saturday afternoon, with both making the contracted weight range of 185-190 lb.,
#PaulWoodley is gonna be 🔥 pic.twitter.com/TqFlUXZYa3

— SHOWTIME Boxing (@ShowtimeBoxing) August 28, 2021
As for Paul destroyed former amateur wrestling star and brief MMA fighter Ben Askren in just over a minute of round one of their May PPV bout on the Triller app.
That improved the 24-year-old Paul to 3-0 as a pro boxer, although he's still yet to fight a legitimate boxer. Paul and Triller boasted over 1.3 million PPV buys, which would have been a rousing success. However, that number of audience has never been independently verified and is believed to have been significantly lower.
Hear us preview the Paul-Woodley PPV and fight card on the latest "Big Fight Weekend Podcast" with Marquis Johns and our guest Dan Canobbio of "Inside Boxing Live" by clicking below,
Paul said at the final post-fight press conference Friday,
"Tyron Woodley is 'The Chosen One.' We chose him to get his ass beat. None of his accomplishments matter on Sunday night. I'm sending him into retirement and turning him into a meme. People are going to see all of my skills. People are going to be surprised. I haven't shown anything yet. I might come out southpaw. This is my coming-out party."
The 24-year-old Paul previously scored a KO of former NBA basketball player Nate Robinson on the undercard of the Mike Tyson-Roy Jones, Jr. exhibition through that Triller "Fight Club" last November.
As for the 39-year-old Woodley, he won his UFC title by KO in the first round over Robbie Lawler in July of 2016. He defended it four times before losing to Kamaru Usman by unanimous decision in March 2019.
Woodley's previous background is as an amateur wrestler, including at the University of Missouri. He doesn't have any significant boxing experience.
He said Friday,
"I'm almost falling asleep over here listening to this guy. It's disgusting how much of a clown people have to be to be recognized. He's got the appearance of being about that action down, but I'm really like that.
"This is the fight game. You can say what you want to say, and you can do what you think fighters do. Jake does all the things to build the fight, but we're really here now. He's getting hurt on Sunday."
Now, the talking is done, and the first question that will be answered is can Paul land the smashing right he's shown against the previous non-boxers? Will Woodley actually be able to pose a challenge, or could the fight turn into a boring affair with two inexperienced boxers not being able to figure the other out for a few rounds?
Showtime is banking that it will be exciting, and we'll find out soon enough.