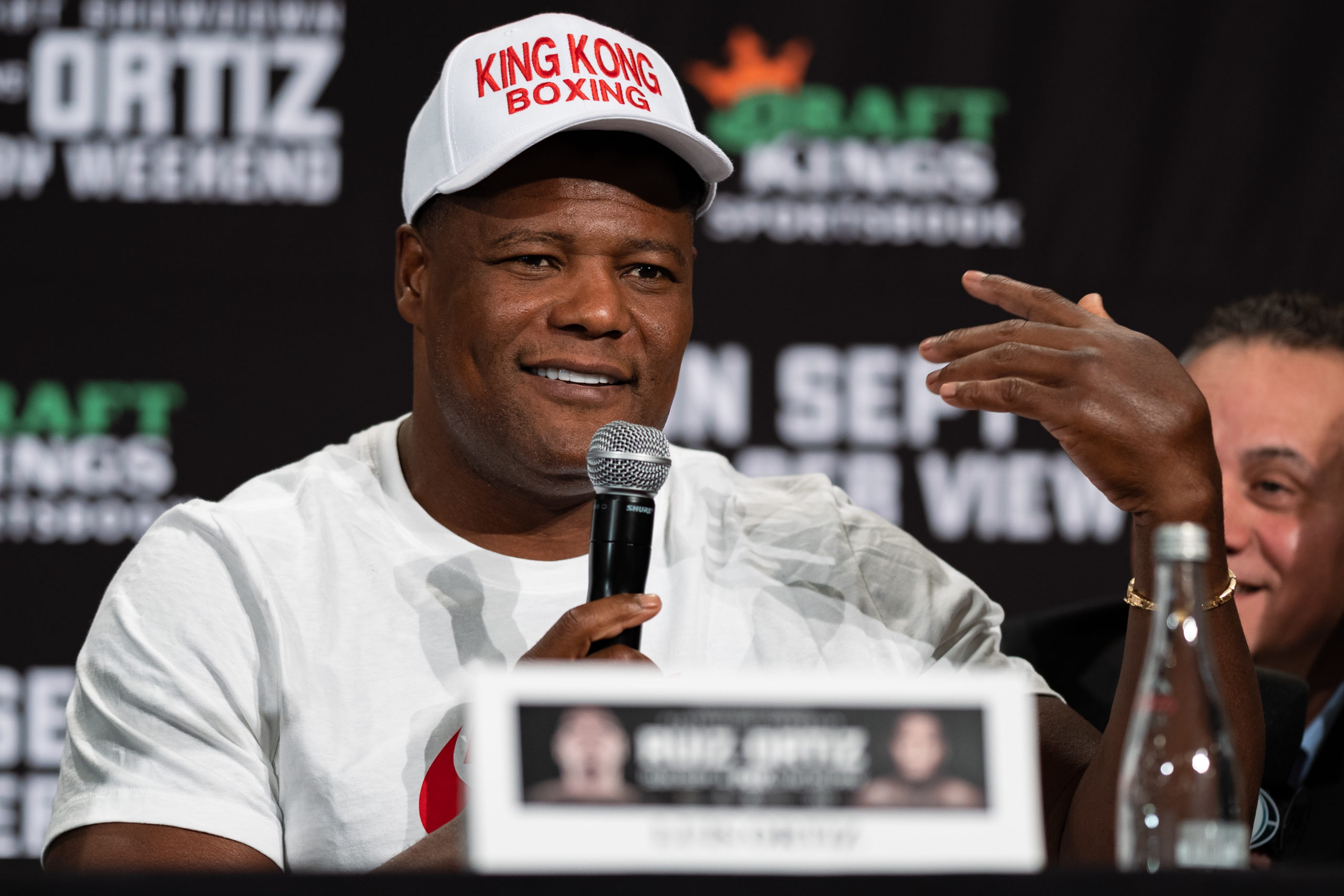 News
"King Kong" Ortiz On Ruiz- "One Of Us Is Going Down"
Coming up Sunday night in Los Angeles, former unified heavyweight champ Andy Ruiz will battle fellow contender Luis "King Kong" Ortiz in a 12 round PBC/Fox Sports PPV main event.  And, for the Cuban born Ortiz, he knows that this is a great example of "who gets the better of whom" with the big punches.
Ortiz met with the media for a final time Thursday afternoon and made clear that he's ready to trade bombs with Ruiz at the Crypto.com Arena. And, that he all but assured that the fight won't last the distance,
"Either he knocks me out, or I knock him out. That's why we fight."

-Luis Ortiz #RuizOrtiz pic.twitter.com/mD9i5EcX6R

— FOX Sports: PBC (@PBConFOX) September 1, 2022
"My goal is to destroy my opponent and win this fight in a convincing fashion," the believed to be 43 year old Ortiz said through his interpreter.
"Either he knocks me out or I knock him out. A knockout in boxing is the best thing in sports. This is going to be an exciting fight, one of us is going down, and I'm making sure it's Andy….This is a very important fight for both of us. Whoever wins this fight is going to get a shot for a world title and right now, it doesn't get any bigger than that."
Make sure to see Ruiz-Ortiz Sunday through PPV.com by clicking below,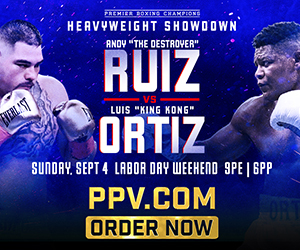 Ortiz (33-2, 28 KOs) who has been a fixture atop heavyweight rankings for years, is most prominently known for his two memorable contests against former longtime WBC heavyweight champion Deontay Wilder, but both ended in KO losses.
Ortiz does have victories in recent years over Travis Kauffman, Christian Hammer and Razvan Cojanu. And, most recently, Ortiz topped a FOX Sports/PBC Pay-Per-View back on New Year's Day, recovering from early adversity to floor former heavyweight world champion Charles Martin on his way to a sixth-round knockout.
As for Ruiz (34-2, 22 KOs), he shocked the boxing world in June 2019, when he was brought in as a late replacement to face heavyweight world champion Anthony Joshua.  Ruiz turned the tables on the champion at Madison Square Garden, knocking him out in the seventh round and taking home the three titles. But, almost as quickly, the 32-year-old from Imperial, California lost his rematch with Joshua by unanimous decision in December of that year in Saudi Arabia.
The two have a combined 50 knockouts in their 67 wins, so that definitely lends to the likelihood that Sunday night won't go the distance.
Make sure to hear Dan Rafael and me previewing Ruiz-Ortiz more on our "Big Fight Weekend" podcast here: