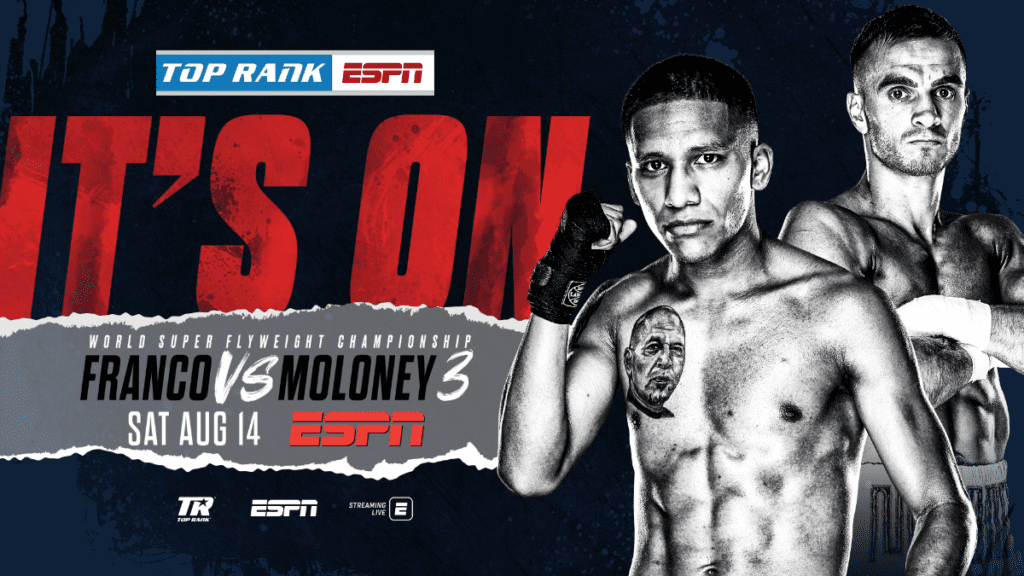 News
Joshua Franco-Andrew Moloney III Made Official For August
Joshua Franco-Andrew Moloney III Made Official For August
The anticipated trilogy fight for the WBA Super Flyweight World Title between champion Joshua Franco and former champ Andrew Moloney, is set for August and will be in Tulsa, Oklahoma.
This, after Top Rank Boxing and ESPN confirmed the date and the site.
🔥 SUPER 🔥 FLY 🔥 TRILOGY 🔥

After the rematch ended in controversy, @JoshuaFranco_ and @AndrewMoloney will settle their score once and for all in five weeks at the @TulsaHardRock.#FrancoMoloney3 | AUGUST 14 | ESPN & ESPN+ pic.twitter.com/IQFS4N2HPE

— Top Rank Boxing (@trboxing) July 9, 2021
"The Hard Rock and the fight fans of Tulsa are in for a treat with a grudge match between Franco and Moloney, an all-action fight between ( Lightweights, Arnold) Barboza and @(Antonio) Moran, and the professional debut of a special young man in Nico Ali Walsh," said Top Rank chairman Bob Arum.
Another fight on the Top Rank card will feature Andrew Moloney's twin brother, Jason, battling Joshua "Night Night" Greer in what should be an action packed Bantamweight, non-title clash.
Back to Franco-Moloney, as we have written the Australian is anxious to get his hands on Franco for this third fight. This is due to their controversial "no decision" fight in Las Vegas at the MGM Grand "bubble" last November.
In that bout, Franco suffered a serious right eye injury and it almost swelled completely shut inside of two rounds. Moloney, still 21-1, 14 KOs, contends that the swelling was from his numerous hard left jabs and left hooks to the eye. However, referee Russell Mora believed that it was from an accidental headbutt in the early stages of round one.
That's an important distinction, because the ruling of accidental foul nullified Moloney possibly winning by stoppage and because the about had not yet gone four rounds by rules of the Nevada Athletic Commission and the WBA, the fight was to be deemed a no-contest.
Further adding to the confusion and the controversy, is that the Nevada commission along with alternate referee Robert Byrd continue to delay and look at replays of the first round of the fight for clarification that Franco had actually been injured by an accidental Clash of heads. That lasted some 25 minutes before the official decision was announced.
Nevada athletic commission chairman Bob Bennett vehemently defended the decision to rule to fight a no-contest in the days after the bout.
Arum was furious at the delays and the no-contest ruling, as he and the Moloney believed there was no concrete evidence that the swelling on Franco's eye was caused by an accidental butt. Rather, they point to the numerous punches Moloney was landing on the right side of Francos face and the eye.
The WBA immediately ordered a third bout. Moloney had been appealing to the WBA and the Nevada commission about having the ruling overturned to a TKO win for him, but got nowhere with that.
"I've had to wait nine months to once again fight for what should have been mine back in November. There is no way I'll be leaving that ring without my world title this time. I'm sure when he looks at himself in the mirror, he knows deep down he's not the real champion," Moloney said in the Top Rank press release.
"He knows there was no head clash. I've stayed in the gym and used this time to improve as a fighter. He is up against an even better fighter than he was the last time around. He's in trouble." 
"I'm very excited for this third fight with Moloney. I've been preparing very well for this fight, and I'm feeling stronger than ever," Franco said. "I hope everybody tunes in come fight night because it's going to be one to remember. I will remind Moloney why I'm the champ. And still!"
Franco upset the WBA Champ Moloney by 12 round decision in Las Vegas last June, which set into motion their rematch.
The undercard will be on ESPN+ and the main card will be on the ESPN main network starting at 10 p.m. Eastern.