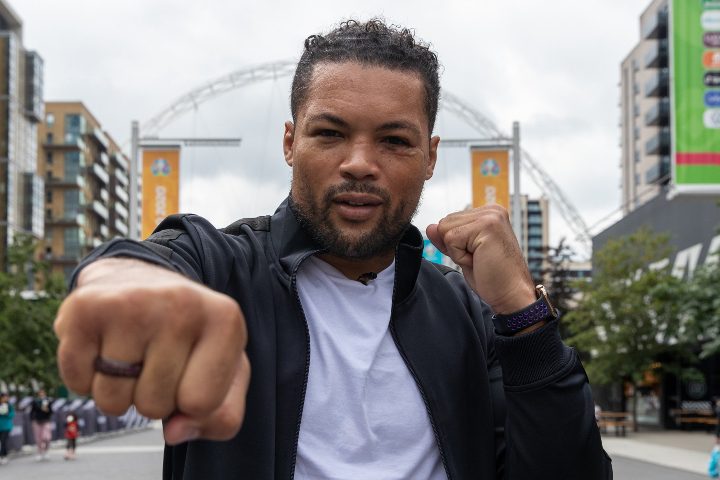 News
Joe Joyce Starts Slowly But KOs Hammer In 4th
British heavyweight contender Joe Joyce returned from a year layoff and looked awfully rusty for the first two rounds as journeyman Christian Hammer bounced one clean overhand right after another off his chin.
But Joyce, who has always been able to take a good punch, walked through the shots and eventually dropped Hammer four times in a fourth-round knockout victory on Saturday at the OVO Arena, Wembley in London.
With the win, Joyce maintained his position as the WBO mandatory challenger for the winner of the Aug. 20 rematch between three-belt titleholder Oleksandr Usyk and Anthony Joshua.
Joyce had been idle for just a couple of weeks shy of one year since a sixth-round knockout of former world title challenger Carlos Takam at the same venue due to a broken wrist suffered in training a few months after the bout. But Joyce had no issues with his wrist. He just got off to a very slow start against an opponent he was expected to eventually demolish.
"He was tough and he was game. He hit me with some good shots early on," Joyce said. "I had to kind of work him out and then start landing my shots. He's a tough guy because I hit him with some big ones, so credit to him and his team for coming out here. It's been whole year since I've been out (to fight), so it was good to be back again. It's exciting I love it."
Hammer (27-10, 17 KOs), 34, of Germany, was stopped for the fifth time but has faced a who's who of top heavyweights, and usually gone rounds with them. He had been stopped by Tyson Fury and Hughie Fury, but Joyce stopped him more quickly than they did. Hammer had also gone the distance with Frank Sanchez, Luis Ortiz, Tony Yoka and Alexander Povetkin.
He and Joyce started at a quick pace but it was Hammer who landed the cleaner punches early on, including two excellent and clean overhand rights in the opening round. But Joyce never budged then or in the second round when Hammer did it again.
Joyce (14-0, 13 KOs), 36, the 2016 British Olympic super heavyweight silver medalist, was also landing hard jabs and body shots and just a tick before the bell ended the third round he caught Hammer with a grazing left hand that sent Hammer down to a knee.
In the fourth round, Joyce stepped up the attack and finished Hammer. He dropped him to a knee three more times – a right to the body, a left hand during a flurry of shots and finally with a hard left to the body, after which referee Victor Loughlin waved it off at 1 minute, 20 seconds.
"It's kind of like when you go in the rain you have an umbrella, but if you don't you probably get wet a little bit. So, that's what happened early on until I got my defenses up and footwork going and head movement, especially because I haven't fought for so long I had to warm into the fight a little bit," Joyce said of getting hit so cleanly in the first two rounds.
Promoter Frank Warren said Joyce will return to action on Sept. 24 against an opponent to be determined. He was pleased with the result.
"We'll sit down and talk about opponents," Warren said. "He got the cobwebs out of his system. The other thing that really for me was a worry was the fact that he had broken his wrist. It was a proper snap, so there was no problem with that. He got caught himself a few times, but I'm glad he found his umbrella.
"He had a good variety of shots, some good body shots, done what he had to do against a tough guy who came to fight. While it lasted it was bloody exciting."
Whomever Joyce faces in September, he remains on track for an eventual championship fight.
"I'm top level, ready for the world stage," Joyce said. "I'm a proper heavyweight. I've got an engine; I've got a chin; big heart and big cajones. So, I'm ready for all comers.
"I'm looking to fight possibly the winner of AJ-Usyk or maybe Tyson Fury. I'm at that level."