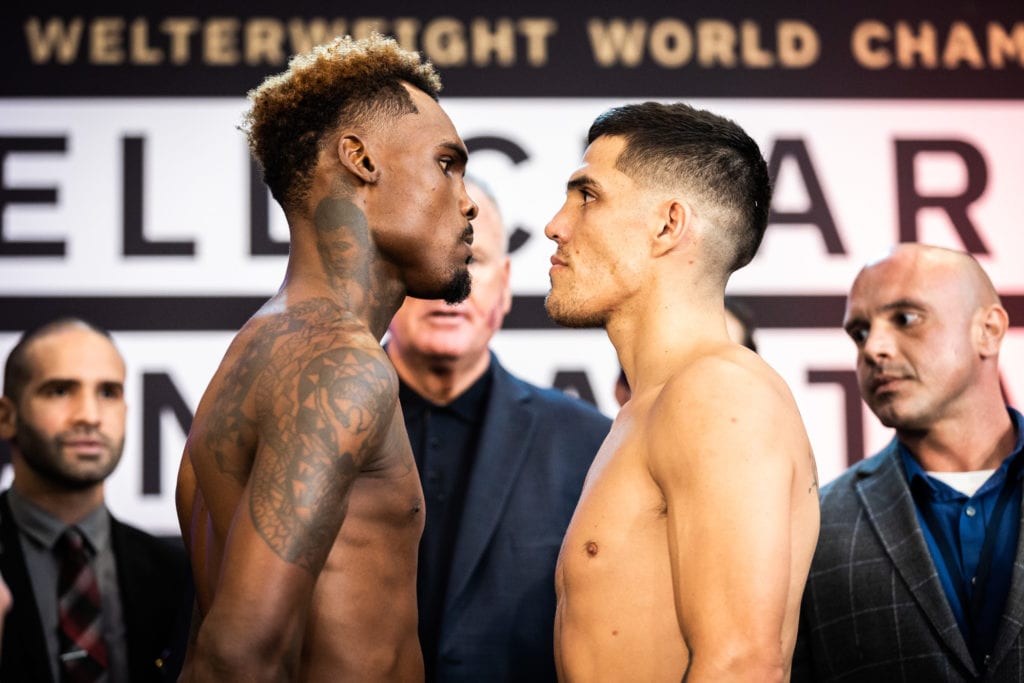 News
Jermell Charlo Glove Controversy Prior to Saturday Castano Fight
Jermell Charlo Glove Controversy Prior to Saturday Castano Fight
A Friday glove controversy involving Unified Jr. Middleweight World Champ, Jermell Charlo, is potentially threatening Saturday night's Undisputed title bout in San Antonio, TX with WBO champ, Brian Castano.
ESPN Knockout's Salvador Rodriguez reported late Friday that a dispute arouse over Charlo's right glove during the inspection/approval session with Texas boxing officials and the world sanctioning bodies.
😱😱😱

Por guante de Charlo, Team Castaño asegura, ahora no hay peleahttps://t.co/xbD7mLFkCo

— Salvador Rodriguez (@ChavaESPN) July 17, 2021
Translating from Rodriguez's story in Spanish with comments from Castano's manager,
Sebastián Contursi revealed to ESPN that Charlo's right glove has a balloon and cannot be approved Brian Castaño's team revealed to ESPN Knockout that due to a controversy with Jermell Charlo's gloves, until now there will be no fight this Saturday for all the Super Welterweight championships.
"Charlo's right glove has a balloon (sic) and that glove cannot be approved, the commissioner gave us the reason at 3 in the afternoon, Charlo's representative called Jermell's coach, Derrick (James), they said that They could go in 2 hours and the Texas commissioner said yes, at 5 they came with a bodyguard, they threw out our translator and allowed Charlo to have a bodyguard and I never saw a thing like it in my life.
So far there is no fight, it is not for money, with that glove we do not fight, our gloves are fine," Sebastian Contursi told ESPN Knockout. 
As of Saturday morning, there was no further update to the controversy and whether the WBC, WBA and IBF World Champ Charlo's gloves that he intends to wear in the scheduled 12 rounder are approved or not? Typically, fighters have two or three pairs of gloves that they will try on in front off all officials and representatives from both fighters. And, then they will select a pair that will go into the custody of the officials until fight night.
So, we await the official word later today.
On Friday, the Houston native Charlo came in comfortably under the 154 lb. limit at 153. Meanwhile the Argentine Castano was 153 1/4. However, there was much more excitement between the fighters and the entourages once the fighters tried to come together for the "stare down" after the weigh in. This, included predicable arguing and shoving among them (not the fighters) and security.
As we wrote Friday, this is a fight for the 34-1 Charlo's all time legacy at 154 lb. This, as he has a chance to be the first ever holder of all four World titles at Jr. Middleweight at the same time.
And, Castano realizes that he is the underdog, fighting near Charlo's hometown of Houston and not being given much of chance at victory despite his 17-0-1 record.
Now, we wait to see how much the "glove issue" from Friday is, or is not, a story for later Saturday night?