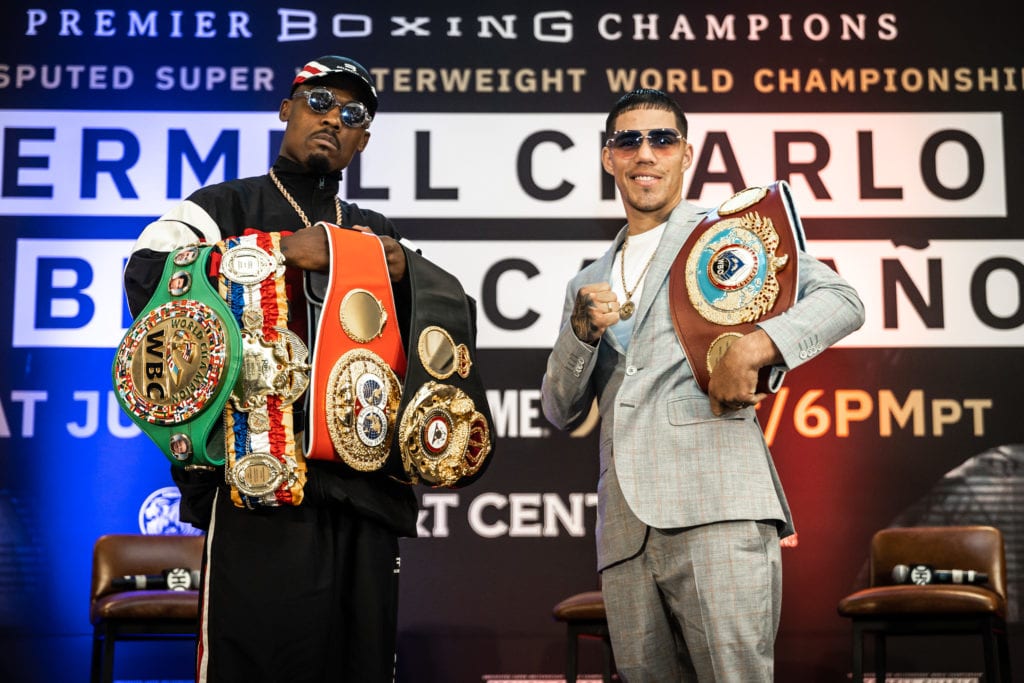 News
Jermell Charlo-Brian Castano Battle For Place In History
Jermell Charlo-Brian Castano Battle For Place In History
Coming up Saturday night in San Antonio, TX, it's a battle for Undisputed status in the Jr. Middleweight division as Jermell Charlo and Brian Castano go for supremacy in the 154 lb. division.
Charlo, the WBC, WBA and IBF World champ will put his 34-1 record on the line against the WBO champ Castano (17-0-1) in a scheduled 12 rounder at the AT&T Center, downtown in the "Alamo City."
We discussed this battle at length on the Big Fight Weekend Podcast, as Marquis Johns of this site and Abe Gonzalez of NYFights.com came aboard to talk strategy and make predictions on Charl0-Castano. Hear us by clicking below,
Charlo and Castano met with the media for the final time on Thursday afternoon and the heavily favored, three-belt champ made clear that he's ready to embrace history.
"This is a dream come true. I've wanted to be undisputed since I was a child because this is the highest you can reach in boxing. Being in this moment really makes me thankful to my whole team who helped me get to this point.
"Now is the time that me and my brother finally get the opportunity to show the world what we're worth. This is the moment for us. Opportunities like this don't come around too often, so I have to go out there and take advantage….
I have the don't blink attitude for this fight. You never know what could happen at any moment of any round. I've knocked people out in just about every round. We're both in good shape, so we're going to find out who's better Saturday.
"A focused Jermell is the most dangerous Jermell there could be. I have different skill sets that I can implement in this fight no matter what Castaño does."
For his part, the Argentinian born Castano knows he's the Underdog and it will be the toughest fight of his pro career to date. He said Thursday,
"For me and my team, this is yet another opportunity to lift Argentine boxing up and add another star to that legacy. That's what I want and I'm enjoying this moment. I promise that on Saturday night, I'm going to leave it all in the ring for everybody.
"He has all the pressure on him being in his home state. I've been training so hard for nine months and I'm comfortable as the underdog. I always come in as the underdog, so I don't feel any pressure….
We have a war to fight on July 17. I'm not thinking about anything beyond that fight. My mind is fully set on becoming undisputed champion Saturday night."
And those are some serious names that the winner on Saturday night is trying to join in notoriety.