Jay Chaudhry speaks on Boxing Moms series
To close out 2019, we mentioned on here about an upcoming web series "Boxing Moms" expected to air at the end of this month.
Boxing Moms will feature a behind-the-scenes look at the lives of these women as they balance the demands of motherhood and boxing. Speaking exclusively to Break Media's co-founder and director/producer Jay Chaudhry, he talked to me about the upcoming Web series and how it all came together, as well as how it all started with show Creator and Executive Producer, Michelle Rosado.
"Michelle (Rosado) and I connected last year on social media on Twitter," Chaudry told me. "Obviously she's a big influencer in boxing. At the time, I was making a lot a noise in boxing because of my with the boxing documentary.  So she connected with me through that. Ever since then, we were talking about the boxing world, what's going on in it.

Boxing Moms for Chaudhry was to take it back to a straightforward approach and capture the moment of the lives of the moms. "Just literally take it back to old school filmmaking, which is shut the f*ck up and hit record," he explained.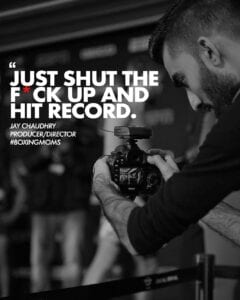 Terence Crawford, who in the past been reserved when it comes to media interviews, was more than willing to appear on camera during fight week in support of Adorno brothers, Joseph and Jeremy.
Behind the scenes of #BoxingMoms @terencecrawford showing some love and support to the Adorno's ahead of their fight tomorrow night at @HardRockHCAC pic.twitter.com/SSaBStCwG4

— Break Media (@BreakMediaInc) January 11, 2020
The series is to show a realistic portrayal of a mother's as a parent in the lives of their boxers without the fakeness shown on formulaic reality show format.
"She mentioned to me this really cool idea a few years ago about a show she wanted to create called Boxing Moms. Chaudry stated. "It was supposed to be at the time a reality show like Mob Wives, stuff like that. We both decided that stuff was too played out and outdated. We'd figured we wanted to do something different. Something meaningful, that's exciting and emotional."
"We believe at Break Media in humanizing athletes to make fans better connected to them. Chaudhry said, "What we are doing here at Boxing Moms is establishing that."
Boxing Moms launches in early 2020, and will be available exclusively on YouTube and IGTV with the first episode with Tammy Adorno, mother to boxers Joseph and Jeremy Adorno, who were both in action in Atlantic City last Saturday for Top Rank Boxing.