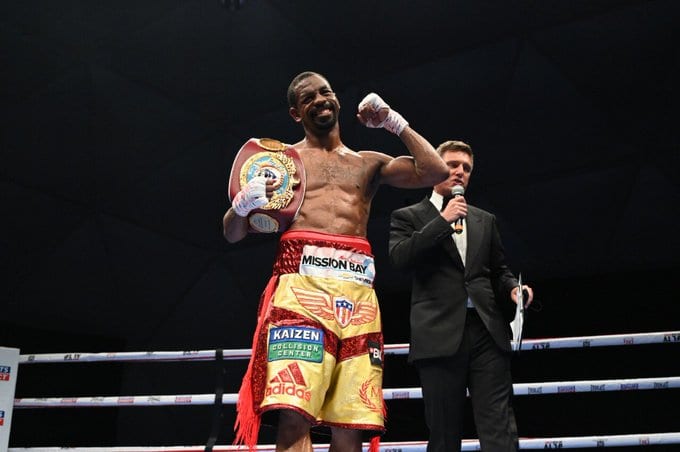 News
Jamel Herring Wants Valdez Instead of Stevenson Mandatory
Jamel Herring Wants Valdez Instead of Stevenson Mandatory
Fresh off the most impressive win of his professional career, WBO Junior Lightweight champion Jamel Herring definitely has lucrative options in front of him for his next bout. And, even though unbeaten, former U.S. Olympian and former WBO Featherweight titleist Shakur Stevenson is his mandatory challenger, the 35-year old Herring has his eyes on a bigger prize.
In comments made to Boxingscene.com senior writer Keith Idec on Tuesday, the New York native Herring made clear that if he has his choice, he will bypass what has seemed to be his certain next bout with Stevenson for this Fall,
Herring: Stevenson Fight Is Big, Would Pay Well; Valdez Fight Makes More Sense Right Now https://t.co/lSnvcZpJcr pic.twitter.com/5bnsqBGBrF

— BoxingScene.com (@boxingscene) April 7, 2021
Instead, Herring, who knocked out Ireland's Carl Frampton in his third title defense this past Saturday in Dubai, wants WBC 130 lb. champ, Oscar Valdez. He said to Idec,
"It's (Stevenson) a big fight and I know it'll pay well, of course," Herring said. "But the Valdez fight trumps that. It'll pay more and then there's more of a reward on the back end for my career. OK, say we fight Shakur and we beat Shakur, people are gonna look at it and they're gonna find something to downplay it anyway – something. 'Oh, he was young,' or you know, something.
"Valdez, he was a featherweight champion who defended his title on multiple occasions, he beat the most dangerous guy in the division [Miguel Berchelt] and, you know, he's the number one guy to many people that look at the junior lightweight division. So why not go for that? It's nothing against Shakur. I'm a fan of Shakur. I think Shakur's one of the best fighters out there. But when you look at resumes, you know, you'd have to say Oscar Valdez makes more sense right now." 
Stevenson, 15-0, is slated to fight #2 WBO contender Jeremiah Nakathila in a Top Rank Boxing promoted Jr. Lightweight battle in June.
Meanwhile, Valdez captured the WBC 130 lb. title with an impressive KO of longtime champion Miguel Berchelt in Las Vegas in February and gained his second world title in a different weight division.
As Idec points out, all three fighters are under the Top Rank Boxing promotional umbrella, and it's now a matter of what fight promoter Bob arum want to make?
Stevenson is a rising star, who is 13 years younger than Herring. And, he may be the guy that Arum wants to groom as the future Unified, if not Undisputed, Junior Lightweight champ. Herring also acknowledges in the Boxingscene article that he may have less leverage, if he vacate the WBO's belt and the 30 year old Valdez, who is 29-0, then possibly may not want to fight him.
However, they are the two biggest names, right now, in the division, regardless of whether Herring still has the WBO title. And, it would be a large payday for both of them.
Also, the WBO could do what they're intending to do with the proposed Olesander Usyk-Joe Joyce Heavyweight contender fight later this Summer.
Usyk, the former World Cruiserweight champ, has been the WBO's number one heavyweight for over a year. And if Unified Champion Anthony Joshua (who has the WBO belt) still refuses to fight him, then the bout with Joyce will not just be for the "interim" championship, but could be elevated for their "World Title" at a later date.
That seems to be the same situation with the Stevenson- Nakathila fight, where it would be to solidify the number one slot for the "interim" belt. Then, if Herring decides to vacate, the winner would be declared the World Champ.
They are great options for the former U.S. Marine Herring to have and we know his preference of opponent.
Now, we wait to see what fight gets made.