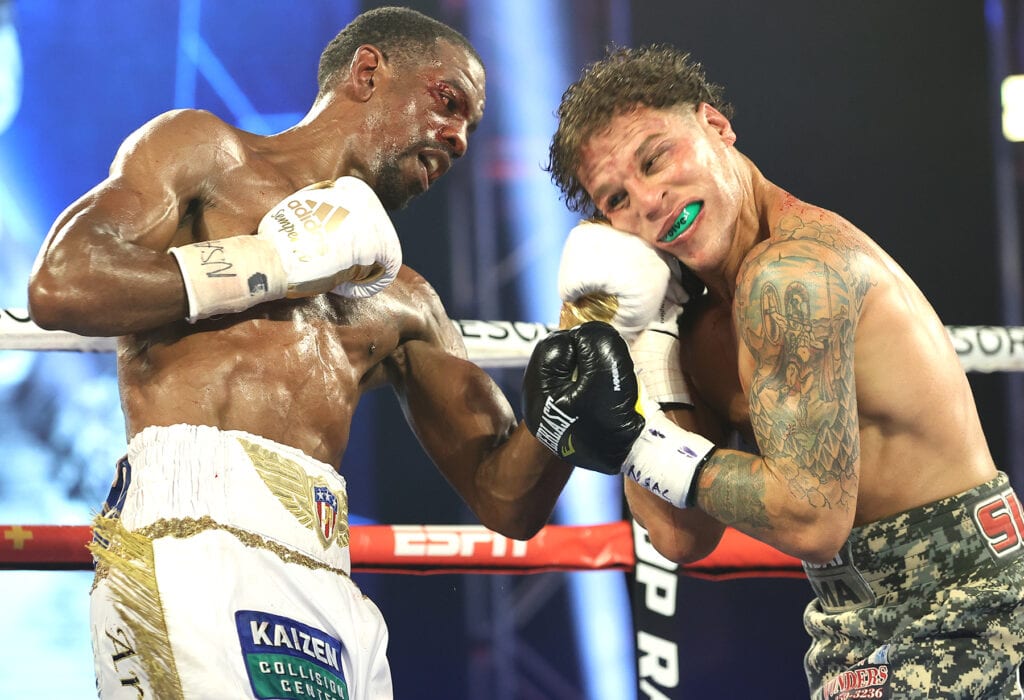 News
Jamel Herring- "Hoping I Can Be Nominated For Fighter Of Year"
Jamel Herring- "Hoping I Can Be Nominated For Fighter Of Year"
Coming up tonight in Atlanta, WBO Jr. Lightweight Champ Jamel Herring will defend his title for the 3rd time against unbeaten Shakur Stevenson. And, Herring made it clear leading up this Top Rank Boxing/ESPN main event that with a win, he wants some love from the boxing media, etc.
Herring joined us on the latest "Big Fight Weekend" podcast in the preview mode to discuss some strategy against Stevenson and more. Listen by clicking below
"Just to be in another big fight in 2021, I'm actually hoping with a victory here that I can be at least nominated for 'Fighter of the Year.' These are the things I look forward to. Of course, the payday (over $1.5 million guaranteed) is great. I always want to set goals that I can look back on and be proud of. It's a huge honor to be on the big stage with ESPN and Top Rank and fighting a fight that could land my fighter of the year. or, at least, cracking the pound for pound list," Herring told us.
When last we saw Herring, 23-2,  he traveled halfway around to world to stop former two division world champ, Carl Frampton in April in the United Arab Emirates. And, he does have a legit argument that an upset of Stevenson would definitely put him in a discussion for top guy of 2021.
He will defend his WBO title for the fourth time against arguably his toughest opponent of his career in the former U.S. Silver Olympian, Stevenson. The 24 year old Virginian Stevenson puts his 16-0 record on the line in this Saturday night showdown.
When last we saw Stevenson, he had a lackluster 12 round effort against Jeremia Nakathila in June in Las Vegas. Stevenson blamed illness in part for his lack of exciting action/punch out put, but it's something that he won't be able to get away with against the seasoned Herring.
Now, we're about to find out whom gets the better of whom?