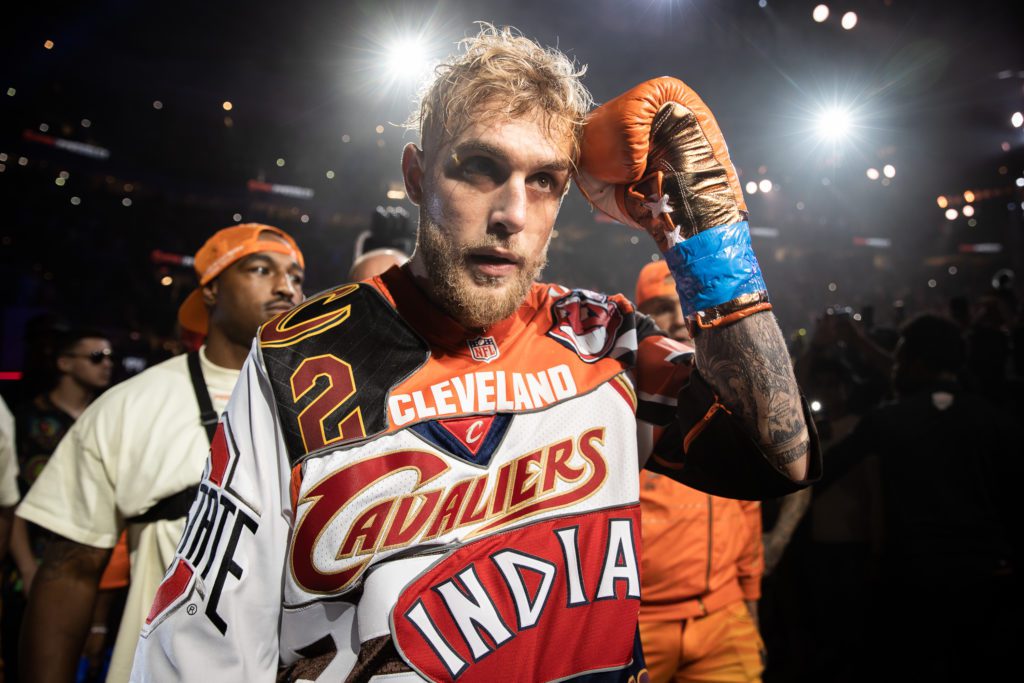 News
Jake Paul-Tommy Fury Made Official For Tampa December 18th
Jake Paul-Tommy Fury Made Official For Tampa December 18th
What had been rumored over the past few weeks for Youtube/Social media star Jake Paul's next bout will apparently happen in December, as he takes on the half brother of Tyson Fury, Tommy Fury in a sanctioned eight round Cruiserweight fight.
Showtime Premium cable, who did a multi-fight deal with Paul earlier in the year, made it official Friday afternoon.
From the Showtime release,
On the heels of an impressive performance against former mixed martial arts world champion Tyron Woodley in August, Paul looks forward to his fifth professional boxing match as he takes a sizable step up in competition and puts his undefeated record on the line. Paul, the social media sensation, has garnered unprecedented attention for a young boxer since he entered the ring against NBA star Nate Robinson and defeated him with a show-stopping knockout that made headlines around the world. Paul is now taking the next step in his young career as he goes after Love Island reality TV star Fury, the younger brother of WBC Heavyweight World Champion Tyson Fury.
Paul and Fury will meet for the first time since their fight was announced on Saturday, November 6 in Las Vegas and will make an additional appearance in Tampa on Monday, November 8. More details on both events to follow.
Titled #PaulFury: One Will Fall, the event is produced and presented by Most Valuable Promotions and SHOWTIME PPV and promoted in association with Tony Holden Productions. The pay-per-view telecast begins live at 9 p.m ET/6 p.m. PT and is produced and distributed by SHOWTIME PPV and it will feature other exciting high-stakes, professional boxing matches which will be announced in the coming weeks.
The 24-year-old Paul (4-0, 3 KOs) is a world-renowned content creator. He began his professional boxing journey in January 2020 and has proven to be an influential participant in the sport's landscape with his outsized personality and quickly developing skill set. The Cleveland-native is fighting out of Puerto Rico under the eye of former boxing cruiserweight contender and world title challenger B.J. Flores, who has been training Paul from his first professional fight.
After knocking out British YouTube star AnEsonGib in his debut and defeating Robinson with a knockout heard around the world, Paul made quick work of former MMA champion Ben Askren in April with a first-round knockout. The win over Askren was Paul's first victory over a seasoned professional fighter and he followed it up with an impressive performance against Woodley, arguably his most dangerous opponent to date. 
"I started my professional boxing career less than two years ago on January 30th, 2020. Four fights, three pay-per-views, two as the headliner, and one sold-out arena, I'm looking forward to my toughest challenge yet and continuing to prove the critics wrong," said Paul. "Fight a real boxer they've said, and that is exactly what I'm doing. An undefeated boxer from the legendary Fury bloodline. However, this one is more than just boxing for me. It's for America and showing the world there is no other country that gives you the opportunity to achieve whatever you set your mind to." 
As laid out above, this will be the first time that Paul has gotten in a boxing ring with an actual experienced professional boxer.
As for Fury, he fought on the undercard of Paul's win over Woodley in Cleveland. And, as we wrote previously, he waited to confront Paul in the hallway of the locker room area of the arena after Paul's decision win to demand that they fight.
As this video showed, Fury continued to scream at Paul "Take the fight! Take the fight!" And now, that's apparently going to happen.
Fury, who is 7-0 with 4 KOs as a pro, had some amateur experience and  is also a reality TV star from the U.K. He was part of the cast of the male-female couples show "Love Island U.K." in the Summer of 2019.
From the Showtime release, Fury didn't hold back on his disregard for Paul,
"Jake Paul is about to learn a serious life lesson. This is my world, and he doesn't belong here," said Fury. "I'm not one of these MMA men or basketball players, I have been boxing my whole life. On December 18th I will show the world the difference between a YouTuber and a real fighting man. Thanks to my promoter Frank Warren, Most Valuable Promotions and Showtime for giving me the opportunity to shut this clown up once and for all."
The fight will be held at downtown Tampa's Amalie Arena, home to the two-time Stanley Cup champion Tampa Bay Lightning of the NHL That venue has previously hosted world title fights for the likes of Roy Jones Jr. "Winky" Wright and Antonio Tarver and seats 18,000+ for boxing.