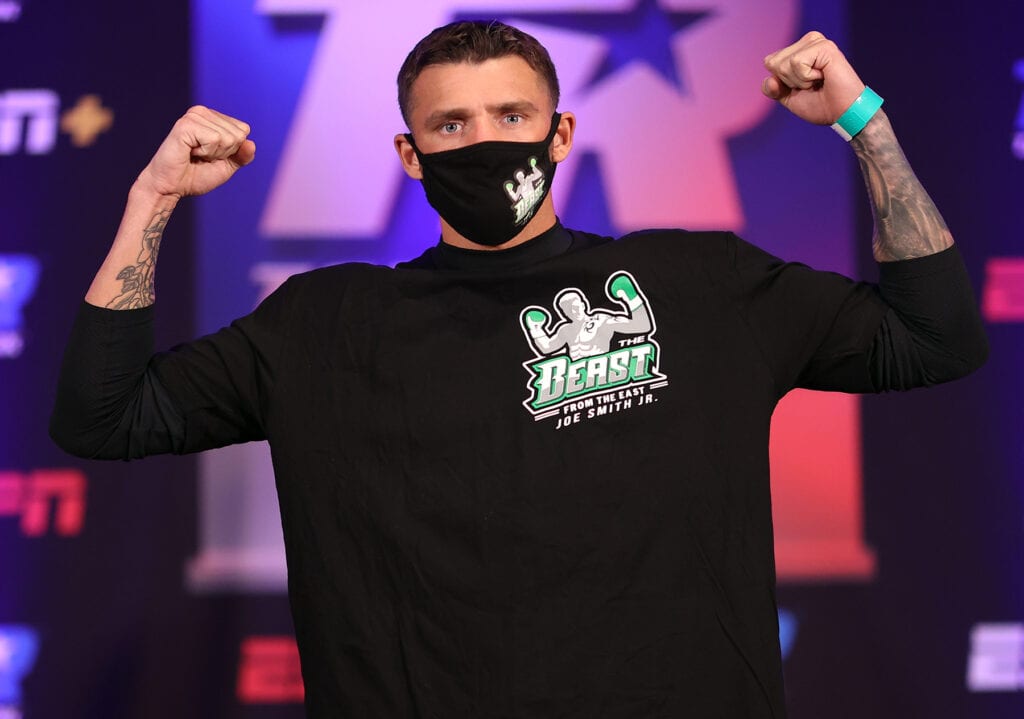 News
It's Joe Smith Jr-Steve Geffrard Fight Week!
It's Joe Smith Jr-Steve Geffrard Fight Week!
After a weekend that saw everyone in the United States focus on the last week in the NFL season, everything makes way for a fight card out of Verona, New York featuring WBO light heavyweight champion  Joe Smith taking on late replacement Steve Geffrard until we find out from the NFL who is playing on Saturday night in primetime.
Smith Jr. comes into this fight as the champion and looks to get this fight up and over with after several delays. One was when Smith Jr. himself had to push this fight back when he contacted COVID. Geffrard steps in with a new opponent as for Callum Johnson, who had to withdraw for the same reason. If the first few weeks don't remind you of the impact of the pandemic, this main event will.
So who is Steve Geffrard ? He was one of the few fighters who was supposed to be in action at a club show in Florida before he got the call for the title shot last week. Corey Erdman spoke with Geffrard about the opportunity at Boxingscene and was as surprised as you'd expect.
And so it begins… 🔥🗓#SmithGeffrard | JANUARY 15 | ESPN pic.twitter.com/5JreaevfxY

— Top Rank Boxing (@trboxing) January 10, 2022
"All of the sudden, I get a call from my coach Kevin Cunningham, and he says, man, Steve, you're never going to believe this. They just called you to fight Joe Smith Jr. for the world title. I couldn't believe it," said Geffrard to Boxingscene.
As an amateur, Geffrard was racking up accomplishments as the US National Amateur heavyweight champion in 2010 and USA Boxing's Athlete of the Year. 2010 was his breakout year as he won the US amateurs, collecting National Golden Gloves, USA Boxing National, and National PAL titles. The one American heavyweight to consistently give him issues at the time is current heavyweight contender Michael Hunter.
"For me to get a call like that is insane. I know how hard it is to even get a world title shot. I have friends like Erickson Lubin, who's been ranked No. 1 in his division and stuff, and he keeps on having to title eliminator after title eliminator. I've seen guys like Dillian Whyte have to wait and stuff. I've barely been active, so for me to even get that call and that opportunity is insane," Geffrard stated. 
Geffrard , as the fight week begins, is a 7 to 1 underdog to upset Smith in most sportsbooks, as this goes to post on the site here. It will be interesting what the round prop is as the heavy-handed Smith is expected to be favored here. That reasoning is because Geffrard 's last big chance was against the in-ring ghostly fighting remains of Denis Grachev on points last March. That shockingly is the first time, and probably last time you'll see that name on this website as the 39 year old Russian lost 9 of his last ten fights going back to 2019.
This is a great chance for Geffrard but while I'm looking forward to Saturday night at Turning Stone for Top Rank Boxing's 1st fight card of 2022, fingers crossed this main event fight makes it thru these setbacks as the pandemic for the second straight ear in a row looks to continue ts impact on the world of the sweet science.