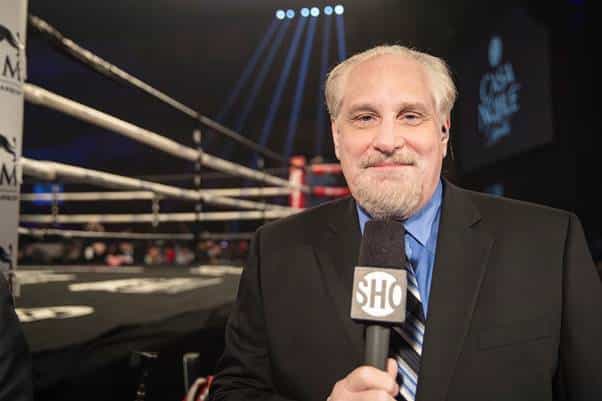 News
Interesting Travel Week For Hall Of Fame Analyst Al Bernstein
Interesting Travel Week For Hall Of Fame Analyst Al Bernstein
Coming up on Friday night in Nebraska, Showtime premium network is set to celebrate the 20th anniversary of their prospect driven "ShoBox" series and their Hall of Fame analyst, Al Bernstein, has had some travel adventures getting there.
Bernstein, the lead analyst for the network since 2003, is regarded as arguably the top fight analyst in the United States of the last 40 years of the sport. However, it didn't exempt him from what can be, at times, a grueling process to get to a more remote location to go to work for Friday's night's fight card from the Heartland Events Center in Grand Island, Nebraska.
Here was the first sign of trouble for Bernstein's twitter account Wednesday evening,
Well, I raced through Dallas airport after my flight was delayed in Vegas to just barely make my connection o.N This little plane to Grand Island Nebraska where I will do the Shobox show on Friday. I was thinking of those old commercials with OJ running through airports. LOL

— Al Bernstein (@AlBernstein) July 22, 2021
Bernstein then humorously updated that he had made it safely at a late hour to the "Cornhusker State"
I am literally the last person here at the Grand Island Nebraska airport at midnight as I wait for what I think is the only taxi available in town to pick me up. Kind of surreal. LOL pic.twitter.com/xXje8oLkbH

— Al Bernstein (@AlBernstein) July 22, 2021
And this came on the heels of Berstein having been on the call with Mauro Renalo for Showtime in San Antonio, TX, last Saturday night, as Jermell Charlo and Brian Castano battled to a controversial 12 round draw for the Undisputed Jr. Middleweight crown.
On Sunday, while trying to get back from Texas to his Las Vegas home, Bernstein updated with poking some fun at himself, as well
For those of you who are mad at me for my call of the fight last night, you'll be happy to know I'm having a terrible Travel day day. LOL big delay, flight changes etc. killing 3 hours in San Antonio airport. Oh well…..

— Al Bernstein (@AlBernstein) July 18, 2021
He got back to Nevada safely and now has ventured back to Middle America for the Friday night card.
Bernstein will work with fellow legendary play by play voice Barry Tompkins on the call of the Super Middleweight main event bout between rising prospects Kalvin Henderson (14-0-1) and Isaiah Steen (15-0, 12 KOs). The co-feature Friday pits ShoBox veteran Janelson Bocachica (17-0, 11 KOs) of Detroit against 21-year-old Shinard Bunch (15-1, 13 KOs) in a 10-round welterweight bout.
Previously Showtime said about the 20th anniversary broadcast,
"This is a milestone ShoBox event and we could not be more excited," said Gordon Hall, who has served as the executive producer of ShoBox: The New Generation since its inception. "As we celebrate two decades of ShoBox on July 23, we will stay true to our ethos to match undefeated, developing prospects in tough fights….   ShoBox remains the sport's ultimate proving ground for prospects and this event on July 23 is the perfect way to kick off our next decade."

The usual monthly ShoBox series debuted on July 21st, 2001 and has featured a staggering 84 fighters, who eventually went on to win world championships.
Back to Bernstein, who went into the International Boxing Hall of Fame in 2012, he's one of the most gracious and time giving ambassadors of the sport and it will be neat to see and hear him with Tompkins, again, on Friday.
No matter who crazy his traveling was this past week.