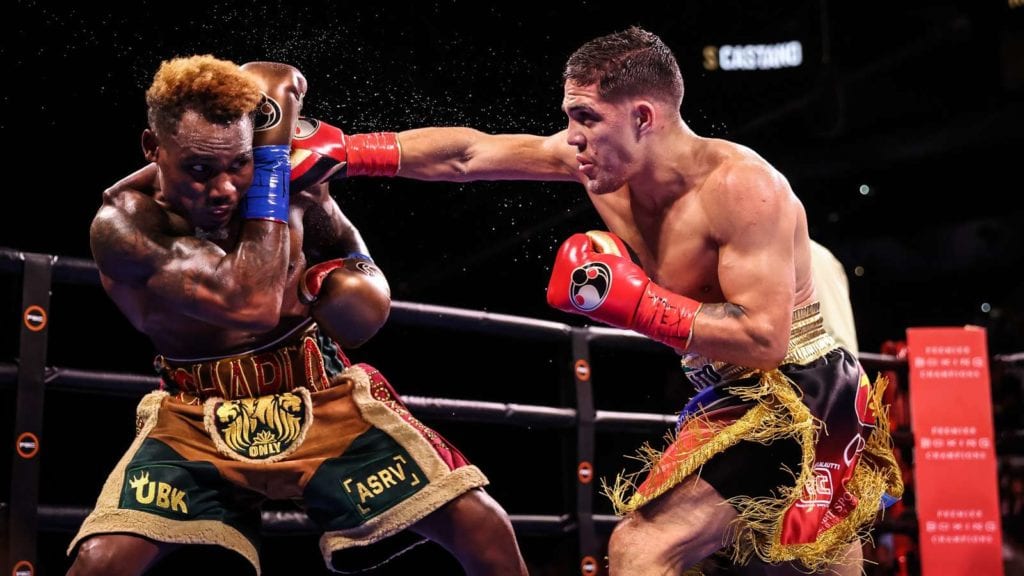 News
Another Suspect Card Mars Charlo-Castano Outcome
Another Suspect Card Mars Charlo-Castano Outcome
Saturday night in San Antonio, Texas was the latest example of an outstanding, entertaining fight being marred by a bad judge's scorecard. This, as the Undisputed Junior Middleweight World Championship fight between Jermell Charlo and Brian Castano ended in a split decision draw.
It's not that one of the judges chose to give his scorecard to the WBC, WBA and IBF Champion Charlo, it's how wide of a margin that he had. Puerto Rican based judge Nelson Vazquez scored the fight 117 – 111 and in doing so, gave Charlo nine of the 12 rounds in his verdict.
#CharloCastano scorecards… #boxing pic.twitter.com/Sikra3eKIO

— Steve Kim (@SteveKim323) July 18, 2021
That card is not only questionable, but borderline malpractice, for a fight that Texas native Charlo had to scramble to salvage. And, the two other official cards that were 114-113 for Castano and 114-114 for the draw showed that.
For the record, I had the fight 115-113 for Castano and our Marquis Johns went a point further at 116-112 for the Argentinian.
Unfortunately though, it's become all too common in boxing, and not just recently but for decades. Vazquez's card showed he had Charlo winning five of the first six rounds, even though Castano, now 17-0-2, was clearly dominating the action and scoring more punches.
It's almost as if Vazquez had already put 10's by Charlo's name in advance or he was wearing a blindfold for the fist 18 minutes of the fight. This as, Castano put the pressure on Charlo along the ropes and was out scoring him 2-1 and even 3-1 in the early rounds.
Yet, that's the latest example of judging that's either clueless, corrupt or a combination of BOTH.
Clearly, Charlo knew he had to rally at the end of the fight and his own corner was even telling him, as such. He did pour on the pressure in the 10th round staggering Castano on a couple of occasions.
And, all three judges, including veteran championship scorers Tim Cheatham and Steve Weisfeld gave Charlo each of the final three rounds 10 – 12. And, that's what saved the now 34-1-1 Charlo from defeat Saturday night.
In going back through history, Vazquez's card wasn't as biased as boxing judge JoJo Guerra infamously scoring the legendary 1987 Undisputed Middleweight Title fight between Sugar Ray Leonard-Marvin Hagler at 118-112 (10 to 2), when it was clearly a close fight. Predictably, Guerra never worked another title fight after that.
And with  this "trash" card Saturday, Vazquez shouldn't work another one either.
Though, it's worth noting that there have been controversial decisions in big time fights recently.
We can point to the first Tyson Fury- Deontay Wilder title bout in December 2018. Despite late heroics with a 12th round knockdown by the champ Wilder, it looked like Fury had won 7-8 of the first 11 rounds. Yet, that night in Los Angeles, Wilder got one judge to vote for him and a second one to score it a draw to keep his WBC Heavyweight Title.
Fury won the rematch in February of last year by TKO. Call that justice, if you like.
You can also go back before Fury-Wilder to the September 2017 draw between Canelo Alvarez and Gennady Golovkin for the Undisputed Middleweight Title that was also a 12 round official draw. Many believed that Triple G won the fight yet, he lost on one card with a second one even.
Canelo won the rematch year later by decision. It's still debated years later.
As for Charlo-Castano part II?  In the end we will probably end up seeing a rematch, if not immediately at some point in 2022. This, as these two fighters put on a tremendous hard-fought battle in the "Alamo City" Saturday and both want to be Undisputed at 154 lb. and need the other to do it.
If it does happen, we hope at some point (in our lifetimes) the boxing organizations and the judges at ringside will get their act together to score fights more correctly and competently.
At least we can dream.