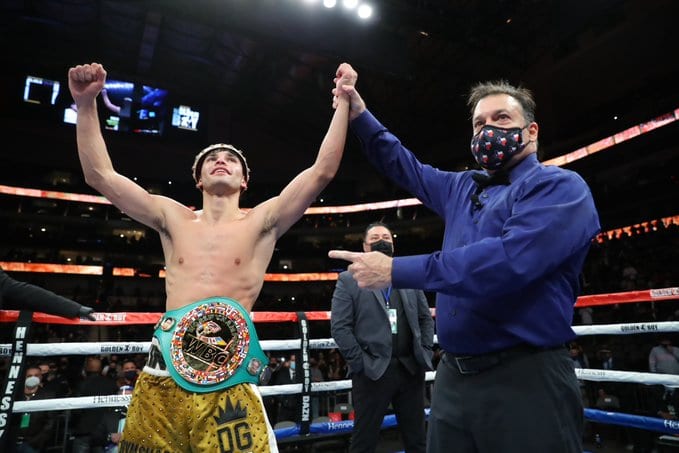 News
'I Really Can't Rely on Ryan Garcia' – JoJo DIaz
'I Really Can't Rely on Ryan Garcia' – JoJo DIaz
On New Year's Weekend back in January, Ryan Garcia was on top of the boxing landscape fresh off his seventh-round stoppage of the now-retired Luke Campbell. Since then, many are asking if Garcia stepped away from the sport as mental health issues and injuries have kept him back in the ring.
All of that seemed to change with George Kambosos Jr. defeating Teofimo Lopez to become the new undisputed king at lightweight
."My return fight, I'll fight Kambosos," Garcia tweeted after Kambosos was crowned Saturday night. "Massive respect to Kambosos for that performance. [H]onestly, you deserve it and all love… go celebrate."
Massive respect to kambosos for that performance honestly you deserve it and all love go celebrate 🎊

— RYAN GARCIA (@RyanGarcia) November 28, 2021
Jojo Diaz, who had a fight slated with fellow Golden Boy stablemate Garcia that he withdrew from, heeded warning on the reliability of Garcia.
"I really can't rely on Ryan Garcia," Diaz said on the Zoom call as he faces Devin Haney this weekend in Las Vegas. "He's shown in the past… he's pulled out (of fights) multiple times. He's not reliable. We trusted in him, we finalized it and thought the fight was going to be made. Then he came up with this injury."
That injury Diaz mentions is what got Garcia out of his matchup with him as he had surgery on that hand in October. The withdraw from Garcia opened the door to take on Haney as he was looking for an opponent around this time as he was looking at Rolly Romero as an opponent. At the end of the day, Haney-Diaz will take place at the MGM Saturday night on DAZN. As for the prospects of Diaz revisiting Garcia for a matchup, we'll get the business of boxing standard reply.
"If things make sense and we see that Ryan Garcia is not playing these games anymore and is really committed to the sport of boxing, then maybe we'll take on the challenge," notes Diaz. "I don't know if I would be willing to take the time to accept the fight and then have to go through this process and then him pulling out again. I'd have to talk to my team, I'd have to talk to Golden Boy and MTK and just see what the best fight is for myself," Diaz quipped.
So while Diaz isn't waiting around for Ryan to get back in the ring, we'll see what they lineup for Garcia next. It may be this revisited should Diaz become the new champ from Haney this weekend.