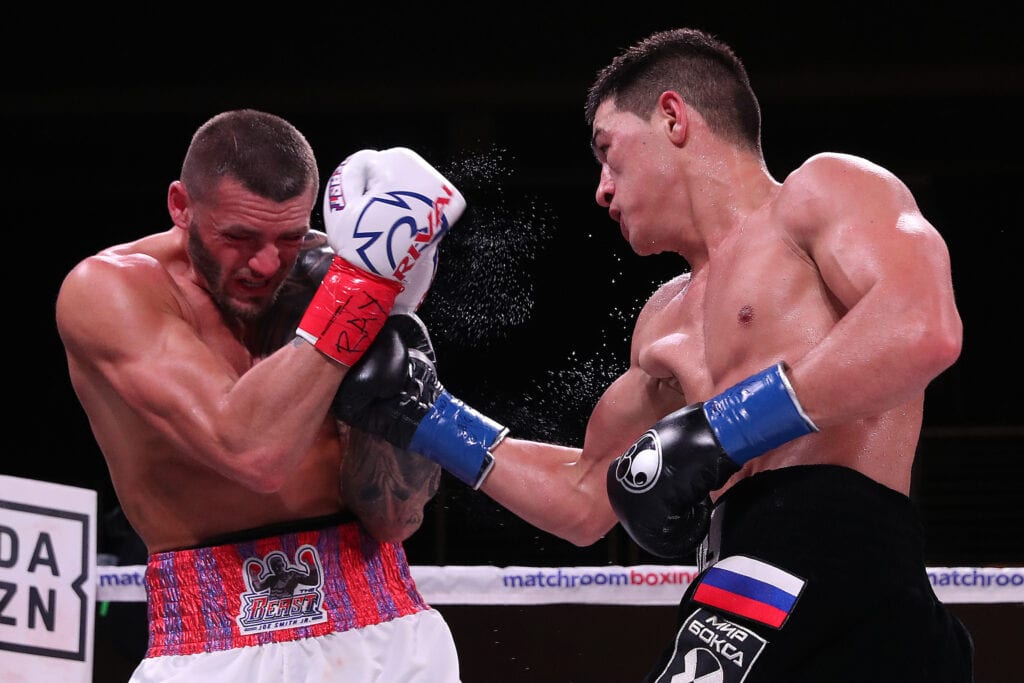 News
How Did Dmitry Bivol End Up In Canelo "Golden Ticket" Bout?
How Did Dmitry Bivol End Up In Canelo "Golden Ticket" Bout?
LAS VEGAS — Five years ago last month, Dmitry Bivol was a 9-0 prospect fighting in the United States for the third time and making his American television debut on Showtime's "ShoBox: The New Generation" in an interim light heavyweight title defense against Samuel Clarkson.
Bivol dropped Clarkson three times en route to a fourth-round knockout in an extremely impressive performance.
Fast forward to today and Bivol, the WBA light heavyweight titleholder, remains undefeated, owns a solid resume that includes notable victories against Joe Smith Jr. (who went on to win a world title), former world champion Jean Pascal and longtime contender Sullivan Barrera and is set to be on the biggest stage possible in boxing.
That stage will be his ninth title defense against pound-for-pound king and undisputed super middleweight champion Canelo Alvarez, boxing's biggest star, on Saturday (DAZN PPV and PPV.com, 8 p.m. ET) — Cinco de Mayo weekend — at T-Mobile Arena.
Of course, there was no guarantee Bivol would reach the pinnacle of the sport, but he always believed in himself, and looking back, he knows how important that televised victory over Clarkson was.
"I'm glad where I am now," Bivol told Fight Freaks Unite inside the media center at the MGM Grand on Tuesday. "The fight against Clarkson was really important, a really important fight for me because I showed my skills, I showed one of the best versions of Dmitry Bivol, and people believed in me as I believed in my skills, and I worked hard and this is where I am."
Following the Clarkson win, Bivol went to HBO — still the U.S. TV boxing powerhouse at the time — for his next five fights before moving to DAZN when HBO ended its boxing coverage at the end of 2018.
Bivol (19-0, 11 KOs), 31, beat Smith impressively and has had three relatively low-profile defenses since against Lenin Castillo, Craig Richards and a mandatory defense in a Russian homecoming against countryman Umar Salamov in December. None of those wins were particularly impressive but with Alvarez (57-1-2, 39 KOs), 31, of Mexico, interested in returning to light heavyweight to try to win a second belt in the division, Bivol was the obvious opponent.
He was available and the fight was makable as part of the two-fight deal Alvarez signed in February with Matchroom Boxing promoter Eddie Hearn, who is also Bivol's promoter.
"Of course, I didn't know, but I believed that I will be here," Bivol said. "Every time when I watched Showtime, HBO or something else, the biggest fights, I believed one day I will fight in the main event or be on the Showtime or HBO. Now I am main event on DAZN."
He said he always believed his hard work would pay off.
"Sometimes when you do something in training and it goes well you believe you can make it in the ring against a good fighter, and your coach says to you, 'It was good, you should show me this in the ring,'" said Bivol, the married father of boys ages 5 and 7, who are at home in Saint Petersburg, Russia. "Coach believes in me, my family, of course, and my dad. Every time believes in me. This helped me."
Vadim Kornilov, Bivol's manager, is happy that Bivol, a low-key guy, has reached this elite level of boxing.
"He has dedicated his entire life to boxing just like any other boxer," Kornilov said. "He dedicated his life. He stayed away from his kids, from his wife for many months just training, going all over the world to fight, trying to prove himself. Now he's here. He's here to prove he's the best.
"I can't say I had doubts, but you can't predict what will happen. I didn't have doubts in Dmitry being able to beat anybody."