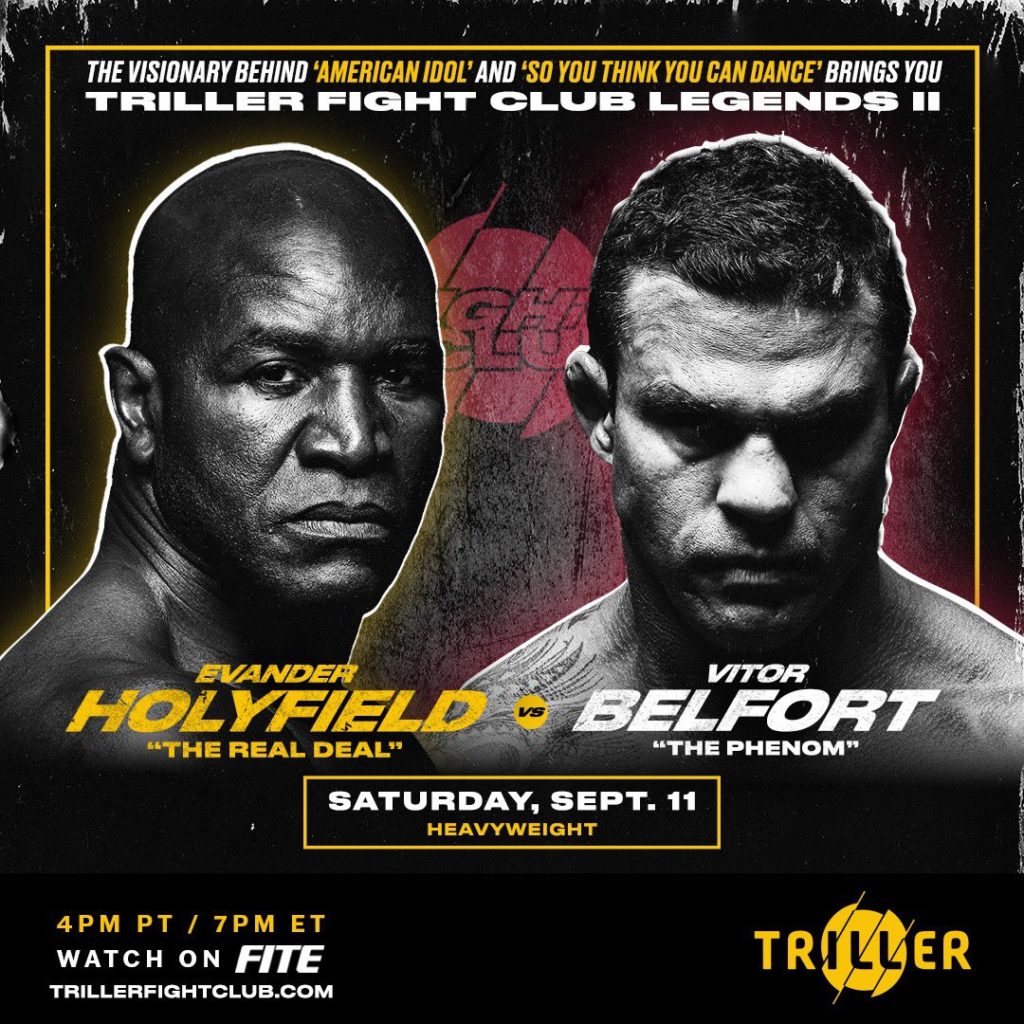 News
Florida Commission Approved Saturday Holyfield-Belfort Fight
Florida Commission Approved Saturday Holyfield-Belfort Fight
On Wednesday night what had been viewed as a formality from the Florida Athletic Commission happened, as they approved the Saturday night Evander Holyfield-Vitor Belfort PPV bout as an officially sanctioned boxing match for the Hard Rock Casino in Hollywood, FL.
This, after the former Undisputed Heavyweight Champ Holyfield replaced fellow Hall of Famer Oscar De Hoya (due to Covid 19) just last week and the bout with Belfort was moved from L.A. to the "Sunshine State."
Florida Commission Executive Director, Patrick Cunningham, released the statement about their determination for the contest saying in part,
"The Florida Athletic Commission has approved the Evander Holyfield vs. Vitor Belfort bout as a fully regulated professional boxing match. It will be conducted under the Unified Rules of Boxing and scored by three judges on the 10-point must system.
"All boxers on this card have successfully met all requirements to be licensed by the Florida Athletic Commission." 
While there will be no headgear worn, there will be consideration for fatigue and it will be two minute, not three minute, rounds for Holyfield and Belfort Saturday night.
As we have repeatedly written, there is legitimate concern for the 58 year old (he'll be 59 next month) Holyfield returning to the ring in a legit boxing match at his advanced age. Yet, the Florida Commission chose to approve him for a license, when many other states like California would not, due to his age and inactivity of over a decade.
More eyebrows were raised, when Holyfield was part of an open media workout Thursday afternoon and appeared to almost be in slo-motion during this combination punching exercise,
Evander Holyfield, 58, on the pads ahead of his fight vs Vitor Belfort on Saturday…

[📽️ @Triller] pic.twitter.com/L8csFNJny9

— Michael Benson (@MichaelBensonn) September 8, 2021
The 44 year old Belfort, is a year old MMA fighter who previously won the UFC Light Heavyweight title, but hasn't been in any type of cage-fight, etc., since May of 2018. Belfort, who is Brazilian, does have a brief amateur background as a boxer in his teenage years. He also fought one time with a first round KO in a pro boxing match in Brazil in 2006.
Holyfield was last in the ring in TKO win over Brian Nielsen in May of 2011, is the former 4 time World Heavyweight Champ and is regarded as one of the top 10 fighters of the last forty years. But, obviously, those days were a long time ago.
As for Triller, they are offering the PPV at $49.95 and will also features former UFC champions Tito Ortiz and Anderson Silva boxing each other. The PPV will have Hall of Fame broadcaster Jim Lampley making his return after a three year absence on the play by play, but will also have former U.S. president Donald Trump and his son Donald Jr. on an alternative call of the fight for the broadcasting app.