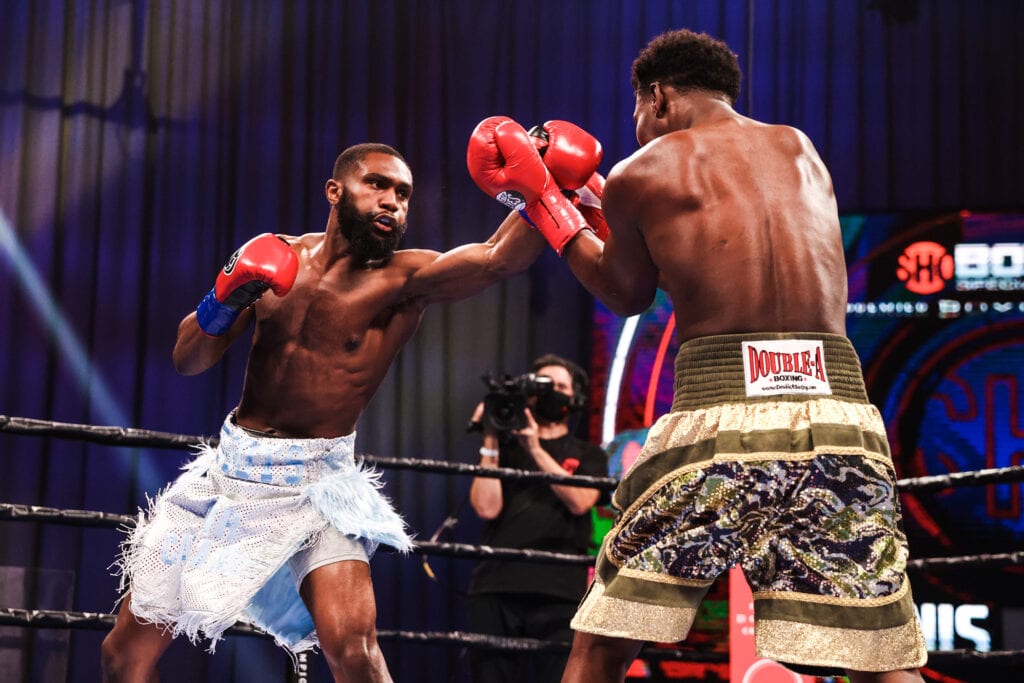 News
Ennis shines in Abreu stoppage win
Ennis shines in Abreu stoppage win
Jaron "Boots" Ennis quickly stole the night in boxing as the up and coming welterweight from Philadelphia put on an impressive display stopping Juan Carlos Abreu to kick off the Showtime broadcast Saturday night.
Ennis stopped Abreu in the sixth round of the one-way traffic at 1:06 of that round.
Ennis, with the victory, extends his consecutive knockout streak to 16 and moves up to  26-0 with 24 KOs.
Abreu's week heading into the fight came from good to worse as went into this fight, talking trash as the highlight of the media call this week. Then came in 3.5 pounds overweight at the weigh-in on Friday and was on the receiving end of an onslaught for six rounds, resulting in his first-ever stoppage loss and falling to  23-6-1 (21 KOs, 1 NC).
The fight went in control for Ennis from the onset as he was able to land whenever. What was apparent was that the longer it went, the more frustrated it got for Abreu. The sixth and final round of this contest resulted in three knockdowns, the final one being a combination that saw referee John Callas end it after the last one for Ennis to remain undefeated.
6th Round KO 😈⚰️ 26-0 24KOs #TeamEnnis #LLLD 👵🏾❤️ pic.twitter.com/8BkGpbix0R

— Boots (@JaronEnnis) September 20, 2020
"Definitely. I feel like I made a statement and show them what could be the reason I'm here. I'm not going to be played with, "Ennis stated after the fight to Brian Custer after the victory. 
"Any of the top five guys or top 10 guys or a title eliminator, "Boots said about who he wants next in the ring.
"It felt great," Ennis said during a virtual press conference after the fight. "Like I said before, I knew I was gonna stop him. I'm just too smart for these guys. I'm different, and I showed that tonight."
Ennis is not attached to any major promotional outlet, and Hall of Fame promoter Lou DiBella reminded me not to hold my breath on the competition.
They ain't going to be lining up.

— Lou DiBella (@loudibella) September 20, 2020
Pre pandemic Enni's camp was calling out Terence Crawford for a contest. While I agree with DiBella and say that isn't up next on the fight plan for either, it would be nice to see a top guy challenge Ennis next. The question will be, who is willing to accept that challenge.