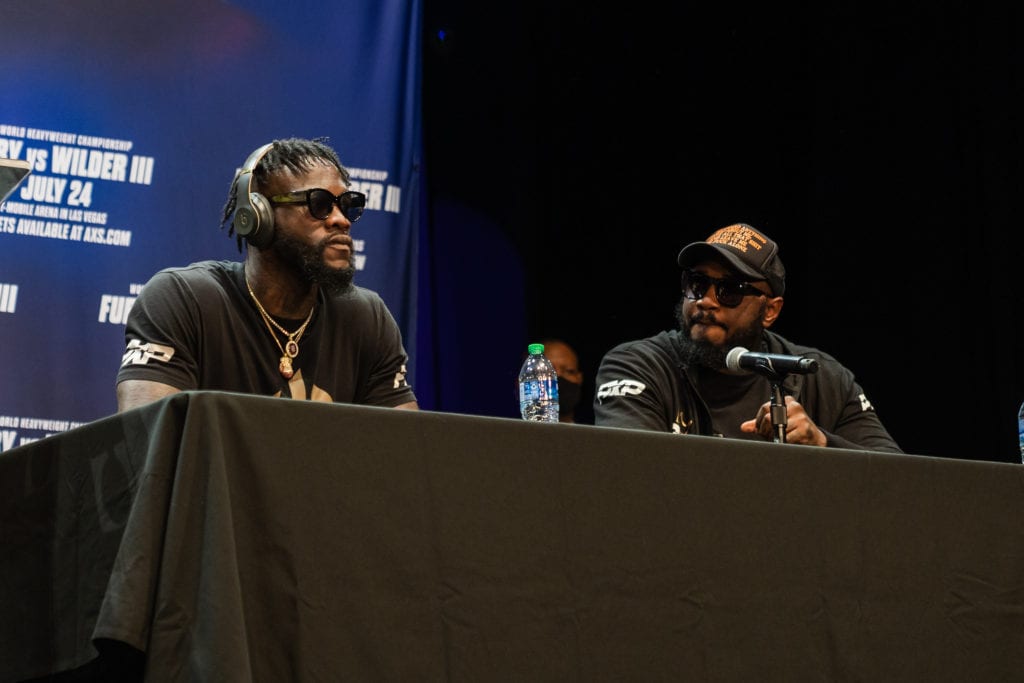 News
Enjoy The Silence By Deontay Wilder
Enjoy The Silence By Deontay Wilder
Chapter III between Tyson Fury and Deontay Wilder Tuesday in Los Angeles kicked off the most significant ado about nothing happened silently yesterday.
Well, Tyson Fury and Wilder's trainer Malik Scott as TJ Rives pointed out yesterday here.
Wilder decided to let everyone do like Depeche Mode and "Enjoy The Silence" as he was pretty much not in the mood of talking to the media during the event.
Long … pretty silent … incredibly intense.

This staredown was nuts, even with barely any words said.#FuryWilder3 | JULY 24 | Las Vegas | PPV pic.twitter.com/CZtpwYQRGy

— Top Rank Boxing (@trboxing) June 15, 2021
"Enough has been said," Wilder stated at the press conference before reminding everyone that on July 24 to go get their tickets. He pretty much could use the Depeche Mode lyrics "Words are very unnecessary.They can only do harm" instead.
I must say this was the best move by Wilder, strictly business.
We want this from Wilder. The thought of the unexpected and him being silent is what this third fight needed. I mean, at this point, these two are 19 rounds in, and I'm all set not having to hear the words "Dossier" or a free hearing exam by yellimg "Bombsquad". Why? Because we've heard all of that ad nausea on a loop for well over three years and running.
We have reached a point that words are meaningless and forgettable for this.
I saw a plethora of folks and media  getting mad bent over all of this while it was happening in real-time, and I understand why. We need the quotes and soundbites, and these two are some of the best talkers at it. However, Wilder comes in this time around with something to prove and has to do it in the ring.  Let's not forget that he had to thank his legal team because there was, well, you know, that whole third fight thing not happening until an arbitration ruling.
Besides, these kick-offs are usually for breaking down how training camp was.
"I've been training non-stop during the pandemic, and I've been building. All this time between fights is going to be good for me and bad for him. I've had nothing but time to progress," Wilder said.
But what about the costume talk and the loaded gloves? Isn't he going to keep speaking on it?
See. Words are trivial and forgettable. Enjoy the silence by Deontay Wilder.