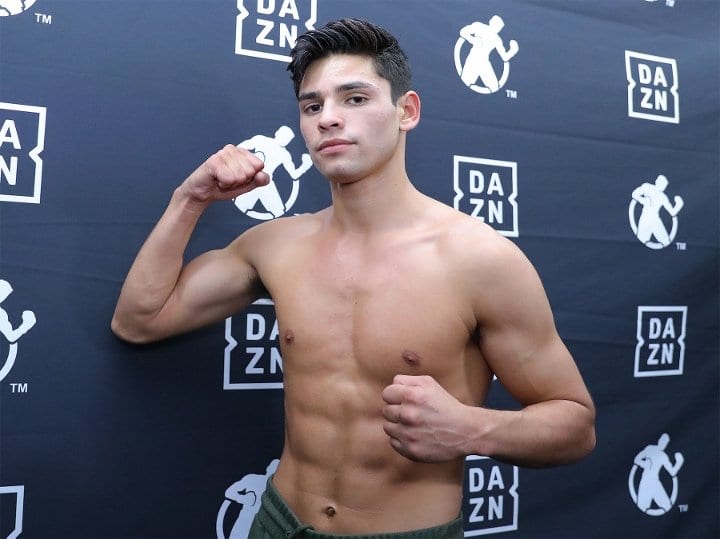 News
Ryan Garcia Hints At Fight Announcement Soon
Ryan Garcia Hints At Fight Announcement Soon
On Wednesday afternoon fans of the WBC's #1 Lightweight, Ryan Garcia, got an update that they have been waiting for about his possible return to the ring.
The unbeaten Garcia, who's taken some time off over the last two months for what he says were concerns over his "mental well being," made it clear on Twitter that there will be news on him fighting again, shortly,
Announcement for fight coming soon

— RYAN GARCIA (@RyanGarcia) June 16, 2021
This follows a series of tweets and Instagram posts over the past week or more that have shown Garcia resuming training and making mention of wanting to fight again.
The most recent one on Instagram came Sunday in this post to his almost 9 million followers there:
View this post on Instagram
As we wrote last month, Garcia pulled out of his Golden Boy Promotions main event fight for July with veteran top five contender Javier Fortuna citing the concerns for mental health. We wrote about his social media comments then,
"Thank you to everyone showing there support! With the help of my support team and my family, I'm making steps forward. Why anxiety and depression hit me like a truck and why I'm still recovering I'll never know. But I'm trying to cope with the issues I'm having! This bag is my anxiety and I'm swinging with my full intent to destroy it!!  said Garcia in the post.
Boxing insider Steve Kim relayed on his "3 Knockdown Rule" podcast in late April that he had learned that Garcia, was privately complaining about Golden Boy Promotions having picked the outdoor venue Banc of California Soccer Stadium next to the USC campus in L.A. for his July Fortuna main event. That meant it would be held in the Southern California heat in the late afternoon and early evening.
According to Kim, Garcia has made it clear he doesn't like fighting fights in outdoor conditions. However, Kim also relayed when Garcia did his latest new agreement with Oscar De La Hoya's promotion, it gave Golden Boy the exclusive authority to designate when and where Garcia's fights would be.
The 21-0 Garcia hasn't specifically addressed that point, but his mother actually posted a response in several locations on social media, including our Facebook page, as a defense of her son. She said that Kim and Lopez were wrong to speculate that the outdoor site, the heat, etc. was the reason(s) for pulling out of the Fortuna fight.
Garcia was last in the ring in TKO win over England's Luke Campbell in Dallas in January solidifying his top status with the WBC.
That top spot is now convoluted with Garcia stepping away and the WBC saying that the winner of the Fortuna fight with now, replacement opponent Jo Jo Diaz will be in line to fight WBC Lightweight champ, Devin Haney. And that bout, could take place late in 2021.
So, we wait for Garcia/Golden Boy's move and what it means for his status in the 135 lb. division, etc.