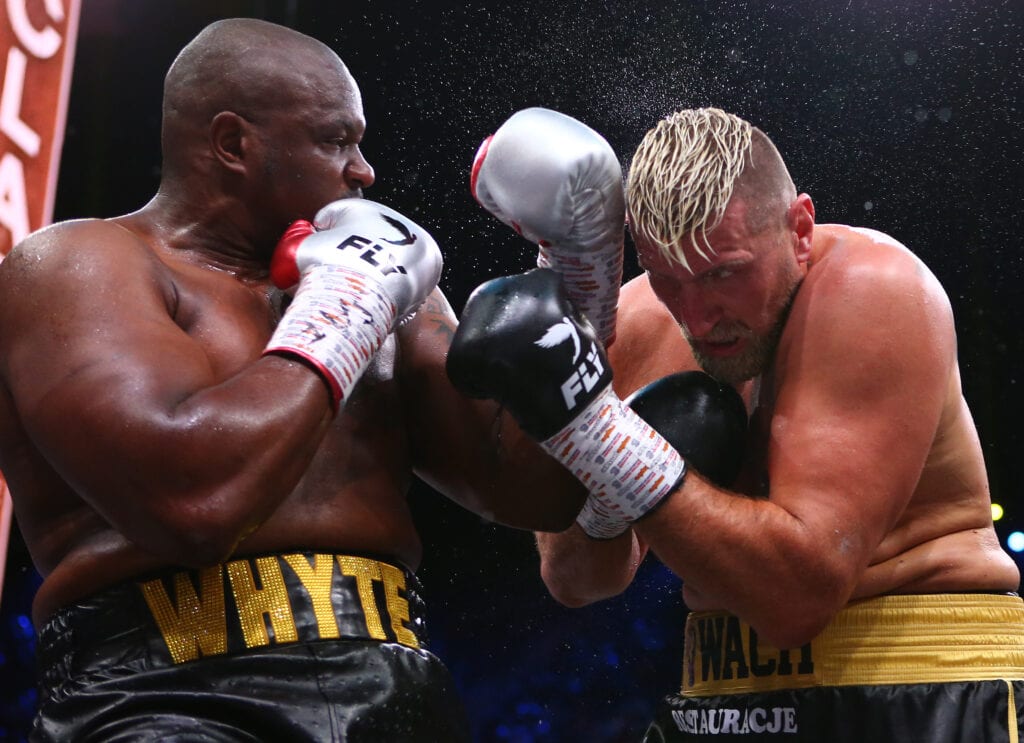 News
Dillian Whyte "Shoulder Injury" Didn't Stop Lobbying For Fury Fight
Dillian Whyte "Shoulder Injury" Didn't Stop Lobbying For Fury Fight
The comedy surrounding British Heavyweight Contender Dillian Whyte and him withdrawing due to, what he claims is a shoulder injury, from his Saturday main event with fellow contender Otto Wallin continues. And, in an interview this past Saturday night, Whyte made the situation a bigger farce by repeatedly suggesting that he's ready to fight WBC Heavyweight champ, Tyson Fury next.
Whyte spoke to the "Talksport Fight Night" boxing show Saturday night in the U.K. in his first extended public comments, since his supposedly injured shoulder and caused the cancellation of the Wallin fight bout for Saturday night October 30th in the O2 Arena in London,
"Fury has the title I'm working for."

"It's for me and his team to sort out."@DillianWhyte says he's ready to face @Tyson_Fury and wants it in the UK. pic.twitter.com/evsSCNvIRO

— talkSPORT (@talkSPORT) October 23, 2021
"I could've easily abandoned this route and gone down another route years ago, but I've waited and I've waited and I've waited….. So what am I gonna do? Fight Otto Wallin or fight Tyson Fury, what are you gonna do? It's common sense.
"Fury has the title I'm working for. It's for me and his team to sort out,"
Whyte told the hosts on video call, all but admitting that the "shoulder injury" is simply a hoax to not risk losing to Wallin.
It should also be noted that the man who's been the on/off WBC #1 contender wasn't wearing any kind of a brace or sling on either one of his shoulders and arms. And, that further concludes there isn't a shoulder injury for him preventing him from fighting this Saturday.
Instead, this appears to be the latest ploy by Whyte and his promoter Eddie Hearn of Matchroom Boxing to try to secure a fight with the WBC champ, Tyson Fury.
It's no secret that Hearn wants Fury and Whyte to fight as soon as possible and in England. However, he has no say so in Fury's promotional future or what the WBC might rule on Whyte deciding now to not fight Wallin. Also, Hearn/Whyte had to wait and make sure the Fury defeated Deontay Wilder last month, which he did for the second straight time decisively in their third battle.
The WBC previously mandated that Whyte fight Wallin and for the winner to secure their number one ranking. Whyte was last in the ring in March when he avenged his own KO loss to Russian former WBA champ Alexander Povetkin with a 2nd round KO of his own. Whyte was also previously taken out of the WBC's top slot for a positive drug test prior to his Summer of 2019 fight with Oscar Rivas.
The Swedish born Wallin who now trains in New York, scored a 5th round TKO over American Travis Kaufmann back in August 2020 and then defeated former world title challenger Dominic Breazeale by decision in February of this year. He's best known for having pushed Fury in a 12 round decision loss in September of 2019.
Now, we wait for the World Boxing Council to determine whether Whyte has taken himself out of the equation again, with his supposed injury. Then, the WBC would instead put someone else in the ring  (maybe England's Joe Joyce?) with Wallin soon to get their number one spot.
As for Fury, he more than likely will elect to fight someone else. And, that could be WBC top 10 Contender Agit Kabayel, an unbeaten Kurdish heavyweight, who lives and fights out of Germany.
Fury's promoter Bob Arum commented over the weekend that Fury would likely fight in March, and probably in the U.K. but did not specify an opponent.
The only thing clear at the moment is, if anyone believed before Saturday that Whyte was really hurt to not fight Wallin, they shouldn't now.