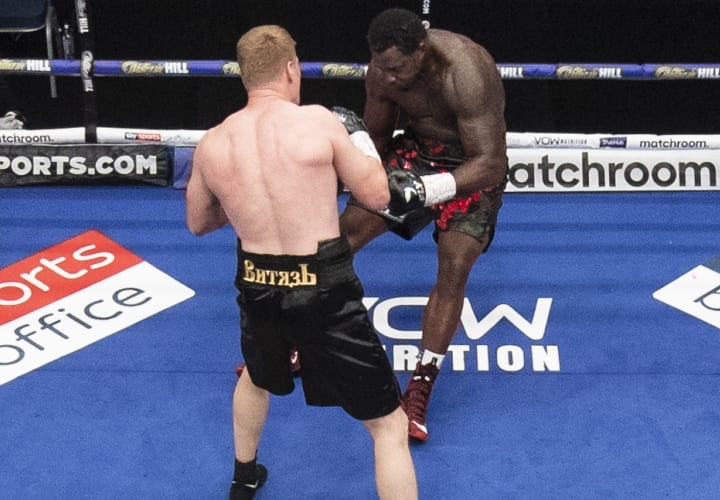 News
Dillian Whyte Questions Whether Povetkin Had Covid 19
Dillian Whyte Questions Whether Povetkin Had Covid 19
British Heavyweight contender Dillian Whyte is still suffering from the humiliation of being knocked out with one punch in August by Alexander Povetkin. Now, he has added to the controversy of their delayed rematch by suggesting that the Russian didn't really have Covid-19 to postpone their battle later this month.
Whyte made statements on Wednesday to Sky Sports in the U.K., directly accusing Povetkin of fabricating the positive Covid-19 diagnosis to delay their November 21st fight,
Alexander Povetkin's team have vowed to disclose medical 'documents' after Dillian Whyte questioned the reason for his delayed rematch with the Russian.

— Sky Sports Boxing (@SkySportsBoxing) November 12, 2020
"I personally don't think he's got Covid."I think he just needed more time to get ready, because he took a lot of damage in the first fight.
"After the first fight, he took a lot of time off. Even though I got stopped, I went straight back to training and I got straight back on it." 
Povetkin and his management team informed Matchroom Boxing of his positive diagnosis two weeks ago likely delaying the fight into early 2021.
Further, Povetkin's promoter Andrey Ryabinskiy fired back to Whyte's accusation telling Sky Sports,
"He had a rather difficult form of coronavirus, but he passed this crisis period, the doctors put him back on his feet. (He) is now feeling well; no complications have been identified. At the moment, his main task is to restore health and return to the necessary physical shape.
Ryabinsky added, "We hope Sasha will return to training in two to three weeks…. Let's not listen to opinions, but be guided by facts and make decisions.
The facts are simple – Sasha got coronavirus, and we were forced to postpone the fight.
This can happen to any athlete. Sasha was in the hospital, we have all the documents at hand. If Eddie Hearn has any question of this kind, I am ready to submit all these documents."
What is not in dispute is that Povetkin, after being knocked down twice in the fight, suddenly cold-cocked Wyhte (photo top) with a thunderous left uppercut in the fifth round of their battle back in August. Whyte laid motionless for several seconds and the referee did not bother to count, as the former WBA World Champ Povetkin scored one of the biggest recent victories of his career.
And, that upset derailed any chance that Whyte, who hasn't won a significant fight in two years, had to try to maneuver his way into a mandatory title shot with new WBC heavyweight champion, Tyson Fury.
Whyte had hoped that if won in August and Fury was successful in a third fight with former champ, Deontay Wilder that he might be willing to fight Whyte next. However, with his KO loss and  it now much more likely that Fury and Wilder aren't going to fight a third time.
Whyte isn't an attractive opponent having just been knocked out in his last bout and won't get a shot at the belt.
Povetkin, who last challenged for the Heavyweight Title in a stoppage loss to Brit Anthony Joshua in September of 2018, is in a much bigger position of leverage, even at 41 years of age. That's because he's been a World Champ and scored the emphatic win over Whyte the first time.
But, in the short term and  as Ryabinsky also points out, the Povetkin-Whyte rematch is a much more lucrative opportunity for the Russian this time around.
Now, we wait to see how soon it gets made, again.