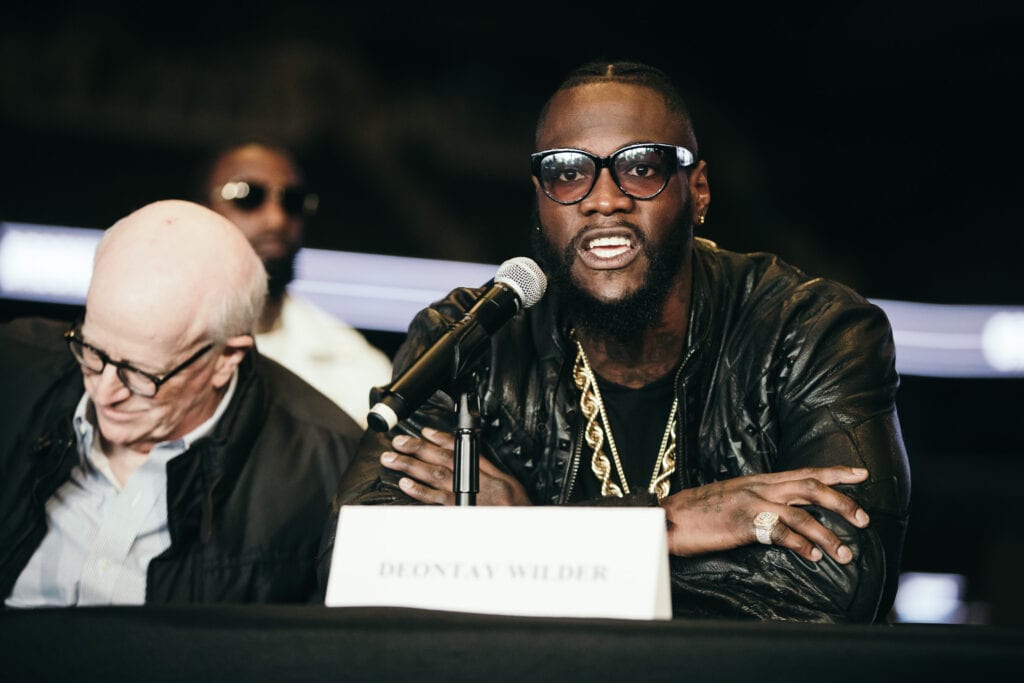 News
Deontay Wilder Turns 35 Amid Questions Of What's Next?
Deontay Wilder Turns 35 Amid Questions Of What's Next?
Thursday October 22nd is a momentous day in the life of former WBC heavyweight champion Deontay Wilder, as he turned 35 years old. However, it is safe to say that if this stage of his career, having lost his championship last February to Tyson Fury, that there is much more uncertainty than any birthday happiness in Wilder's life right now.
In fact there continues to only be "deafening silence" from Wilder and his camp, as to when we will see him next and whether or not he will never get a third fight with Fury in the future?
This after Fury and his co-promoters, Bob Arum of Top Rank Boxing and Frank Warren of Queensberry Promotions have basically told the public that the proposed third fight with the Alabama-born, hard punching, former champ is no long going to happen in December. And further, Fury intends to go ahead and fight someone else likely in the U.K. on December 5th.
It's no secret that Fury wants to fight British Unified Heavyweight World Champ, Anthony Joshua, in the first half of 2021.
So, this leads to  assorted questions that continue to abound about Wilder including:
What's truly going on behind the scenes with Wilder and his representatives? This concern is due to it becoming public that he has dismissed his longtime trainer and former U.S. Olympic Gold medalist / World Welterweight Champion, Mark Breland.
As we wrote previously, Breland, who has been with Wilder during his entire championship run since 2015 will no longer be with him whenever Wilder resumes his fight career. The final straw came after Breland threw the towel in requesting the referee to stop Wilder's TKO loss to Fury in the 7th round this past February in Las Vegas.
Wilder will go back to the mostly exclusive council of his original trainer Jay Deas, who's been with him all along, as Wilder rose to prominence in the early 2010s with a successive string of devastating knockouts.
Also, Wilder adviser/contract negotiator is Shelly Finkel. Long a business figure in the sport, he's been the one speaking on Wilder's behalf and dealing with Arum, PBC, etc. mostly for the last two years or so. And, Finkel made clear in media comments earlier this month that Wilder was not going to "step aside" from fighting Fury late this year with a lucrative guaranteed payout.
Yet. Here we are.
Most curiously is why the normally outspoken Wilder is not saying anything in his own defense about wanting to third mega-payday fight with Fury? In fact, his last communication via social media with the fans/public was about scuba diving, yes scuba diving, eight weeks ago:
Another lingering question is: what is the truth about Wilder's health?
This is after he reportedly suffering another bicep injury in the Fury loss that required surgery earlier Summer. And, that's the second time that the former title holder has torn a bicep during his championship run.
The contract that Wilder and Fury agreed to for their February matchup specified that if the loser wanted a rematch that it would have to be before the end of calendar 2020. Now obviously, the Covid-19 pandemic shut down all of sports earlier for almost 90 days earlier this year. And, the lingering safety concerns and the ability to possibly have a live audience and make some money later in the year, further delayed the trilogy fight from happening, as it was originally scheduled for July
But now, week after week has gone by with nothing from Wilder, himself.
Instead, Wilder is at a "crossroads." He has suffered the adversity from first loss of his career and obviously, has turmoil within his camp, behind the scenes that is keeping him silent. And, this is at a time when many believe he should be his most vocal about getting Fury back in the ring soon.
Only the "Bronze Bombe"  knows when he will speak up and reappear next?
For now, we who are observers and those who are fans of his/heavyweight boxing, are left the only wonder how truly happy even a birthday actually is for him?