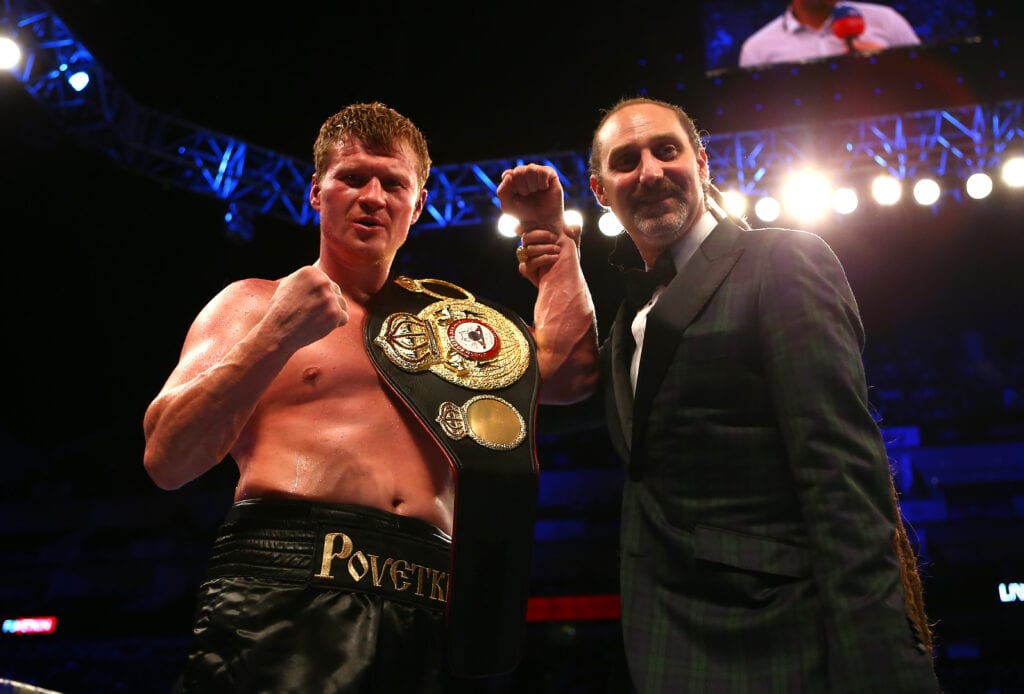 News
Decade Long Contender Povetkin Looks To Capitalize Again
Decade Long Contender Povetkin Looks To Capitalize Again
(In in item appearing originally on his site, Boxingwriter.co.uk, England's David Payne takes a longer look at Russia's Alexander Povetkin and his bid to wipe out Dillian Whyte a second time on Saturday night.)
Welterweights, Lightweights, Feathers, they're all better technically, quicker, busier. But it's impossible not to be drawn by the old dreadnoughts, the big bruisers, the Heavyweights. This weekend fight fans can indulge the oldest of their pugilistic persuasions, as Russian veteran Alexander Povetkin offers Dillian Whyte a second opportunity to add his rusting hull to his resume.
Both men will hope to parlay a victory into a world title shot, the first for Whyte, the 27th for Povetkin. I exaggerate of course but there is a feeling of the perennial about the heavy-handed 41 year old. Briefly, he excited those searching in the detritus of the 1990s for a successor to the thrown abdicated by "Iron Mike" Tyson. For a moment or two it was a hefty clubber from New Zealand with a "Don King do" named David Tua and then, it was Povetkin.
Neither fulfilled the destructive promise of their youth. Tua grew ripe on the vine waiting for his mandated shot at Lennox Lewis and Povetkin, having first turned down a shot at Wladimir Klitschko under the tutelage of Teddy Atlas, then slowed, thickened, like an over cooked borscht, and by the time he decided to say yes he wasn't the threat he would have been.
If he beats Whyte again, he may get one more shot. And with his power, some natural, some acquired, one shot could be enough.
That's the heavyweight appeal.
Hear more from me with T.J. Rives in the opening segment of the "Big Fight Weekend" podcast in advance of this one,
Powered by RedCircle
Whyte deserves credit for enforcing the rematch given the catastrophic ending to their first encounter. Having decked the veteran twice himself, Whyte was knocked out, and down the heavyweight top ten by several notches. A thunderous left uppercut his undoing. It would have been easier for Whyte to opt for a step down in opposition before pursuing a return to the top 10 for an opponent.
Dillian, for all his critics, is made of more resourceful character and chose to fight Povetkin again. It is the perversity of the modern age that the loser, because of his greater promotional support, can make those types of decisions.
Povetkin meanwhile, now knows he can hurt and stop the younger man, and has the benefit of the first win secured. If he adds a rematch victory to the impetus of the first, it would likely position him for any belts let loose by Fury and Joshua in the making of their encounters this year. If such certainty isn't misplaced.
The pandemic brought chaos and confusion, and loss, to all of us and it inserted a postponement to this fight when the Russsian fell victim to the virus. Delay suits Dillian Whyte, given Povetkin's age and the potential for lingering effects from the infection.
History discourages the idea Whyte can be favourite again.
Rematches have a tendancy to reconstitute the first encounter but more definitively. Anthony Joshua, Lennox Lewis can both provide encouragement that this age old truism can be debunked. That a new reality can forged. Given the challengers Whyte has overcome before Povetkin, and his relative youth compared to his veteran nemesis, it would be hoped he can prevail.
Although Whyte is, in truth, a messy, disorganised feast stylistically, his lack of amateur grounding is evident in his professional style, he is a deceptively effective heavyweight. I believe the delays help his cause and unless there is some other force at work in the fight, I believe Whyte's relative youth, freshness and busyness will prove sufficient to edge him through in less dramatic fashion over the 12 round distance. If there is no deterriation in Povetkin, Whyte will have needed to make technical improvement if he is to be victorious, they may be changes he's too old to adopt.
Only the fight can now instruct.