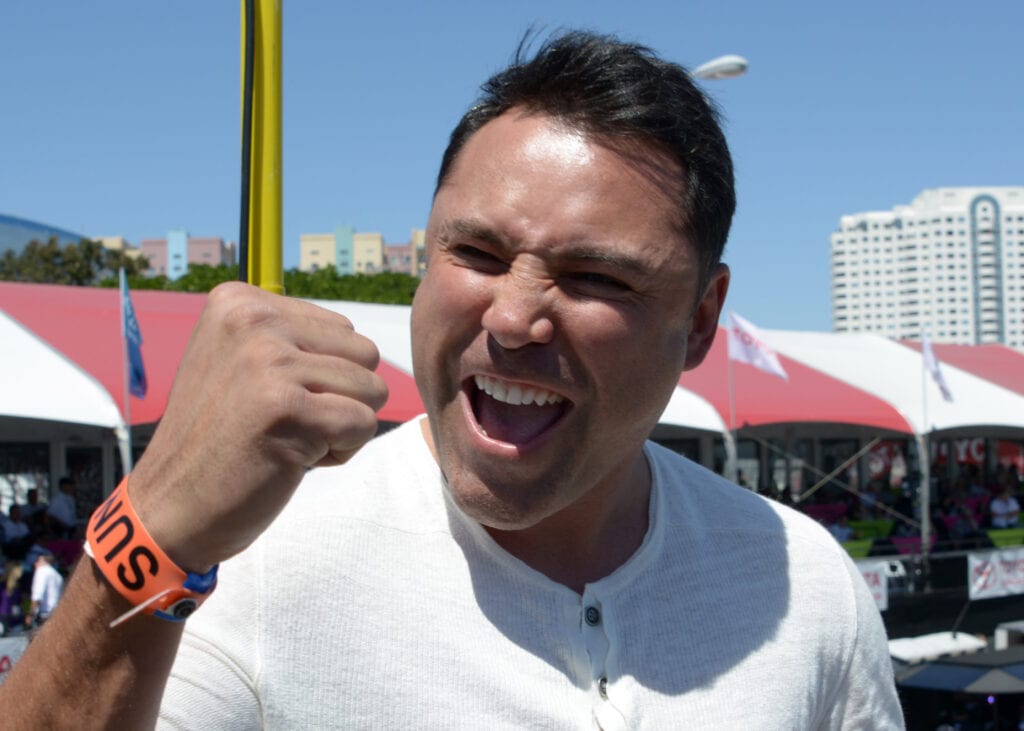 News
Oscar De La Hoya Serious Return Or "Exhibition" In July?
Oscar De La Hoya Serious Return Or "Exhibition" In July?
The "Golden Boy" says he's back. The real question with Oscar De La Hoya's Friday announcement is: "back, doing what this July?"
First, De La Hoya made the abrupt announcement of his in-ring return at the Triller press conference to promote their upcoming April 17 Pay-Per-View headlined by actor/Youtuber Jake Paul and fellow actor/influencer, Ben Askren. De La Hoya saying simply, "July 3rd, I'm making my comeback" before literally dropping the microphone and walking off the stage.
Golden Boy Back?

Oscar De La Hoya just said he's making a return to boxing, July 3 ? pic.twitter.com/Nmr2qaLYFN

— DAZN Boxing (@DAZNBoxing) March 26, 2021
As we wrote previously, the former six division world champ has made it no secret that he has been back training to fight again, since last Summer.
Still, the fact that the now 48 year old De La Hoya made the announcement with Triller begs the question, whether this will be an actual bout against a legitimate, younger opponent or will it be similar to the Mike Tyson-Roy Jones "exhibition" that Triller staged last November in Los Angeles?
That fight was not sanctioned by the California boxing commission, and therefore had no real regulations/drug testing/judges and was basically a "show" for the PPV audience, where the fight would be called a "draw" no matter what.
So, is that what De La Hoya intends to do? Or, will he attempt to go through the normal procedures of being licensed, tested, clear medical checks for a near 50 year old and attempt to fight a sanctioned bout?
That's anyone's guess, at this point.
De La Hoya has not been in the ring, since Manny Pacquiao defeated him badly in his final fight in December of 2008.
13 years.
And by his own admission, he has been at times in recent years near 200 lb. or roughly, more than 50 lb. above his fighting weight. However, partially motivated by the limelight that Tyson and Jones have received and also by the "sting" of losing his most lucrative fighter of his Golden Boy stable, Canelo Alvarez, in a legal spat late last year, De La Hoya clearly wants to be back.
No one is kidding themselves that we'll see the mega-star of the 90's and early 2000s that headlined on PPV beating the likes of Julio Cesar Chavez, Pernell Whitaker, Hector Camacho and Felix Trinidad.
Yet, just like with Tyson-Jones reportedly scoring over 1 million PPV buys last November, he has name recognition and will perhaps create intrigue. This would especially be if he can convince another named legend to step through the ropes for an "exhibition" with him.
The announcement was the easy part Friday. Now? We wait for the rest.