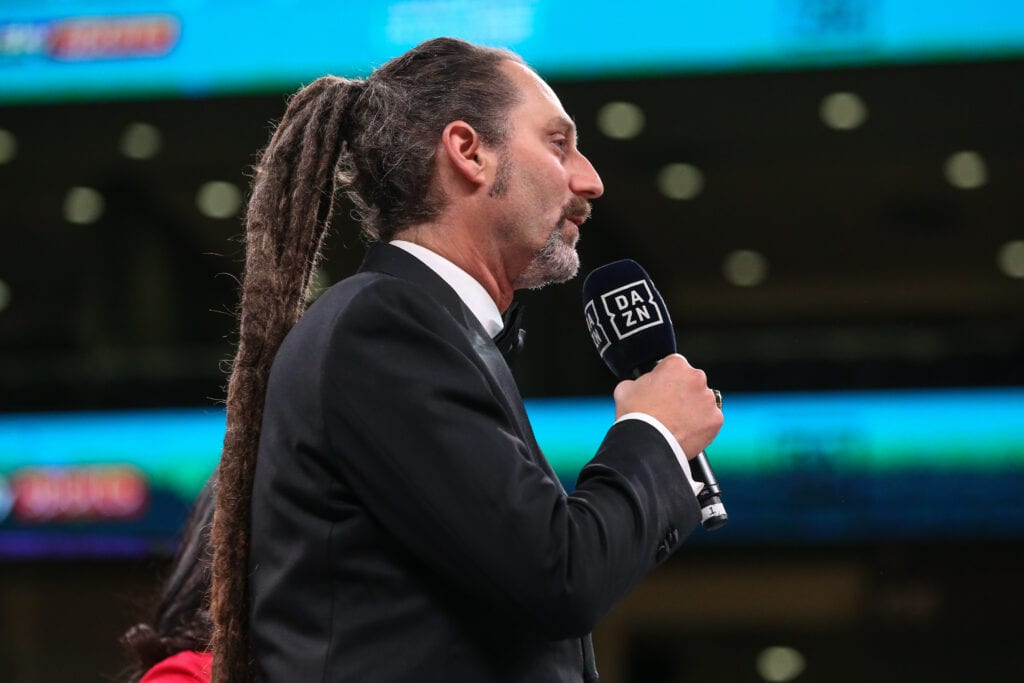 News
David Diamante's Biggest Fight Really Starts Now
David Diamante's Biggest Fight Really Starts Now
In an interview released Monday famed Matchroom Boxing ring announcer David Diamante made clear from a New York hospital that a serious motorcycle accident has left him in bad shape. But, just like his signature line that he booms on the public address just before huge boxing matches, his "fight starts now!"
Sports Illustrated boxing insider Chris Mannix spoke with Diamante Sunday from New York's NYU Langone Health Hospital after he suffered serious injuries to his spine and legs in his one vehicle crash a week ago,
NEW: "My back is basically metal." @daviddiamante talks to @SInow about the motorcycle crash that nearly took his life — and why he is determined to walk back into a boxing ring again. https://t.co/jzTh2gmneD

— Chris Mannix (@SIChrisMannix) December 27, 2021
"There's also a lot of pain. A lot of pain. It's really hard to do anything when you're in this much pain," Diamante said by phone to Mannix.
He further relayed from what he remembers about the Sunday afternoon motorcycle crash in Brooklyn that he simply lost control of the bike under what he believes were icy conditions on a cold New York Sunday under the Brooklyn-Queens Expressway. His motorcycle crashed into a parked SUV with Diamante having skidded with it on the hard concrete, before crashing into the wreckage. Thus, he seriously injured his back, ribs and legs with multiple fractures.
Diamante further relayed that he laid on the side of the street for a short amount of time before a "good samaritan" motorist finally stopped to help him and called 9-1-1 for assistance. After transport to the hospital, Diamante underwent over five hours of complicated surgery on fractures of his spine and legs. Doctors have since relayed to Diamante that he was fortunate by just millimeters from potentially being paralyzed by the crash.
"The spinal surgeon told me he had never seen this type of injury without paralysis," says Diamante. His voice begins to quiver. "I'm lucky, man. I'm really f—ing lucky." 
As we wrote last week, Diamante had just returned to the U.S. from working the Saturday night Matchroom Boxing boxing card in Manchester, England. That featured Jospeh Parker decisioning Derek Chisora in the Heavyweight main event.
Diamante has become Eddie Hearn's primary ring announcer over the past four years for his shows in the U.K./Europe and in the USA.
As for the the road to recovery, Diamante told Mannix,
"I'm not walking is the unfortunate truth right now," says Diamante. "Now I do believe I will walk and I believe I'll walk quite well, but it's going to take rehab and it's going to take time. There's things like being able to brush my teeth, or wash my hands, or pick something up, or walk up a step, or anything that anyone does normally, I cannot do that now. I'm not even close to doing that now. It's really hard to do anything when you're in this much pain, so that has to subside."
"It feels like I'm laying on boulders and rocks and knives and daggers," says Diamante. "I can't get away from it. It's all up and down my spine, the scar on my back, it goes from my whole top of my neck to all the way to my [backside]. It feels like I can't find a comfortable position. Everything hurts, man. Everything hurts."
In terms of being able to be released from the hospital and into physical rehab for the long road back to living and walking normally, Diamante told SI.com,
"I'm more on the inside than anyone ever knows," says Diamante. "That's my mentality. I am a Wolverine. It's who I am. It's why I've been able to live my life the way I do. The hardest thing for me right now is to go slow."

"I want to tell everyone I appreciate so, so much the thoughts and the tweets and the messages, they help me so much, man. They really do. Because a positive mental attitude is everything. This is the type of injury that sideline someone for life. But for me, this is literally, this is just a [Sunday]. I'm going to get through this. I don't know how long it will take but I'm going to get through it. I will be back ringside again."
That's the same hope of boxing fans and media, etc. that have been around and heard Diamante through the past few years, as well.