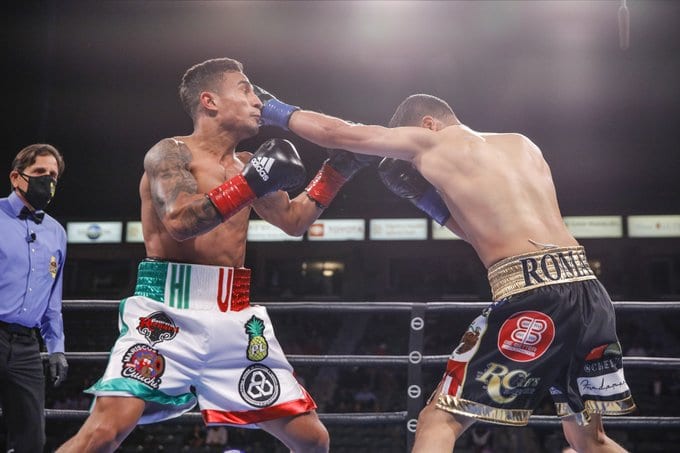 News
Danny Roman Decisions Ricardo Espinoza
Danny Roman Decisions Ricardo Espinoza
Danny Roman has an argument about getting a title shot at 122 pounds and made sure that case was still there as he was victorious against Ricardo Espinoza Saturday night from the Dignity Health Sports Park in Carson, California.
In the co-featured of the Showtime Card, the final scorecards for this one were 97-93 and the other two 98-92 all in favor of Roman (29-3-1, 16 KOs), who was able to outlast Espinoza (25-4,21 KOs) over ten hard-fought rounds.
The ten-round co-main event that aired on Showtime had been for Espinoza his debut fighting on the network and used it to be the pressuring fight to Roman as he had to find ways to balance out the 5-inch reach disadvantage to him. This played out in the opening rounds as Roman was fighting from distance and staying on the outside and Espinoza doing the exact opposite, getting inside.
Left uppercut coming in hot by @teamromanboxing#RomanEspinoza pic.twitter.com/IifUqpVtLL

— SHOWTIME Boxing (@ShowtimeBoxing) May 16, 2021
Espinoza was having some success at first with this approach but as the fight grew on, Roman was able to time these shots up and was scoring consistently. It made for a very close fight to score early on. Roman in his last outing was in a close fight against Carl Payano last September and this time out looked to be more in control than that outing.
In the later rounds of the fight, the Los Angeles native- Roman was able to land whenever he was in range uppercuts to Espinoza, which would effectively seal the decision for him in the fight but Espinoza still pressed on.
Before the start of the ninth round, the ringside doctor checked up on Espinoza as his face was showing severe ear and tear. Once the bell started, it was back to the same frantic action that has taken place throughout the fight.
With the win for Roman, we'll see if his name is mentioned near the top names at 122 as Roman has a valid case to challenge for the title. It's just a matter of if he can get a chance again and which fighter after these past few Roman fights, will let him get a crack at it.