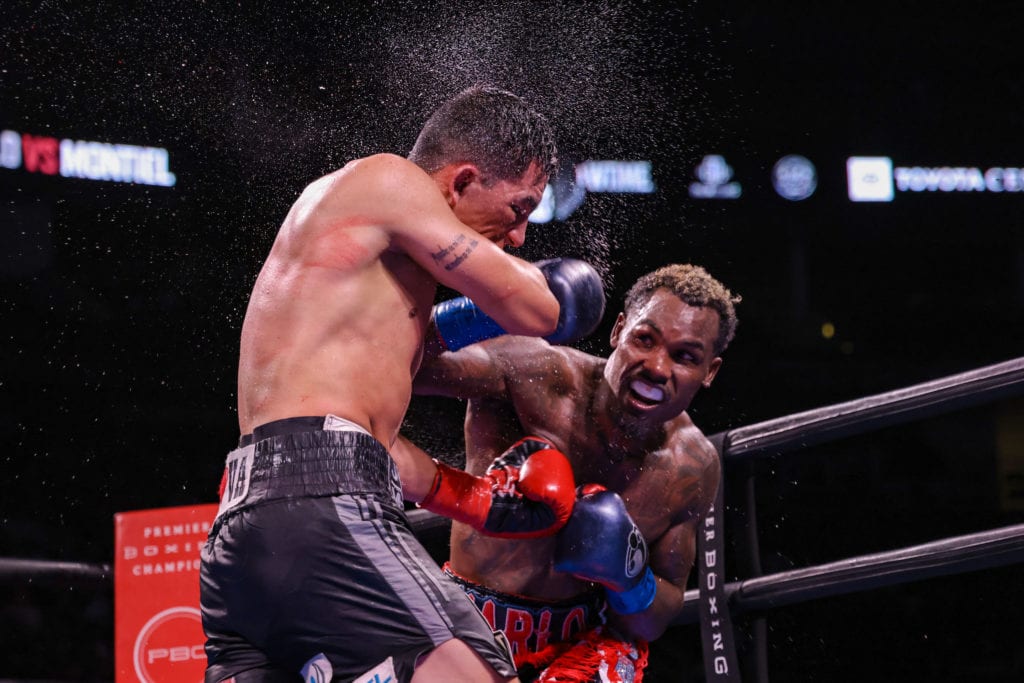 News
Concern About Jermall Charlo Punching Power At Middleweight?
Concern About Jermall Charlo Punching Power At Middleweight?
Off the latest defense of his WBC Middleweight Title Saturday night in Houston, Jermall Charlo was convincing in a lopsided decision win over Juan Montiel. However, for the fourth time in five Middleweight title fights, Charlo didn't deliver a KO.
Now, this isn't to say that Charlo isn't a talented, aggressive, hard punching fighter. After all, he is 32-0 off Saturday's victory. But, the question remains after watching Montiel take his best, repeatedly, and still remain standing, plus fire back: has some of the big punching previously at 154 lb. gone away?
Dating back to when Charlo won the "Interim" WBC World Title with an April 2018 second round KO of Hugo Centeno, he's had four opponents take his best and still last the full 12 rounds.
This after having destroyed Jr. Middleweight after Jr. Middleweight with four KOs or stoppages in the previous five fights at 154 lb. That included clobbering Cornelius Brundage and Julian "J Rock" Williams.
But, at 160 lb. after the Centeno KO, he fought little know Mat Korobov eight months later, and couldn't finish him. Next, he battled the winner of one of the seasons of "The Contender" reality competition, Brandon Adams, also in Houston. in June of 2019.
In that fight, Charlo suffered an injured left hand early on, but still fought hard, continuing to throw punches with the left and obviously, his right.
Still, there were no knockdowns of Adams, much less the early stoppage that night.
Now, that changed in the 31 year old Charlo's next outing in December 2019. Using the healed left hand, he floored Australian Dennis Hogan in the second round and later again, with the left early in the 7th round with the ref stopping for a TKO.
Then, post-Covid 19 pandemic, Charlo battled veteran title challenger Sergiy Derevyanchenko in another impressive showing last  September, but once again, for all the landed punches (134 power ones) he couldn't put Derevyanchenko down, much less out.
And, that brings us to the pounding that Charlo gave to the tough Montiel.
Despite repeatedly rocking him, starting in the fifth round, Montiel buckled, but didn't go down. And, he even continued to hit Charlo with solid left hooks.
We are headed to the 12th and final in Houston. #CharloMontiel pic.twitter.com/maWJxG3ULy

— SHOWTIME Boxing (@ShowtimeBoxing) June 20, 2021
So much so, he cut Charlo's right eye in the eighth and it continued to swell throughout the later stages of the their bout. Again, Charlo was the better fighter, landed over 200 power punches and clearly won. But, take into account that Middleweight contender Jaime Munguia wiped out Montiel in one round three years ago.
Still, the questions remain: with five recent Middleweight title fights and only one stoppage to show, has moving up to Middleweight cost Jermall Charlo KO punch?
Charlo said in the ring post fight Saturday that he wants to remain at 160 lb. and defend his title. Gennady Golvokin is the largest name title holder at Middleweight and perhaps, that fight can be made. Further, while the name Canelo Alvarez is being mentioned for potential mega-fight, it would come 8 lb. heavier at 168.
And, you have to wonder if, despite Charlo's volume of punching and success scoring over the last two plus years at 160 lb., could  he sufficiently hurt Alvarez?
This, while Canelo has maintained his punching power over the past four-five years moving up to Middleweight, Super Middleweight and even stopping Light Heavyweight champ, Sergey Kovalev in one fight at 175 lb. in 2019.
Alvarez most recently stopped WBO Super Middleweight champ Billy Joe Saunders after eight rounds with a wicked uppercut fracturing the Brit's eye last month.
Canelo's power, even 8 lb. heavier than Charlo, is still translating.
We wonder if Jermall Charlo's is what we've seen it be, or not, over his last five fights?