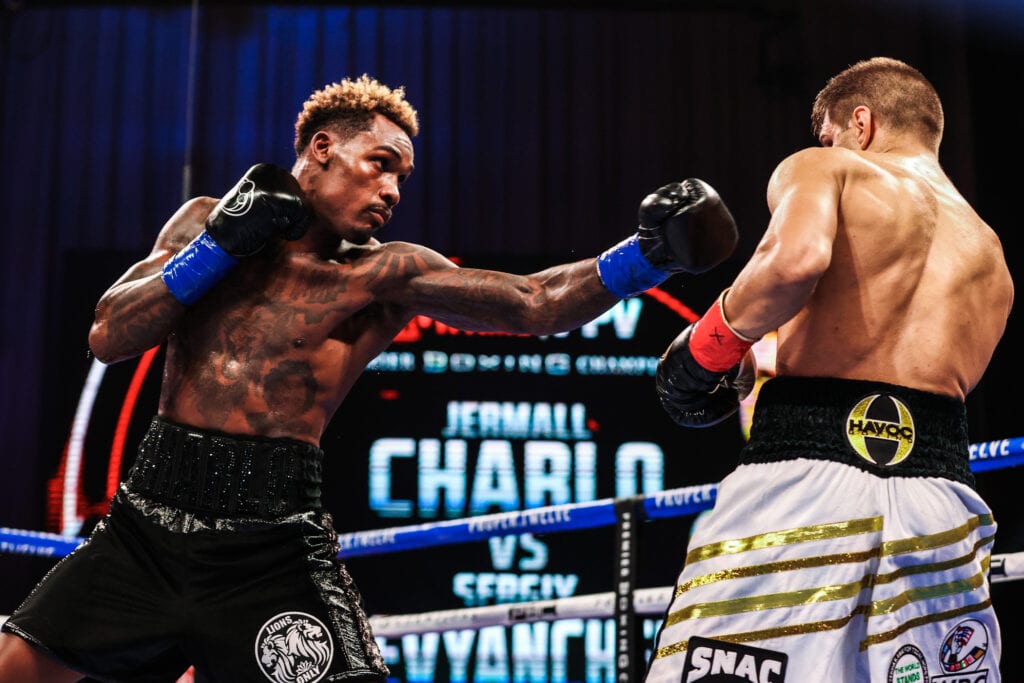 News
Charlo decisions Derevyanchenko to retain
Charlo decisions Derevyanchenko to retain
The first part of the main event of the Showtime pay-per-view had the WBC Middleweight title on the line as Jermall Charlo retained against a game Sergiy Derevyanchenko by unanimous decision.
The judges at ringside had the fight in favor of Charlo 116-112,117-111 and 118-110. Live-tweeting during the fight, I had it 116-112 for Charlo.
This was the 3rd defense for Charlo (31-0,22 KOs), and the opening round was an important one as Derevyanchenko (13-3,10 KOs), in his last two title challenges, was knocked down in the first stanza. In this contest, it was a feeling out round, so that did not happen.
The size differential was noted and pretty apparent as the second round was underway, and Derevyanchenko was on the other end of long-distance punches from Charlo. The opening rounds played out as a slow start by Derevyanchenko and Charlo waiting for him to make a mistake to pounce.
The third round changed the momentum as the closing seconds saw Charlo land a right that stunned Derevyanchenko, and was almost sent don't before the bell sounded.
EXPLOSIVE exchanges ? #CharloDerevyanchenko

ORDER #CharloDoubleheader: https://t.co/1EyPvSuXAA@ShowtimeBoxing pic.twitter.com/325t2V1auV

— SHOWTIME SPORTS (@SHOsports) September 27, 2020
Derevyanchenko recovered in the opening moment of the fourth round, but Charlo was still able to land counter shots often afterward. The action picked up, however, as Charlo was finding a home for landing uppercuts. Despite this, as the fight grew on, Derevyanchenko was able to get inside a little better but had for his efforts a cut that started on the right eye from a shot from Charlo.
The sixth round was the best one for Derevyanchenko as he could land more shots by closing the distance on Charlo in what was a good one that saw both stood toe to toe and trade.
Cuts from punches in the seventh round that a close one had as blow-by-blow man Mauro Ranallo quip that Derevyanchenko's face "was looking like a Halloween mask." Despite that, Derevyanchenko had some of the best work of the fight, especially in the eighth round, where he landed a body shot on Charlo that may have stopped him briefly.
Before the tenth round, the ringside doctors checked on the eyes of Derevyanchenko to make sure he can see and continue. He was and it was more of the same as Charlo kept him at bay with his size by jabbing away.
As the championship rounds came on, Derevyanchenko kept the pressuring coming but was still on the end still of counters.
For Charlo, after this successful defense, we'll see what is next for him. He has made it known he wants the rest of the belts at 160. Time will tell if any of those challenges open up.