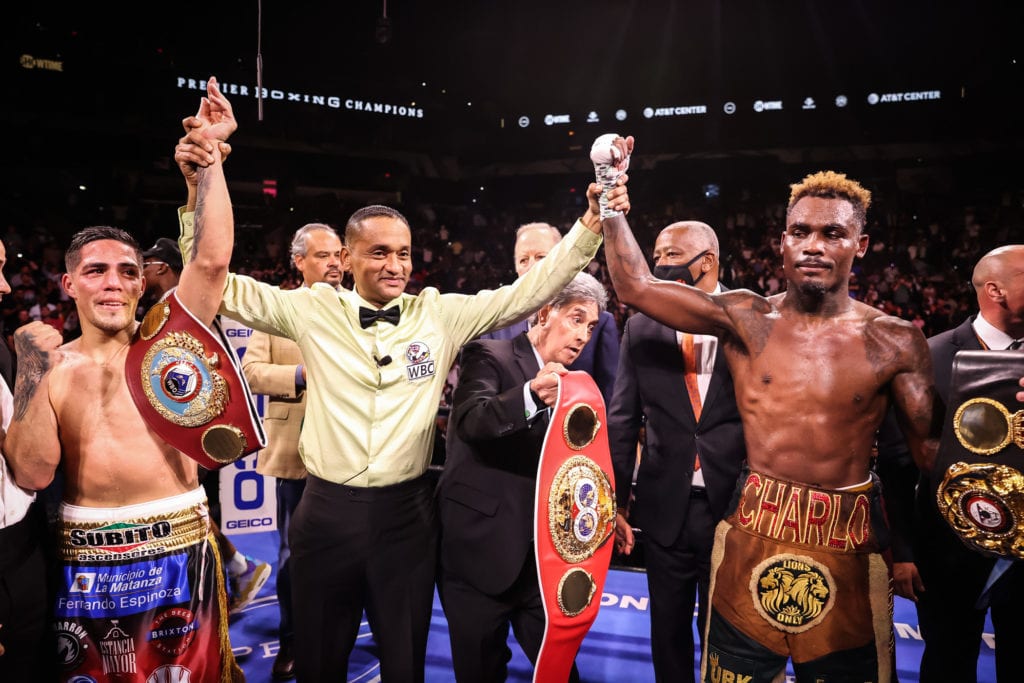 News
Charlo-Castano Scored Increased TV Audience For Showtime
Charlo-Castano Scored Increased TV Audience For Showtime
It's a fight still being talked about days later due to it being entertaining and controversial with a 12 round draw as the outcome. And now, the TV numbers have come in for Showtime's Jermell Charlo-Brian Castano main event last Saturday night and not surprisingly, it was the most watched fight on the premium network this year.
Keith Idec of Boxingscene.com had the details that the Charlo-Castano averaged just over 420,000 viewers for the three hour broadcast. However, the main event peaked at over 535,000 watching the unsatisfactory draw outcome,
Charlo-Castano Showtime's Most-Watched Live Boxing Match Since December 2019 https://t.co/nnpNKhaDvB pic.twitter.com/uvtTp4OCXe

— BoxingScene.com (@boxingscene) July 20, 2021
From Idec's story,
The average and peak audiences for Charlo-Castano were the highest for a live boxing match on Showtime since Gervonta Davis' 12th-round stoppage of Yuriorkis Gamboa nearly 19 months ago. Davis-Gamboa, a WBA lightweight title fight at State Farm Arena in Atlanta, drew an average audience of 577,000 and a peak audience of 604,000.
For comparison, Jermell's twin brother Jermall Charlo's WBC Middleweight title defense in June had an average of audience of 333,000 and with the peak audience of 379,000 on Showtime. Charlo won a 12-round, unanimous-decision over Mexico's Juan Montiel in Houston, TX.
So, the Charlo-Castano audience peak for the main event over 20% more for the network.
As we wrote last night, the WBC, WBA, and IBF 154 lb. titleholder Charlo took to social media to show respect to the WBO champ, Castano, but stopped short of saying there would definitely be a rematch next.
Charlo saying on Instagram,
"Brian Castano is one hell of a better fighter than anyone gave him credit for and he came to fight for his life Saturday. If fights are scored as a whole I landed the harder and better shots, but boxing isn't scored that way. Boxing is scored round by round," the Charlo post said.
"I've always said to take a belt from a champion you need to take that belt and the judges felt neither of us did enough to take those other belts and they ruled a draw. I don't want to become undisputed by a narrow controversial decision. I want to make a statement. I didn't do my part to get the KO and as always I will continue to learn and improve. When we run it back, just like I adjusted in Harrison II, there will be no doubt about the result."
While Charlo may have to deal with a WBC or IBF mandatory challenger first, it's believed that the rematch could still be in the first part of 2022, as well.
And, it is always possible that those mandatory challengers could be put on the back burner, either by "step aside" money or by Charlo vacating a belt to make the Castano rematch happen later this year. The only catch is that giving up one of the belts to have the immediate rematch takes away from the "Undisputed" angle that helped drive the first fight.
But, those audience numbers are definitely compelling to do it all over, again.