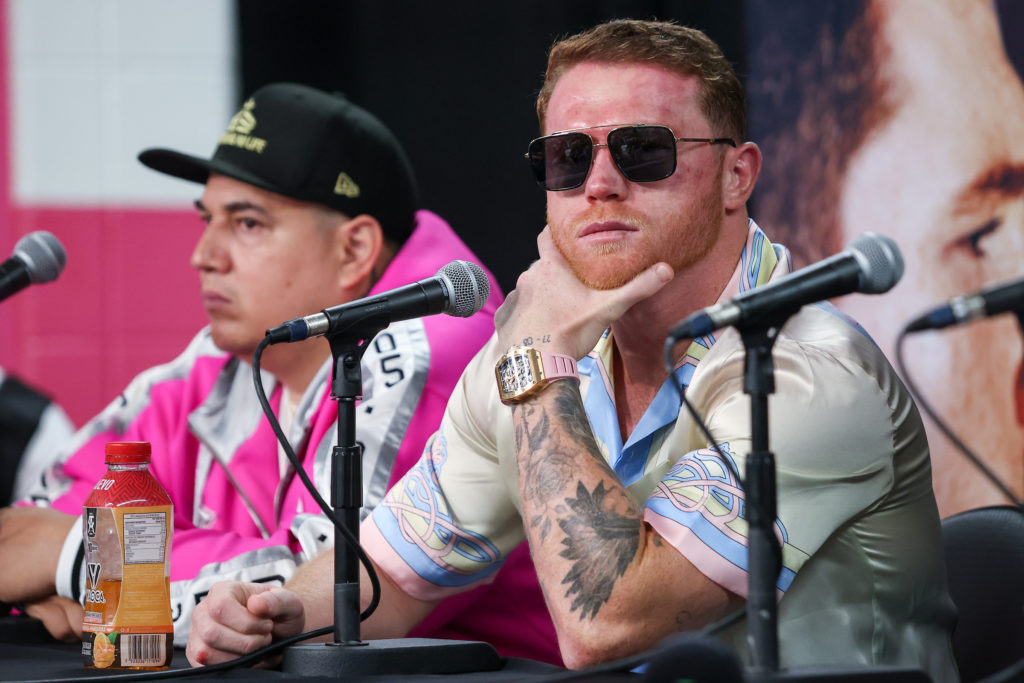 News
Canelo Second Thoughts About Bivol Rematch Next?
Canelo Second Thoughts About Bivol Rematch Next?
Immediately after Dmitry Bivol was declared the 115-113 winner on all three scorecards to retain his light heavyweight world title against Canelo Alvarez on Saturday night at T-Mobile Arena, the now-deposed pound-for-pound king said he planned to invoke his contractual right to an immediate rematch.
A short time later Alvarez, who had moved up to light heavyweight for the second time seeking a second title in the division, reiterated that stance in the early part of his post-fight news conference. But, later in during the question and answer session he declined to commit to facing Bivol again in his next fight.
Had Mexico's Alvarez won, his next fight was scheduled to be on Sept. 17 — Mexican Independence Day weekend — in a third meeting with rival Gennadiy Golovkin, the unified middleweight titlist, who would move up to challenge Alvarez for his undisputed super middleweight title. Alvarez is 1-0-1 against GGG in a pair of middleweight title fights that both ended in a storm of controversy over the scoring.
But, with Alvarez losing to heavy underdog Bivol, who he will face next — and if he will even fight on Sept. 17 — is up in the air.
"We're gonna go to see what's next, to talk about it and we'll let you know," Alvarez, wearing dark glasses to hide his facial bruising, said at the news conference.
Gently pressed for a more clear answer about when and who he would next fight, Alvarez declined to be specific as he had been in the ring.
"We'll see what happens in the future," he said. "But we'll just have to wait and see what's gonna happen."
Despite his uncertainty of when and who will next face, Alvarez said he does want to face Bivol again.
"Yes, we want it," he said of a rematch. "We want the rematch and well do much better in the rematch."
Eddy Reynoso, Alvarez's trainer and manager, also indicated they want face Bivol (20-0, 11 KOs), 31, of Russia, again.
"There's no doubt about that," Reynoso said when asked if the rematch was the biggest fight Alvarez could have. "And we want that rematch. We felt that we didn't lose the fight, just some rounds. We want that rematch to see what we can do better. Have to give good credit to Bivol and what he did. Saul is a winner and he will come back stronger."
Alvarez echoed Reynoso's sentiment.
"I'm a very competitive person," Alvarez said. "I've got many years ahead of me. I'm gonna come back stronger."
Alvarez also added that he thought he won the fight, which few would agree with it. He was ahead 4-0 in rounds on all three scorecards — generous scoring in the view of most — after which he only won a single round the rest of the fight.
"Often judges score things that perhaps they shouldn't. For example, I was blocking shots and I was rolling punches and that is where the (judges') mistake may have been made," Alvarez said. "You have to give the credit to Bivol. He's a very difficult fighter to hit around the head area. I thought I won, so there's no shame. I'm proud of what I've achieved. I thought maybe I lost four or five rounds but I definitely didn't lose the fight."
Alvarez (57-2-2, 39 KOs), 31, the reigning fighter of the year and a four-division champion, had not lost since a decision to Floyd Mayweather in a junior middleweight championship fight in 2013 and had gone 15-0-1 since. He said he was proud of himself for taking on the toughest challenge available to him for the May date.
"I've gone and fought at 175 out of my comfort zone to a weight that is not mine and there's no shame in that," Alvarez said, adding that he was fatigued late in the fight, perhaps because he was heavier than he was used to. "I'm looking for challenges that others would be scared to take on because they might lose. Nobody wants to see fights where they know who's going to win. It's about those 50-50 fights that people want to see.
"I feel like I can come out of this fight with my head held high because I gave the best of me in a different weight class. I'm looking for challenges, challenges in my career that take me out of my comfort zone, so I'm proud and I'm feeling good. We'll see what's next. I don't feel like I lost the fight."