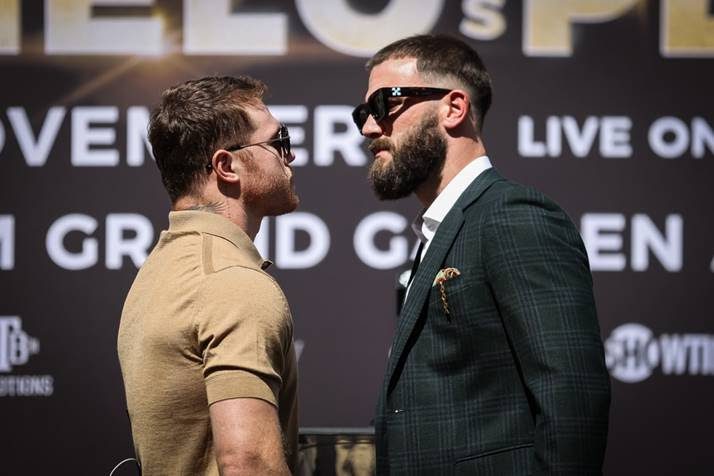 News
Canelo-Plant: The Most Talked About IBF Mando Ever
Canelo-Plant: The Most Talked About IBF Mando Ever
The whole world of boxing spent yesterday talking about the upcoming Undisputed Super Middleweight matchup between Canelo Alvarez and Caleb Plant as both had action started early at the press conference.  What I believe is "lost in the sauce" of what went down is this bout for the undisputed title at 168 lb. is the most talked-about IBF mandatory in recent memory. And, it's hysterical considering what we saw was nothing new.
What about that IBF contest about Teofimo Lopez and George Kambosos Jr.? Time has shown that the folks at Triller seem to like holding onto the idea of this fight than actually putting it on at this point. Wake me when the fight actually happens or moves again, whichever comes first.
The fun fact about this fight taking place November 6 on Showtime Pay-per-view from Las Vegas was it was a homecoming for both Plant and Alvarez on the Showtime platform. For Alvarez, it's the first time since 2014, and since 2017 Plant has been on there. If you missed one sentence yesterday about the fight, I got you covered on the biggest theme of it.
Everyone in some shape, verb or fashion stated "Thank You Al Haymon and Showtime" for making the fight happen.
"Thank You Al Haymon and Showtime!"

Everyone at the #caneloplant presser.

— Marquis Johns (@weaksauceradio) September 21, 2021
Oh yeah, there was the part where they started to throw down but while everyone was "up in arms" as it could potentially ruin the upcoming fight as Plant got a cut under his right eye that will need stitches for sure. I ask everyone who has ever seen a Canelo press conference to tell me they haven't seen that before. Plant downplayed it after the fact even though he started it first only to be countered.
"We just had some normal back-and-forth banter up there and then whatever happened, happened. It's none of my concern though. I'm focused and locked in on November 6," Plant said at the presser held in Los Angeles Tuesday.
You know, that run-of-the-mill Canelo confrontation that seems to happen when he's in action. I still remember the cartoony face actor and co-host of the "3 Knockdown Rule" podcast, Mario Lopez made when Canelo and Daniel Jacobs had before their contest. This one looked less phony however and rapper 50 Cent agreed on social media yesterday.
This is the real shit, i want to see this. LOL pic.twitter.com/0tJpEb8nCa

— 50cent (@50cent) September 22, 2021
"The real s-" he's referring to is this fight and not the Triller fight card he was pretty much a limited soundboard ringside for involving Evander Holyfield and Vitor Belfort.
Once the scrum was over, you got what has been said by both men for a while now. Part of that is because this fight was a delayed one like so many others this year. Still didn't make it less amusing, however.
"Caleb might be on the same level as Billy Joe Saunders and Callum Smith, but he's not on my level," Canelo Alvarez said yesterday. "I respect that he isn't here to back down. You can see from today that this is going to be a good fight.
"It will be over in eight rounds or less. I'm going to knock out this guy. Easy."
Hearing that from Canelo is why he is favored on the sportsbooks heading into this contest at least an 8 to even a 12 to 1 favorite. This has only fueled Plant as this is territory he is used to.
"I know that people don't believe me when I tell them I'm winning on November 6," Plant said. "All those people who tell me that I can't do something, you live believable lives and you do believable things. I promised myself that I was going to run this all the way to the top, with no problem crashing and burning along the way."
"I set out to live an unbelievable life and accomplish unbelievable things. Those people who doubt me are the very reason that I'm here."
What is going to be unbelievable is November 6 we hope to have history made in Las Vegas.