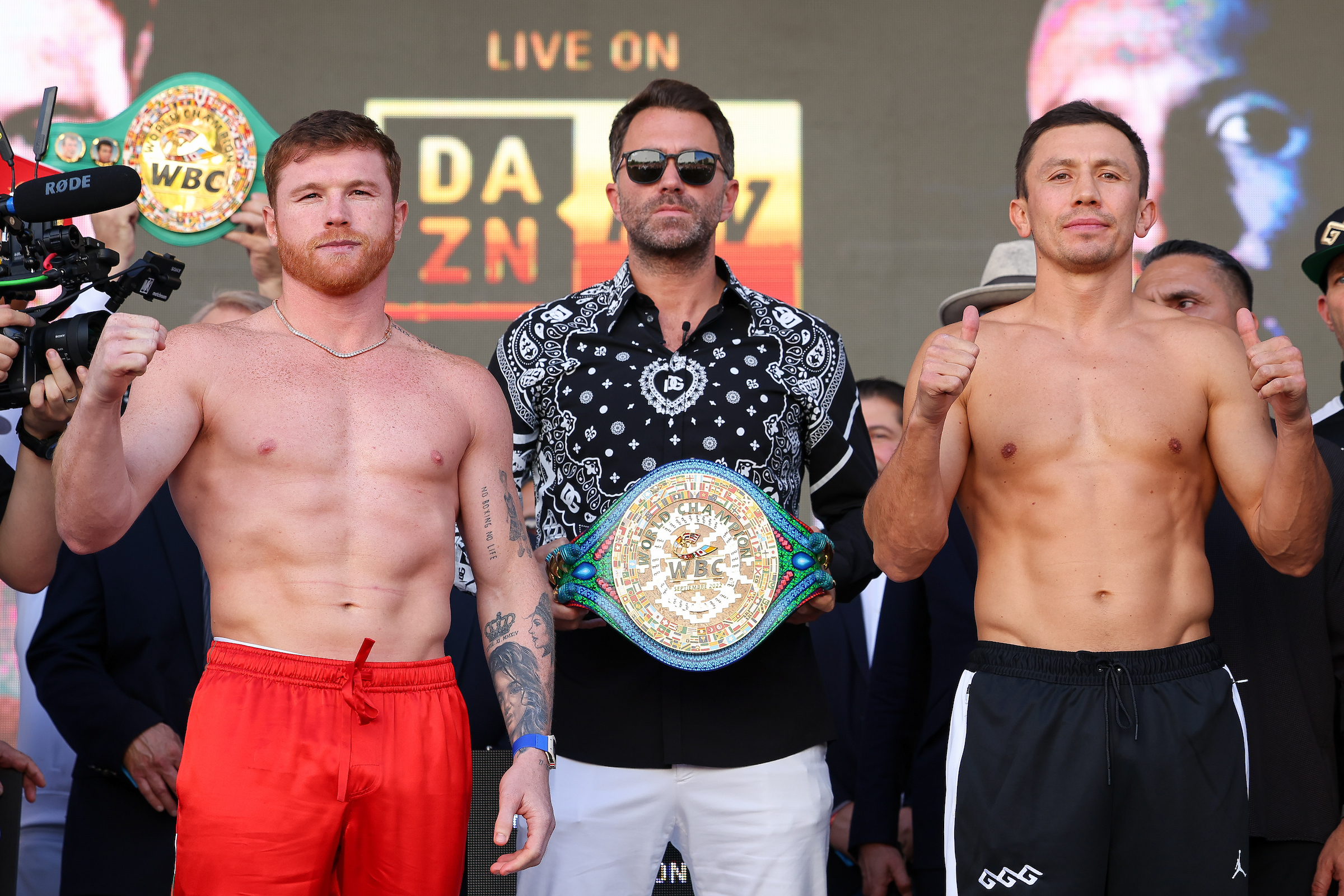 News
Canelo-Golovkin Make Weight For Trilogy Fight
Canelo-Golovkin Make Weight For Trilogy Fight
LAS VEGAS – For the fifth time since their trilogy fight was announced, bitter rivals Canelo Alvarez and Gennadiy Golovkin stood face to face and looked deep into each other's eyes without flinching one last time before they finally fight again.
They had staredowns at both of their media tour stops in Los Angeles and New York and then this week at the grand arrivals on Tuesday and the news conference Thursday before facing off once again at the conclusion of a ceremonial weigh-in on Friday afternoon on a stage outside the T-Mobile Arena, where they will fight for the third time on Saturday (DAZN PPV and PPV.com, 8 p.m. ET).
Thousands crammed Toshiba Plaza in front of the arena on the fifth anniversary of Canelo-GGG I to get a look at the fighters and cheer wildly, mostly for Alvarez, on Mexican Independence Day weekend.
Hours earlier at the closed-door official weigh-in at the MGM Grand, Alvarez was 167.4 pounds for his first defense of the undisputed super middleweight title and unified middleweight titlist Golovkin, who is moving up in weight, was a career-high 167.8.
Click below for more on seeing Canelo-GGG without subscription.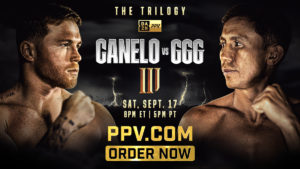 The first fight was declared a split draw, one of the most controversial decisions in boxing history; most thought Golovkin, who retained the unified middleweight titlet, clearly won. In September 2018, they met again and Alvarez won a controversial majority decision to end GGG's middleweight title reign in another exciting and hard-hitting fight.
Four years later, they meet again with all those years of simmering bad blood a big part of the promotion.
Alvarez (57-2-2, 39 KOs), 32, has continuously espoused his desire to knock out Golovkin (42-1-1, 37 KOs), 40, a Kazakhstan native fighting out of Santa Monica, California, who has never been so much as knocked down in his career. Alvarez reiterated his wish on stage.
"That's what I want but I know it's not going to be easy," Alvarez said. "He's a great figher and I want to finish him within 12 roounds, and I'll be looking for that from the very first round."
Asked about Alvarez's knockouts desires, GGG was short with his reponse.
"No comments," he said, later adding, "If you're a real boxing fan you know who's the real champion."
WATCH us discuss Canelo-Golovkin with some gambling advice from our weekly BetUS Friday Boxing show,
WBC junior bantamweight titlist Jesse "Bam" Rodriguez (16-0, 11 KOs), 22, of San Antonio, weighed 114.8 pounds for his second title defense and challenger Israel Gonzalez (28-4-1, 11 KOs), 25, of Mexico, who will getting his fourth title opportunity, was 114.6.
Weights for the rest of the undercard: Ali Akhmedov 167.8, Gabriel Rosado 167.6; Austin Williams 160, Kieron Conway 159.2; Diego Pacheco 167, Enrique Collazo 167.8; Marc Castro 134.4, Kevin Montiel Mendoza 135.2; Aaron Aponte 139.8; Fernando Molina 140; Anthony Herrera 114.8, Delvin McKinley 116.