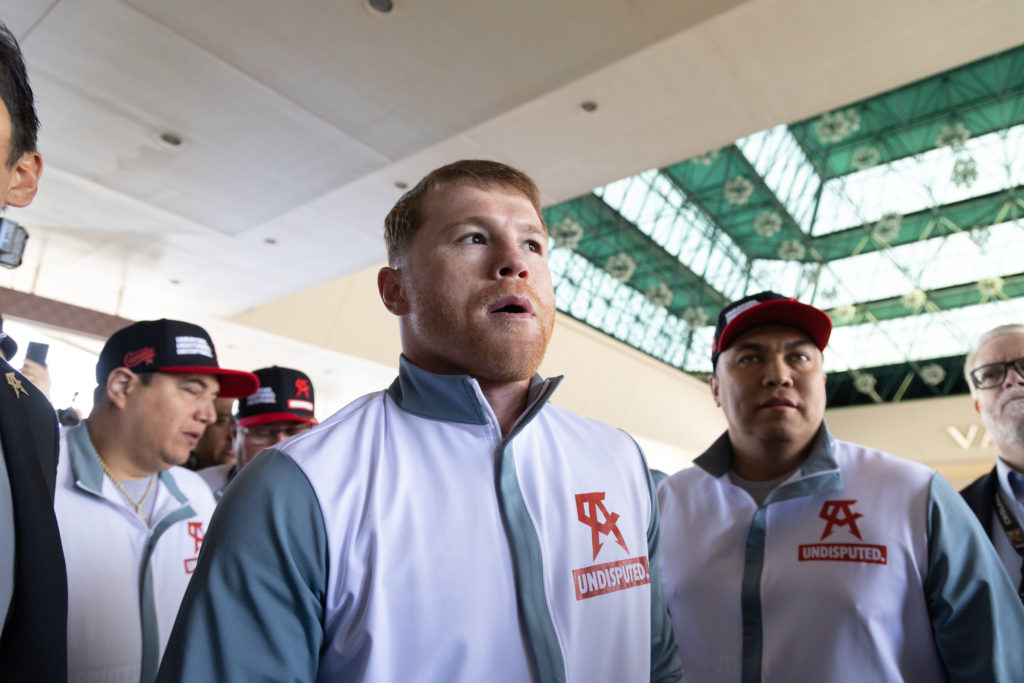 News
Canelo Entertaining Idea Trying For Usyk Fight?
Canelo Entertaining Idea Trying For Usyk Fight?
With his WBA light heavyweight title challenge approaching Saturday night, undisputed super middleweight king Canelo Alvarez has his sites set on bigger figurative and literal prizes. Like, maybe trying to move up to heavyweight and possibly fight unified champ Oleksandr Usyk at an agreed to lower weight.
Our Dan Rafael is in Las Vegas and was one of only a few media given early access to Alvarez and Matchroom Boxing promoter Eddie Hearn on Wednesday evening. This is in advance of Canelo challenging Dimitry Bivol for his title at the T-Mobile arena coming up.
However, as Dan wrote in his "Fight Freaks Unite" substack out Thursday, there's much more in the future also on Canelo and Hearn's agendas.
Alvarez, who previously held a light heavyweight title but vacated, is hunting for the undisputed title in that division, but his goals beyond that. He also has designs on a cruiserweight title and — you're reading this correctly — a heavyweight title against Oleksandr Usyk down the road.
If he accomplishes it all he would have titles in six divisions from junior middleweight to heavyweight, a run of divisions that has never been done. He would be only the third former middleweight champion to win a heavyweight title, along with Roy Jones Jr. and Bob Fitzsimmons, who did it more than a century ago.
"I'll fight everybody. I don't fucking care," Alvarez said during a free-wheeling session with about a dozen reporters on Wednesday afternoon….
If Alvarez beats Bivol, there will the third fight with rival Gennadiy Golovkin on Sept. 17 and then the prospect of a December fight.
Matchroom Boxing promoter Eddie Hearn, who re-signed Alvarez to a two-fight deal with an option for a third fight after he beat Plant, ran through what he thought Alvarez's schedule might look like over the next year-plus, and it seems reasonable give Alvarez's desire to stay active.
"I think if he fights in December it most likely will be a mandatory defense of one of his titles and I think the undisputed 175-pound fight will probably come next May," Hearn told Fight Freaks Unite on Wednesday. "So, I see him fighting Bivol. If he's victorious, Golovkin. If he's victorious, healthy and ready to fight (in December), maybe a John Ryder (in a super middleweight mandatory), maybe the winner of (Joshua) Buatsi-(Craig) Richards, maybe a fight in Mexico, and then go into the undisputed 175-pound on Cinco de Mayo next year."
Hear a brief part of Dan's conversation with Hearn on the challenge Canelo is facing Saturday night with Bivol, off his "Fight Freaks Unite" Pod and the Big Fight Weekend Podcast Feed by clicking play below:
Alvarez would have one light heavyweight belt if he beats Bivol and then would look to eventually challenge the winner of the three-belt unification fight between Artur Beterbiev and Joe Smith Jr. that is scheduled for June 18.
"I like the idea to be undisputed at 175," Alvarez said, adding that he won't be watching Beterbiev-Smith next month. "I don't want to watch that fight. Whoever wins, fine. The idea is to unify and be undisputed at 175. Whoever. I don't care."
As for a potential fight with 6-foot-3 southpaw Usyk, the undefeated former undisputed cruiserweight champion, he would first have to defeat Anthony Joshua in their rematch in July and hang on to the belts.
It might sound like a bridge too far for the 5-8 Alvarez (571-2, 39 KOs), 31, who began his career as a 140-pound junior welterweight and won his first world title as a 154-pound junior middleweight, but Hearn has softened his stance after first thinking it was out of the question.
"After the (Joshua)-Usyk fight (last September) I took AJ to see Saul and Eddy Reynoso and the way that Saul was explaining the way to beat Oleksandr Usyk, he made it sound very straight forward," Hearn said. "And I just said to him, 'Do you think you could beat Usyk?' He said, 'Of course.' I said, 'Really?' And he said, 'Yeah, if you make that fight at cruiserweight or a pound over (201 pounds), no problem.' And it's hard not to believe him.
"I honestly believe AJ will beat Usyk (in the rematch) but if he doesn't, I think what you do first is you would have a fight at cruiserweight. You'd fight Makabu, you'd fight one those guys, and then you do it from there."
Alvarez said Usyk is definitely of interest to him.
"He asked, 'What do you think about a fight with Usyk, the challenge,'" Alvarez said, translating a question from Spanish. "Why not? I like it." 
Now, obviously, Alvarez would be intrigued at the proposal of trying to move up and fight at Cruiserweight and then at a contracted limit of 200 lb. for a potential Usyk fight.
However, Usyk would stand to make much more massive money in about for the undisputed title with WBC heavyweight champ, Tyson Fury.
And further, imagining that Canelo at 5'8″, whose primarily fought as middleweight and super middleweight for the last 7-8 years of his career would realistically be able to add 30+ pounds and fight Usyk is borderline silliness.
And, maybe, all of the Usyk talk is just that- Silliness to pass the time, until he could realistically become undisputed at 175 lb. next year.