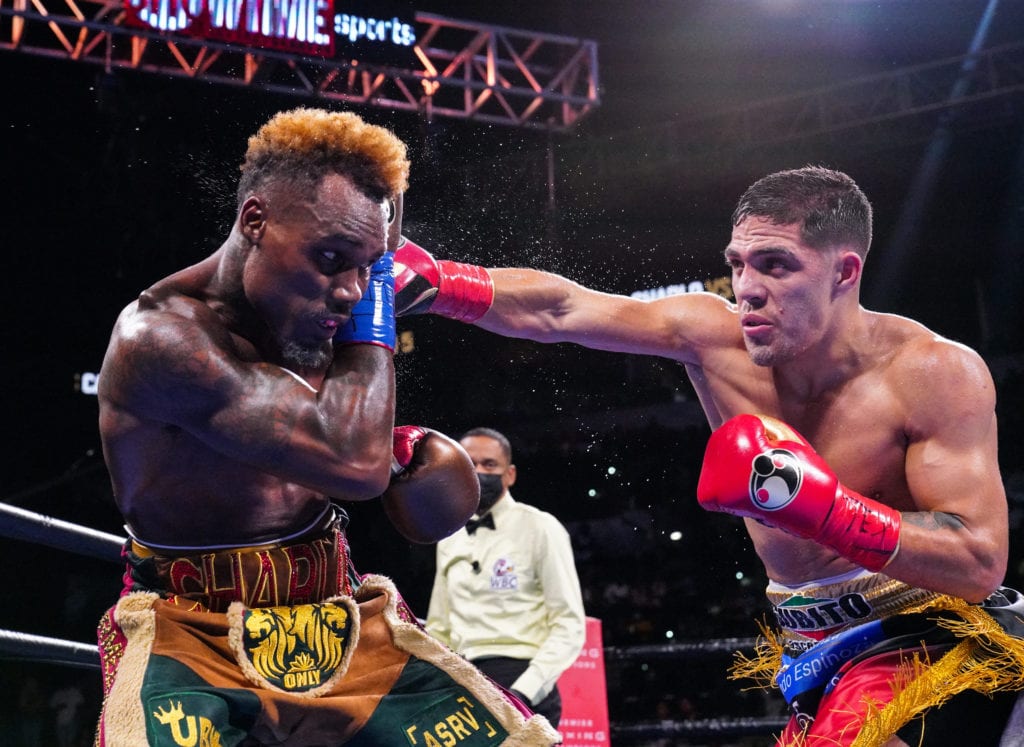 News
Brian Castano Got Encouragement From Canelo Sunday Night
Brian Castano Got Encouragement From Canelo Sunday Night
Fresh off his controversial Undisputed Jr. Middleweight title draw with Jermell Charlo in San Antonio, TX, Saturday, WBO World Champ Brian Castano got some encouragement from one of boxing's current bests.
That's when four division world champ Canelo Alvarez got placed in contact with Castano for a quick video call at an airport by a producer for the Steve Kim/Mario Lopez "3 Knockdown Rule" podcast, who was on the flight with Castano. The producer tweeted that he was talking with Alvarez's trainer/confident Eddy Reynoso, when Canelo heard them and wanted to video with Castano,
Video of Canelo congratulating Brian Castaño and telling him he thought he won the fight. #Boxing pic.twitter.com/1vFKCYuAPN

— Little Giant Boxing (@Constntino) July 19, 2021
Alvarez told the now 17-0-2 Castano that he believed that Castano won the Saturday battle, as most not related to, or in business with, Charlo also believe. And, to stay positive about the future.
The main event that aired on Showtime Saturday night from the AT&T Center in San Antonio, Texas, had a lot at stake. This, as it was suppose to determine who would be "number one with a bullet" at 154 lb. in this history-making event. It would have been the first time in the 25 year "four belt era" that the same Jr. Middleweight held all four titles.
Instead, the judges scores were read, one each for Castano and comically 117-11 for Charlo and the third card a draw.This after the shorter/stockier Castano out-fought Charlo for most of the first nine rounds of the the fight.
The now 34-1-1, Charlo rallied in the 10th stunning and staggering Castano a couple of times. Still, he was significantly behind on two of the official cards and had to win the last two rounds (and did) just to squeak out the draw.
"The draw wasn't what I wanted to hear. If anything, I won this fight," Charlo said in the ring to Showtime afterwards. "I hurt him more…Brian Castano is a tough warrior. He's gonna give a lot of people problems, but like I said, my power is something serious at this weight division."
For his part, Castano said in the ring post fight, "I won the fight. There were some rounds that he did hit me. There's no doubt about it. He hit me hard. But I won the fight, definitely."  
And, he further added that he wanted an immediate rematch with Charlo.
Now, we wait to see if that will be a priority for Charlo or if the Texas native will look elsewhere.
Still, Castano is getting lots of love for his performance, even without getting credit for the decision win. And, that's only going to help his chances at a more lucrative payday or two over the next few months to a year.