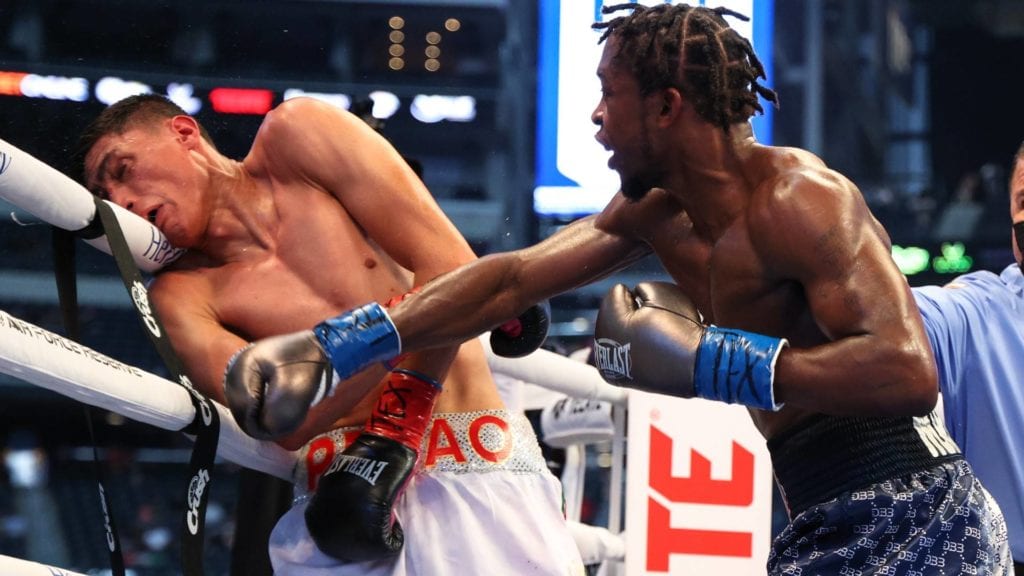 News
American Olympic Hopeful Keyshawn Davis Ready in Tokyo
American Olympic Hopeful Keyshawn Davis Ready in Tokyo
Later this week the year-delayed 2020 Olympic Games are still scheduled to take place in Tokyo, Japan. And, despite the growing controversy about Covid-19 positive case spikes in Japan and even with athletes in the Olympic village now testing positive, top American hopeful for a medal, 22 year old Keyshawn Davis, is there and getting ready to compete in the boxing tournament.
The Norfolk, VA, native Davis posted on Social media Sunday night U.S. time (Monday mid-day in Tokyo), that he was already going through an early week workout out.
Fine tuning we 7 days away guys . . . Who watching my Olympic debut July25th?👀 #2021olympics pic.twitter.com/5EVoM8CnQj

— Keyshawn Davis (@KeyshawnDavis8) July 19, 2021
Now,  the interesting aspect of Davis being in Japan to compete, as an "amateur," is that he already turned professional and has had three pro fights and victories.
After spending much of last year waiting and wondering if the delayed Olympics would still be held in 2021, he went ahead and decided to fight professionally for the first time on the undercard of the Canelo Alvarez-Avni Yildirim card in Miami back in February.
That night, debuting as a Lightweight, he scored a quick 2nd round TKO win over Lester Brown to impressively start his career.
Davis subsequently won twice more in April and May, including being back on the undercard of Canelo's KO of Billy Joe Saunders in Arlington, TX, in May. That night he scored a six round decision over Jose Antonio Meza (above) to continue his momentum.
Then, while waiting for a possible next pro fight, the International Olympic Committee and it's "International Boxing Task Force" (BTF) ruled earlier this Summer that: because too many of their worldwide pre-qualifying tournaments were still unable to be held for the delayed 2021 Games, they would allow professionals who had already recently been intending (like Davis) to compete in 2020 to return to "amateur" status if they wanted.
Davis clearly did want back in for the chance at Olympic Gold.
Davis is former national Golden Gloves champ (2017), who was second at 2019's World Championships and Pan American games. He is considered a favorite to win one of the three medals in the Lightweight division.
The last U.S. fighter to win Gold was Light Heavyweight Andre Ward in the 2004 Athens Games and the boxing preliminary competition (Covid cases rising and all) are still slated to begin Sunday.