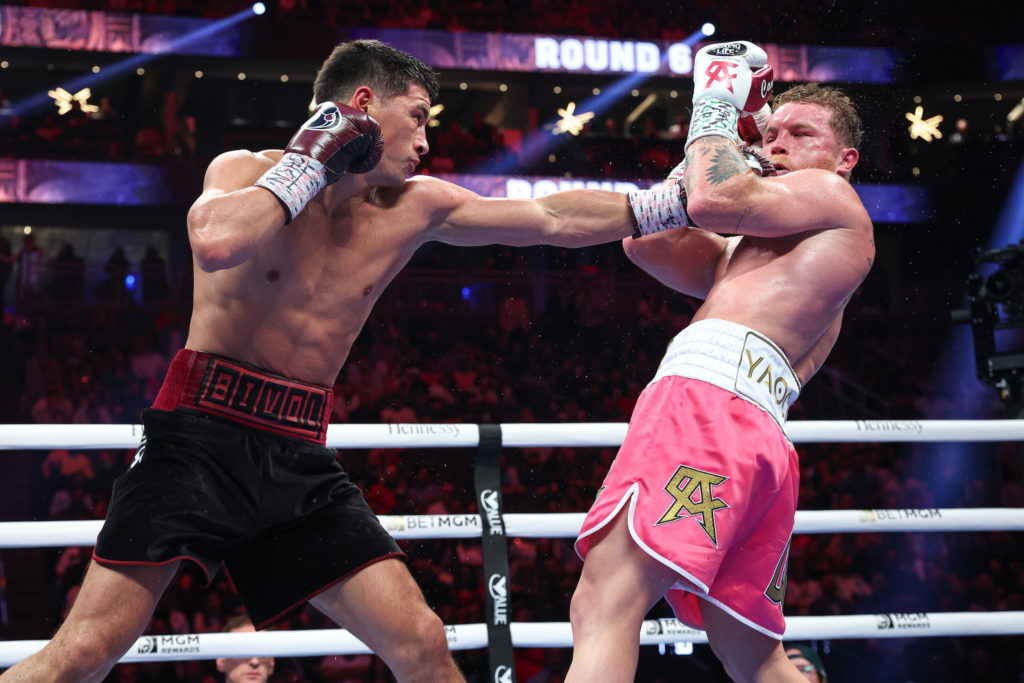 News
Bivol Upsets Canelo To Retain Light Heavyweight Title
Bivol Upsets Canelo To Retain Light Heavyweight Title
LAS VEGAS – Dmitry Bivol had heard all of the questions throughout the promotion: Could he possibly get a decision against pound-for-pound king Canelo Alvarez in his house at T-Mobile Arena on Cinco de Mayo weekend?
The answer? A resounding yes.
The bigger Bivol, a 5-to-1 underdog, showed that weight classes were created for a reason as he pounded out a clear unanimous decision to retain the WBA light heavyweight title against boxing's biggest star, much to the disappointment of the overwhelmingly pro-Canelo crowd, on Saturday night.
BIVOL SHOCKS THE WORLD AND DEFEATS CANELO 🏆

Watch #CaneloBivol | Live on https://t.co/FoiaUucI53 worldwide, excl. Latin America & Mexico | DAZN PPV in US & Canada pic.twitter.com/CZEszTKGj5

— DAZN Boxing (@DAZNBoxing) May 8, 2022
All three judges — Tim Cheatham, Dave Moretti and Steve Weisfeld – scored it 115-113. Big Fight Weekend had it for 116-112 for Bivol, who retained his 175-pound belt for the ninth time.
Alvarez, the undisputed super middleweight champion, landed his share of clean punches but they were not effective against the bigger man the way they were when he was knocking out middleweights and super middleweights. And thus ended an Alvarez 16-fight unbeaten streak that rocketed him to No. 1 on the pound-for-pound list.
"You have to expect it. It is boxing. No excuses," Alvarez said. "I have to accept the scores. I lost today and he won. He is a great boxer. He's a really good fighter."
Mexico's Alvarez (57-2-2, 39 KOs), 31, the 2021 fighter of the year, had not lost since a decision to Floyd Mayweather in a junior middleweight championship fight in 2013 and had gone 15-0-1 since — with the draw being the heavily disputed decision most thought Gennadiy Golovkin deserved when Alvarez challenged him for his unified middleweight title in their first fight in 2017 – until losing to Bivol.
The loss casts major doubt on whether Alvarez's already set third fight with unified middleweight titlist Golovkin on Sept. 17 will take place. The plan was for four-division titleholder Alvarez to return to super middleweight to defend against Golovkin, who would come up in weight. Alvarez, however, has a rematch clause if he wants to fight Bivol again and he said in the he wanted it.
"Of course, I want the rematch," Alvarez said.
Bivol was happy to hear it.
"Rematch? No problem," he said. "I took this fight because I wanted the opportunity. I will take the rematch. I felt great in the fight, better than any other fight in my career."
It was a much different result from when Alvarez previously boxed at light heavyweight. That came in November 2019, when he brutally knocked out Sergey Kovalev in the 11th round to win the WBO title he later vacated. But Kovalev, a once-terrifying fighter, was past his best days when Alvarez got him. Bivol is still in his prime and had never been in a grueling pro fight.
"I'm glad I proved tonight I'm the best in my division" Bivol said. "Sorry I ruined the plans for a GGG fight.
"(Alvarez) is a great champion and I respect all of his team. If you don't believe in yourself what do you do? You never achieve. He beat my arm up but not my head."
"I watched his fight against Callum Smith and knew the arm punches were coming. He's got good feet and good power and he throws hard punches. I can keep my belt now. I expected he would hit my arms. I was feeling great. I enjoyed this fight. When he hit me it gave me more energy. He kept hitting me in the arms and I kept hitting him in the face."
According to CompuBox statistics, Bivol landed 152 of 710 punches (21 percent) and Alvarez just 85 of 495 (17 percent). Bivol landed double-digit punches in every round and outlanded Alvarez in every one. Alvarez's 85 landed punches were a career-low. His previous low was the 117 he landed in his only other loss to Mayweather.
Bivol (20-0, 11 KOs), 31, of Russia, got off to a solid start with his jab, which he touched Alvarez consistently during the opening round, when Alvarez tried to land more damaging power shots.
Alvarez marched forward in the second round and landed several solid right hands around Bivol's guard to the side of the head. He was able to force Bivol to the ropes and land his right hand solidly in the third round, although Bivol came back late in the round.
Alvarez began utilizing his uppercut and nailed Bivol with one that appeared to stun him late in the fourth round.
Bivol had a strong fifth round as he trapped Alvarez on the ropes and landed several punches cleanly that forced Alvarez to bend over into the ropes. When Bivol backed off, Alvarez took a deep breath.
They traded back and forth through the middle rounds, but Bivol was throwing and landing more and marked up Alvarez's face.
Alvarez seemed to grow frustrated because his power shots didn't do anything too damaging to Bivol, who rarely budged and also fired hard punches back, including in a strong eighth and ninth rounds.
"I felt his power," Alvarez said. "He comes in and he goes out. I did feel his power. That's what happens — you win and lose in boxing. He manages his distance really well."
Alvarez did almost nothing in the 10th round while Bivol remained steady on the attack and was in control.
Alvarez was clearly frustrated in the 11th round when he lifted Bivol off the ground in a clinch and was warned by referee Russell Mora. He tried to press Bivol was could not land anything significant when the round resumed.
Although Bivol was in control, he didn't leave anything to chance in the 12th round, going right after Alvarez and landing combinations and rapid-fire jabs while Alvarez never could mounted any late charge and Bivol got the decision he deserved.