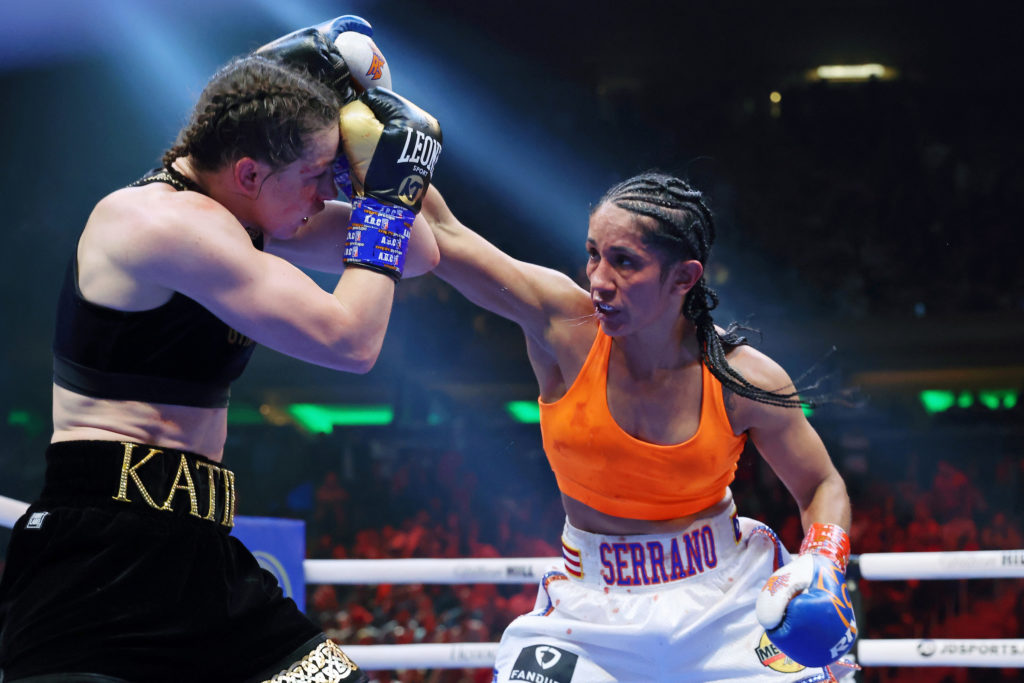 News
Amanda Serrano Apparently Won't Rematch Taylor In Ireland
When Amanda Serrano lost to Katie Taylor in the most prominent women's boxing contest probably in the sports history, the closely fought contest was expected to produce an immediate rematch while the fan's interest was strong.
Further, the immediate aftermath of their instant classic back in April hinted that Serrano would travel to Ireland for another history-making clash. However, recent reports suggest that Serrano and her team are no longer interested in traveling to Taylor's home country for another shot at the champ.
Serranos' promoter – YouTube sensation turned Boxing conglomerate – Jake Paul had previously implied that it's only fair his fighter should travel to Ireland to take on Taylor after the Irish superstar put her championships up for grabs in New York, a city where the Puerto Rican native Serrano grew up. Unfortunately, as the most talked about sequel of the year, at least in the U.K.,  at the 80,000 capacity Croke Park reached its initial discussions, those talks have hit a roadblock.
"They don't want that fight, unfortunately," promoter Eddie Hearn commented when questioned on the matter. "I mean, we've spoken to Jake Paul's team, and they don't want to go to Ireland. They don't really want the rematch. It's kind of like, regardless of the offer, 'we don't want to do the rematch.
"It's very disappointing because I love that fight, and I think it's a great fight and such a close fight. Unfortunately, it doesn't look like it's a fight that Amanda Serrano wants."
The attention of Taylor's next opponent will likely turn elsewhere, as both MMA superstars Holly Holm and Cris Cyborg have been thrown into the mix of a potential opponent for Taylor in what would be the biggest combat sports event ever to take place in Ireland.
The first meeting between Serrano and Taylor broke records from all angles, including the attendance of a New York women's bout at Madison Square Garden. As New York sports betting apps were also witnessing numbers unparalleled to their previous women's bouts, the event also became one of the most wagered-on women's boxing bouts of all time.
Record-breaking numbers naturally cause Eddie Hearn to repeat its success in Dublin. Still, the Matchroom boss highlighted the fact he barely got the chance to propose a second fight to the seven-time world champion in multiple weight classes.
The Essex-born fight promoter has echoed disappointment whenever he's questioned on the potential bout and has suggested the Puerto Rican fighter hasn't shown an ounce of interest, also revealing he never got a chance to throw a big-money offer.
Paul is featuring the seven-weight world champion Serrano first time since the March classic in MSG back in the same arena as the co-feature on is PPV bout with Hasim Rahman Jr. on August 6. So, Hearn realizes that MVP promotions aren't that interested in trying to arrange the rematch in Taylor's return to Ireland.
"We reached out to their team, and it was, like, there's no number. It wasn't even, 'let's negotiate, let's make an offer.' It was, 'We don't want to do that rematch right now.' She's gonna go away; she's gonna fight in August," Heard told DAZN.
"I thought Amanda Serrano felt like she won the fight and could beat Katie Taylor, and they'd be turning down a huge amount of money. But they don't even want to entertain the discussions." Heard added.
Fans speculated that the featherweight division's unification prevented Serrano from instantly accepting a rematch; however, Hearn believes the Irish icon's desire to fight in Ireland steered MVP Promotions away from the bout.
"Kate Taylor's desperate for the rematch. She's got the opportunity to do a huge fight in Ireland, and we wanted Amanda Serrano because (the fight) was just incredible. So, we spoke to Most Valuable Promotions, and they just said, 'We don't really want to go to Ireland; it's not the money, you could offer us X, and we wouldn't take it.'
Many pundits believe the Irish boxing hero doesn't need the assistance of Serrano to sell out Croker Park. Still, the New York representative's decision to avoid a September rematch has pushed Team Taylor to step back from organizing Taylor's homecoming as her next bout.