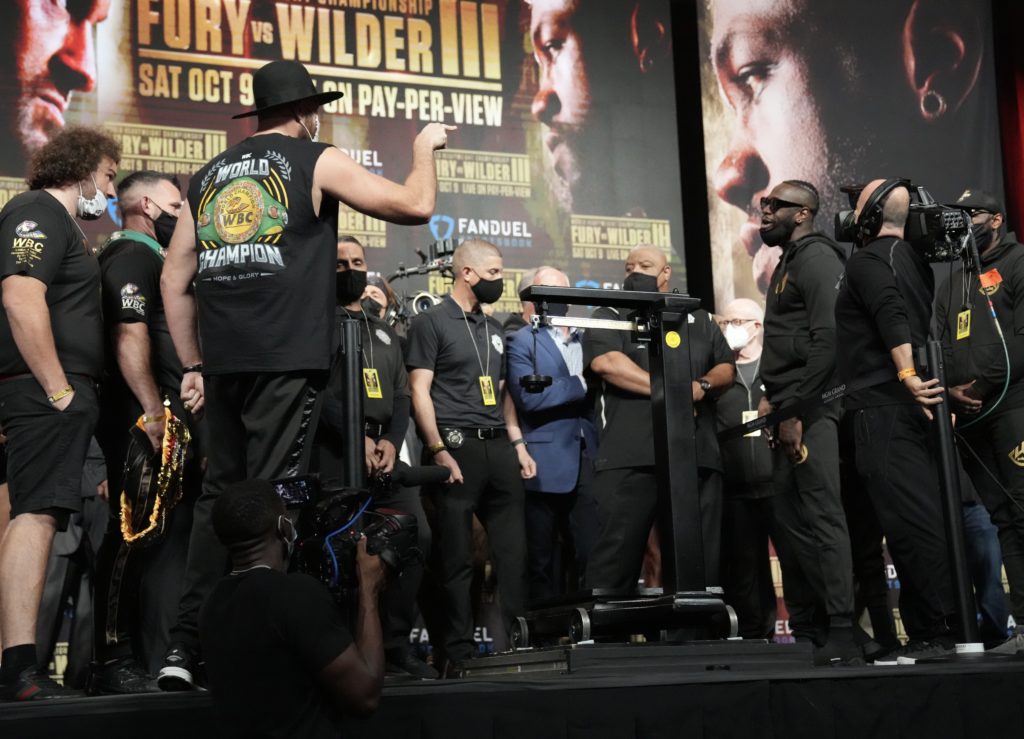 News
Wrestling's "Undertaker" Wants Fury KO
Wrestling's "Undertaker" Wants Fury KO
The countdown continues to Saturday night's WBC Heavyweight title bout between Tyson Fury and Deontay Wilder in Las. And, after Fury showed up wearing a black, cowboy style hat at Friday afternoon's weigh in and threatening to wipe out Wilder, many were connecting the dots to pro wrestling's "Undertaker."
Well, it turns out that "The 'Taker," aka Mark Callaway took note of it, as well.
The Texan Callaway, who has portrayed the almost larger than life wrestling villian/icon for over 25 years for the WWE, went on social media to encourage "The Gypsy King." And he even suggested Fury give Wilder his signature phrase after knocking him out,
I got you @undertaker ⚱️ pic.twitter.com/aEV3rxgiqh

— TYSON FURY (@Tyson_Fury) October 8, 2021
"You smash this guy, and when you're looking over him, just for me, look down at him and say, Rest in Peace," Callaway said mimicking his line to his beaten opponents.
Here's an example of "the Undertaker" using his "tombstone" wrestling move to defeat a WWE opponent,
Okay I need clarification
Did @MichaelCole really say that about this incredible @undertaker tombstone??#WWE #Undertaker #SmackDown pic.twitter.com/l9fdvq7uyU

— John Ramirez (@JsLove713) May 19, 2020
Callaway's persona became so successful and popular in the 90's and early 2000's that the WWE actually maid millions of dollars off of his villian-death reference character.
Now, the WBC champ Fury, is no stranger to the WWE himself, having wrestled for Vince McMahon's organization at a PPV in October of 2019. Fury was part of a PPV storyline against then WWE tough guy, Bron Stroman. That played out over several weeks with Fury at ringside at Stroman's matches on live TV shouting at him and culminated in the two wrestling in Saudi Arabia.
And, in the brief time he was wrestling, Fury obviously built relationships with some in the industry, including Callaway.
Hear us discussing Fury-Wilder III, including betting predictions, etc. on our latest "Big Fight Weekend" podcast with Marquis Johns, T.C. Martin in Las Vegas and David Payne in the U.K.
Now, we wait to see if the showman from the U.K. can deliver in the third fight with Wilder Saturday night. Or, will it be Wilder getting his revenge and his WBC belt that held for five years, back and tell Fury to "R.I.P.?"