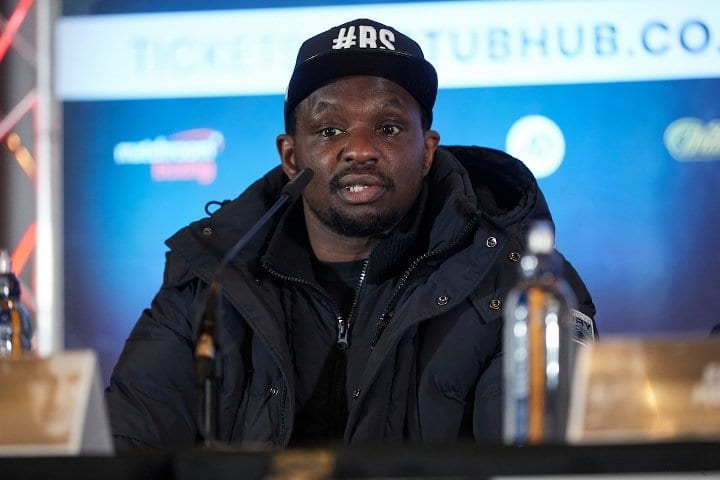 News
Whyte Continues Preparation For Povetkin Rematch
Whyte Continues Preparation For Povetkin Rematch
This was supposed to be the latest rescheduled week for English Heavyweight Dillian Whyte to try to avenge his devastating one-punch KO loss to former WBA Heavyweight champ, Alexander Povetkin. Instead, the much delayed bout has moved back, yet again, another three weeks to March 27th, this time over Covid 19 health guidelines and needing a new fight location.
Through it all, Whyte is still eager to get back into the ring and turn the tables on what Povetkin did to him last August, in a fight that he was largely dominating, until the one big uppercut from the Russian ended it.
Whyte has been training in Portugal and Sky Sports released this video Monday morning of a recent workout showing his agility,
👊WHYTE PLANS TO ROCK GIBRALTAR🇬🇮@DillianWhyte is looking 'rematch-ready' as his training camp continues for his second fight with Alexander Povetkin💪 pic.twitter.com/t5LOhiUPKP

— Sky Sports Boxing (@SkySportsBoxing) March 1, 2021
Whyte also prepared for the first fight last year with Povetkin in the neighboring country of Portugal. And that's part of the issue with the U.K. new rules/guidelines that their government has imposed on quarantining for travel back into England, etc. That's why it had to be moved.
As we wrote two weeks ago, Matchroom Boxing's Eddie Hearn made the announcement on the interesting new locale' of the Isle of Gibraltar.
He told Sky Sports on their broadcast,
"Dillian Whyte training in Portugal. We know that's now a 'Red List Country' (for Covid 19 quarantining). Funny enough, he (Whyte) didn't fancy the hotel quarantine (10 days mandated by British Government). We were trying to get him into Spain. The borders are closed down. 
The Rumble on the Rock.' This is wild. This is crazy. It's gonna be epic. It's gonna be a momentous Heavyweight occasion. A little wild. A little wacky. In these times we've had to do something different."
The March 6th date was to have been at Wembley Arena will some fans socially distanced, but will now, move to Iberian Peninsula off of Spain, where 30,000 people inhabit the mountain area known as "The Rock." While Gibraltar is considered a British Overseas Territory, this will apparently help circumvent the Covid 19 restrictions for England, currently.
In an interview that ran Monday in London's "The Guardian" newspaper, Whyte talked generally about his life's struggles and whether he is concerned about getting kayoed in a rematch with Povetkin.
"Not really. I'm not going to be like; 'Oh well, I got stopped last time so I'm going to run around and nick it on points.' " Whyte said. "No, I'm coming to fight and do damage. I've made the adjustments I needed and I'm going to knock him out." 
There have been delays for the Russian to overcome Covid 19 last Winter and resume training and now, for the guidelines have him fighting at the end of the month. A fight that he and everyone knows, that he has to win or it's the end of him being a serious contender on the biggest stages.