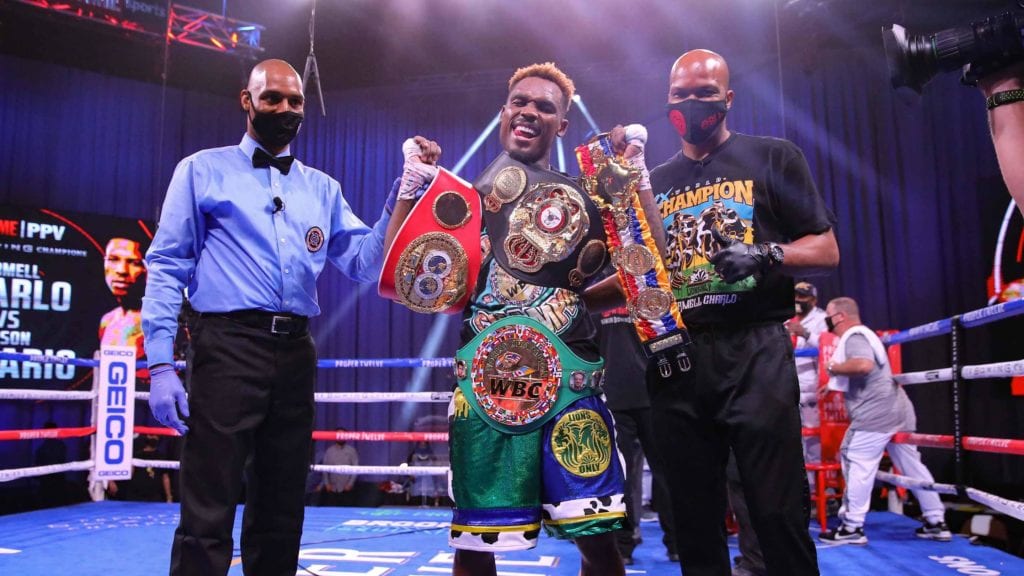 News
Why Isn't Jermell Charlo on Pound for Pound Lists?
Why Isn't Jermell Charlo on Pound for Pound Lists?
Unified champion Jermell Charlo kicked off yesterday's press conference where he'll face Brian Castaño in a unification bout on July 17th in San Antonio that will air on Showtime. That, however, wasn't on his mind yesterday during the media call.
Why isn't Jermell Charlo higher on all of these pound-for-pound lists was a talking point he wanted to bring up. I must admit he has a point.
As expected on these media calls, Dan Rafael got the 1st question on behalf of Ring Magainze and asked Charlo about the historical importance of the fight and being undisputed in a four-belt era. Charlo acknowledged that it is a big fight for him, his family, the city of Houston, and how the fight will impact his legacy.
Then mentioned his displeasure with the lists that Ring Magazine creates.
"The belts are going to be there, they're trophies, and you people (the boxing media) make up these things about who the best and who ain't the best, so there's no union in this sport," Charlo stated on the media call.
"Y'all really don't give people accolades and the s— that they deserve. Especially the company (The Ring) that y'all working with."
📺 Jermell Charlo vs Castaño VIRTUAL Presser: https://t.co/CK2fCNWGri via @YouTube

— Fight View 360 (@FightView360) July 7, 2021
I don't know how that will help Dan's piece over there, but Charlo's complaint is a good one as of this writing if you're looking at ratings "over there."
One name missing off the pound for pound list, who could become an undisputed champ is his. Charlo isn't on the one over at ESPN either. Boxingscene has Charlo at #7. If I left your ranking of Charlo out of the story, leave it in the comments.
"I don't know when it's going to be enough for you guys but y'all not really getting into the ring so y'all really don't understand it," Charlo said.
This usually is where we here at Big Fight Weekend unveil our lists and rankings board that is better than the others' right? Wrong. If you follow me on social, you know this isn't the place for that.
Also, it doesn't matter.
However, Charlo's gripe with the major publications with him not on their lists is warranted.
Why is that? Charlo just chalked it up to who they are.
"We're not liked fighters. It's because of who we are, I guess. The things about us and certain things, and I guess you got to win them over every way. As I said before, the skills have been paying the bills, but because of the personalities and the demeanors that the Charlos have and being a twin.
You know, I guess some of those things because there's two of us and everybody don't got a twin so make you not like the twins," Charlo said."
Whatever reason Jermell Charlo isn't on your top list is beyond me. This conversation will all change and becomes moot if he beats Castaño, which would be little doubt left in the biggest of skeptics or naysayers.